Trump administration urged to sanction Russian individuals and groups for election meddling
Democratic senators want Treasury Secretary Steven Mnuchin to sanction "individuals, entities and governmental actors" involved in efforts to interfere in the 2020 race.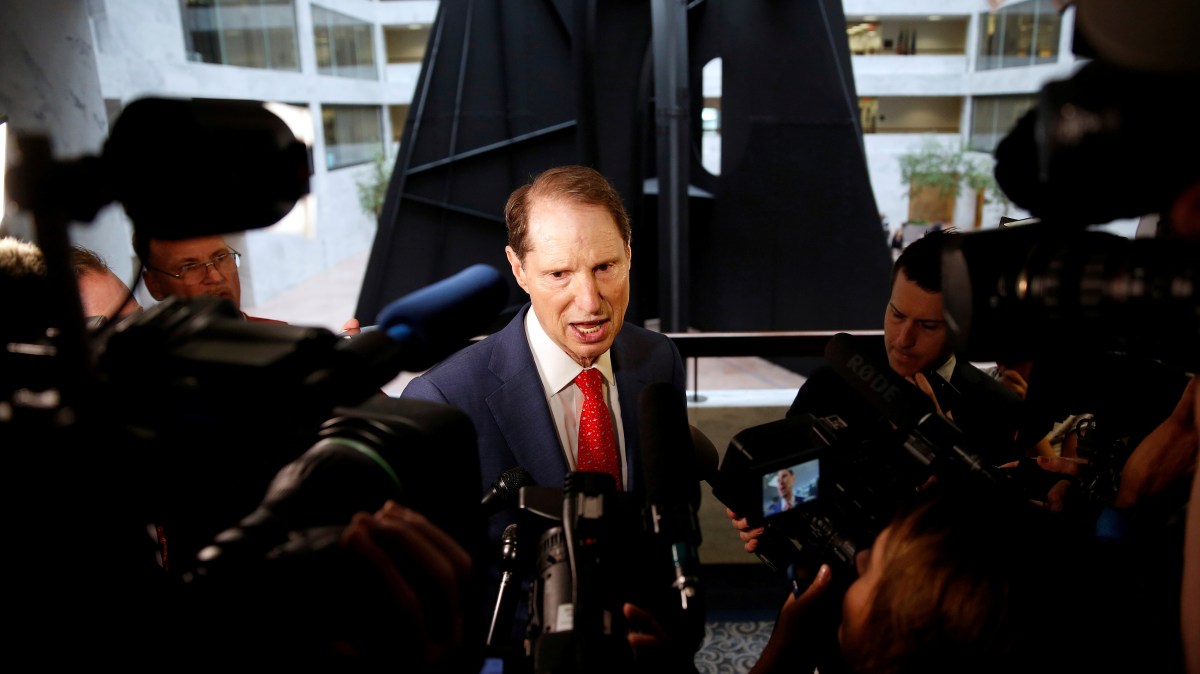 A group of Democratic senators is urging the U.S. Treasury Department to impose sanctions on those involved in efforts to interfere in the 2020 elections so far, including those from Russia.
"We write to urge you immediately to impose sanctions on individuals, entities and governmental actors seeking to interfere in the 2020 U.S. elections," the 11 lawmakers, including Intelligence Committee Vice Chairman Mark Warner, wrote in a letter Thursday to Treasury Secretary Steven Mnuchin. "Congress mandated a broad range of sanctions tools, and it is long past time for the administration to send a direct message to President Putin: the U.S. will respond immediately and forcefully to continuing election interference by the government of the Russian Federation and its surrogates, to punish, deter and substantially increase the economic and political costs of such interference."
The U.S. intelligence community has assessed Russia is currently working to "publicly denigrate" Democratic presidential candidate Joe Biden, according to a statement the Office of the Director of National Intelligence shared publicly last month. The U.S. government's current view into Russian activities, including details on a Kremlin-linked operative that has been sharing information critical of Biden and his family, provides "ample basis" for imposing sanctions on Russian entities and individuals, the senators said.
"We … urge you to draw upon the conclusions of the Intelligence Community to identify and target for sanctions all those determined to be responsible for ongoing election interference, including any actors within the government of the Russian Federation, any Russian actors determined to be directly responsible, and those acting on their behalf or providing material or financial support for their efforts," the senators write, referencing efforts by Andriy Derkach — a Ukrainian politician with links to Russian intelligence — to share recordings critical of Biden, according to The Washington Post.
Derkach — who has met with one of President Donald Trump's personal attorneys, Rudy Giuliani — shared edited tapings of phone calls between Biden and Ukraine's former President Petro Poroshenko during a press conference in May, in an effort to call attention to the U.S. government effort to root out corruption in Ukraine. The recordings did not provide any new information about Biden's activities, although Derkach has previously made other attempts at spreading damaging information about Biden. Trump's son, Donald Trump Jr., has spread information about Derkach's efforts on social media.
Joining Warner, D-Va., on the letter to Mnuchin were fellow Intelligence Committee members Ron Wyden, D-Ore., and Dianne Feinstein, D-Calif.; Senate Minority Leader Chuck Schumer, D-N.Y.; and high-ranking Democrats from the Homeland Security and Governmental Affairs Committee, Armed Services Committee and Foreign Relations Committee.
ODNI in mind
The letter comes as lawmakers also are criticizing the intelligence community's plans for briefing lawmakers on foreign election interference two months before Election Day. The ODNI informed the intelligence panels in both chambers of Congress last week that it would be providing information on election interference in written form as opposed to in-person briefings to ensure that information isn't "politicized." Democratic lawmakers have said the new approach will keep important information from the American public.
A breakdown in sharing intelligence about Russian efforts to interfere in the 2016 U.S. presidential election resulted, in part, because of partisan concerns, the Senate Intelligence Committee found in a bipartisan report issued earlier this year. "In 2016, the Obama Administration withheld information from the congressional intelligence committees, preventing members from conducting oversight, developing policy responses, or advocating for transparency with the public," Wyden wrote in the February report.
The U.S. intelligence community has assessed that Russia sought to interfere in the 2016 U.S. presidential election through hacking operations aimed at voter databases and influence operations. The Department of Homeland Security and FBI say there is no evidence foreign actors have tried breaching voter registration databases related to the 2020 U.S. presidential election so far.
Sen. Marco Rubio, R-Fl., has said that in spite of ODNI's decision this year to eliminate in-person briefings, the intelligence committee in the Republican-controlled Senate would continue to receive in-person briefings on election security issues, according to local news outlet Spectrum News. Rubio currently chairs the Senate Intelligence Committee.
The administration has once before imposed sanctions to target Russian individuals engaged in foreign interference targeting the 2016 and 2018 U.S. elections. Last year the Treasury Department sanctioned the Russian financier behind the Russian government's social media troll farm, the Internet Research Agency under a new sanctions regime the Trump administration created two years ago specifically tailored to sanction individuals and entities involved in efforts to meddle in U.S. elections.
The ODNI has also said Iran is interested in undermining Trump and that China "prefers that President Trump — whom Beijing sees as unpredictable — does not win reelection," although the senators did not name China or Iran in their letter to Mnuchin. Some national security officials say the intelligence on Chinese efforts to interfere does not align with public statements Trump has made about Beijing's efforts, according to Politico.
The Treasury Department did not immediately return request for comment.