Tracing drug deals and kickbacks, feds arrest alleged operators of Deep Dot Web scheme
This action only is the latest in a steady international campaign aimed at rooting out dark web markets.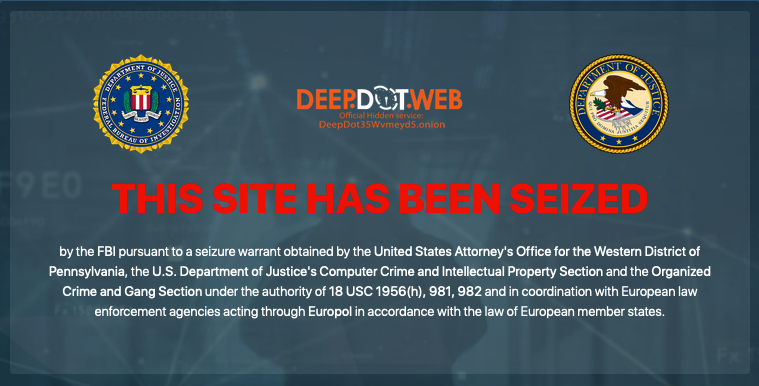 Authorities have arrested two men accused of operating Deep Dot Web, a site that helped people find places to illegally buy drugs online.
The website, which has been seized by law enforcement as part of the operation, reaped more than $15 million in illegal proceeds since 2013, the Department of Justice said. Two Israeli men, Tal Prihar and Michael Phan, have been charged for allegedly running a scheme that earned commissions whenever Deep Dot Web visitors subsequently made purchases on dark web markets.
"Deep Dot Web provided a one-stop information center for people who were trying to access the dark web," Scott Brady, U.S. Attorney for the Western District of Pennsylvania, said in a press conference. "Not only did they provide links to specific dark web marketplaces, but they also provided tutorials to people who were new to this. … All of that, combined with the kickback scheme, made it the first place people would go if they wanted to access the dark web."
Prihar was the creator and primary administrator of the site, authorities say, while Phan led day-to-day operations. The site at various points linked to AlphaBay, Agora market, Abraxas, Wall Street Market, Tochka, Dr. D's market, Hansa, TradeRoute, Dream Market and Valhalla. Deep Dot Web supplied 23 percent of all the users who made transactions on AlphaBay, which researchers have suggested earned an average of $600,000 and $800,000 every day until it was closed in 2017.
Prihar was arrested in Paris, and Phan was arrested in Israel, the DOJ said. It's the latest move in a steady international campaign aimed at rooting out dark web markets. Police last week announced the closure of Wall Street Market, until now the second-most-popular site of its kind. Authorities arrested three German men accused of running the site, which included more than 1.15 million registered customer accounts and enough sales for its administrators to try stealing $11 million in cryptocurrency.
Dream Market, which specialized in the sale of narcotics and stolen data, announced in March it would close after nearly six years in operation. That news came on the same say Europol and the U.S. Justice Department announced they arrested 61 people and shut down 50 dark web accounts as part of a dragnet.
"To the people using these sites … I advise you to reconsider the anonymity of the Tor network, .onion addresses and the ability of these markets to shield you from law enforcement," said Robert Allan Jones, FBI Special Agent in Charge of the Pittsburgh field office, on Wednesday.
For all the attention and apparent activity, research published this week suggested the dark web is made up of roughly 8,400 active websites, most of which are prone to sudden outages or prolonged downtime.
[documentcloud url="http://www.documentcloud.org/documents/5993906-Ddw-Indictment-0.html" responsive=true]