New dime-sized YubiKey adds more mobility to authentication keys
The new product launch caps a big year of investment and increased sales for the security hardware company.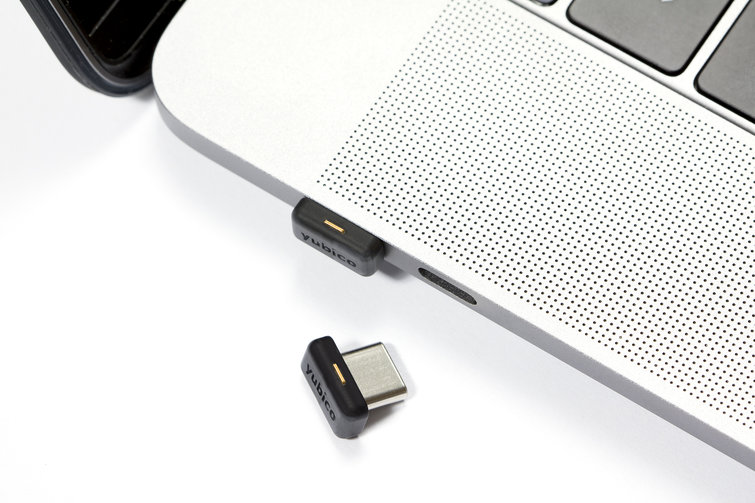 YubiKeys are getting smaller as they grow more and more popular.
The cybersecurity hardware that acts as a secure key to machines and accounts now comes in a dime-sized package. The YubiKey 4C Nano launched Monday for $60.
Yubico, the company behind the powerful authentication keys, has had a big year. A "huge spike" in orders beginning late last year preceded a $30 million investment round in June and reports of over 100,000 customers including Google and Facebook.
The 4C Nano is meant for mobility. It's tiny, measuring in at 12mm x 10.1mm x 7mm, meant to meet demand for an even smaller tool than the keychain-sized keys Yubico has offered for a decade. It's designed for use in USB-C ports on computers like the HP Spectre, Dell XPS 15, Apple Macbook Pro and newer Chromebooks.
Experts praise tools like the YubiKey because they are the most secure form of multifactor authentication. In order to prevent unauthorized access to computers and accounts, best practices often tout that people need multiple factors of authentication to prove their identity. But while text messages or even apps can be phished, a hardware key is the most effective defense against hacker's biggest attack vector.
"As we continue to see an onslaught of hacks and data breaches resulting from weak or stolen login credentials, two-factor authentication with the YubiKey is the easiest and most secure way to protect enterprise and consumer identities, accounts and data," Stina Ehrensvard, Yubico's CEO, said in a statement. "We designed the YubiKey 4C Nano to be the most powerful USB-C authenticator on the market, built for the future as USB-C ports become more prevalent across mobile and computing devices."
They're easy to use with most major commercial offerings. Everything from your Google account to Windows computer can be protected. As for major enterprises and governments, things naturally become a little more complicated as the company navigates federal regulations around the globe. But in the last year, the company said it's received new orders from government agencies in the United States, Sweden and Germany.
"We've been traditionally getting individual orders in the hundreds for agencies, divisions, small groups over the past years," Jerrod Chong, the company's Vice President of Solutions, told CyberScoop late last year. "This year we are seeing orders in the tens of thousands. It's a sizable magnitude."