Yubico unveils new NFC key, developing a Lightning-enabled key
Yubico unveiled two new security keys CES as it makes its line work across more platforms. But a key geared specifically for Apple products won't reach consumers' hands quite yet.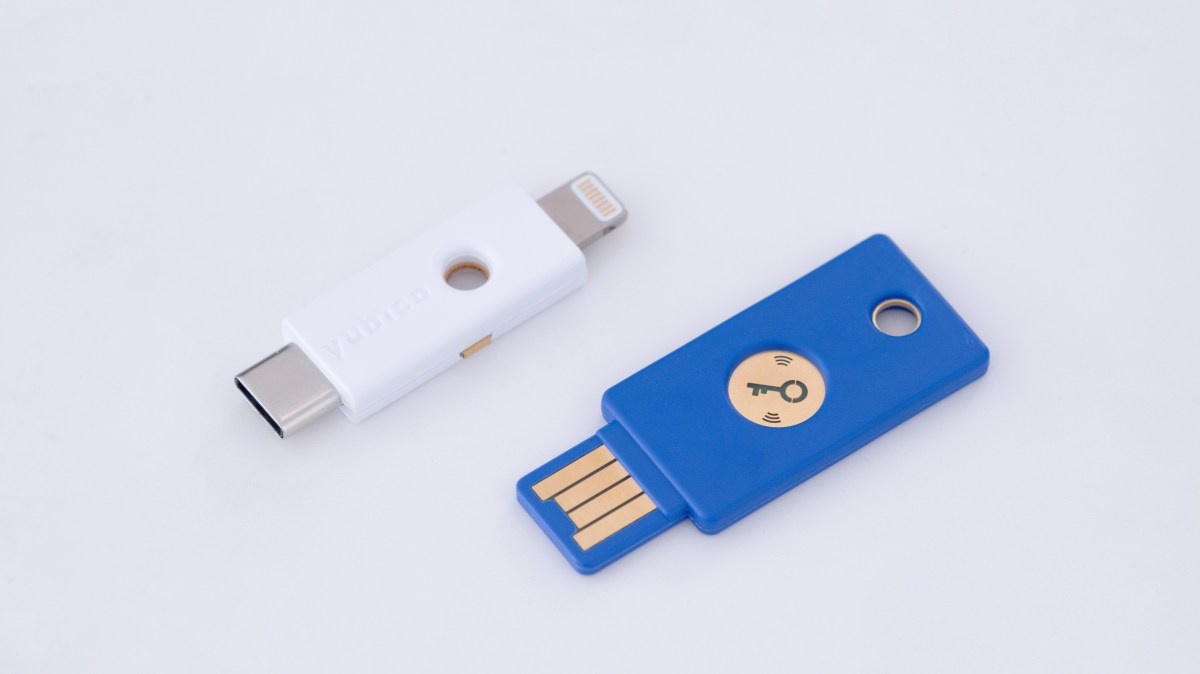 Yubico, the physical authentication key company, announced two new products Tuesday, as it continues to make its key fob-like authenticators available on more platforms.
The YubiKey for Lightning is geared specifically for Mac and iOS users, but is in a private preview phase while Yubico and third-party developers work on making the keys more compatible with Apple devices.
The other announced product, the Security Key NFC, is a USB-A key that has near field communication capability. It combines some functionalities of the company's standard security key and the YubiKey 5 NFC, both of which were updated in Yubico's Series 5 line released in September. The new key supports FIDO2, a standard for hardware-based, passwordless authentication, as well as the older FIDO U2F two-factor authentication.
However, some authentication protocols included in other keys aren't supported in the new key.
Yubico says the Security Key NFC "works out-of-the-box" with many popular services and platforms like Google, Facebook, Twitter, Dropbox and a number of password managers.
The YubiKey for Lightning has Apple's proprietary Lightning connector on one side and a USB-C connector on the other side, giving it direct access to the ports on newer MacBooks, as well as other USB-C devices. YubiKey for Lightning largely carries the same capabilities as fifth generation of products from September, but doesn't have NFC.
The YubiKey for Lightning is not being released to consumers. It's not clear when that will happen.
For now, the company is inviting developers to apply for access to the Apple-oriented fob in order to develop its integration with the Apple ecosystem. NFC-enabled YubiKeys already allow for contactless two-factor authentication with iPhones and Androids, but more comprehensive Apple integration apparently needs developer input through its Lightning Project.
"Yubico's goal is to make strong, simple authentication truly ubiquitous, across all services, devices, and operating systems," said Yubico CEO Stina Ehrensvard, in a press release. "These two products deliver on our mission to enable a passwordless future for all."
Yubico unveiled the two new keys at the 2019 Consumer Electronics Show in Las Vegas. With its diverse line of hardware authenticators, Yubico's main competition in the space is Google, which currently sells its Titan Security Key in a singular USB-A form factor with NFC.
The new Security Key NFC is available now for $27.