Russia's state-funded news outlet RT keeps hyping fringe stories on Clinton, collusion long after 2016
A new report compares the Russian-language version of RT with stories aimed at a Western audience.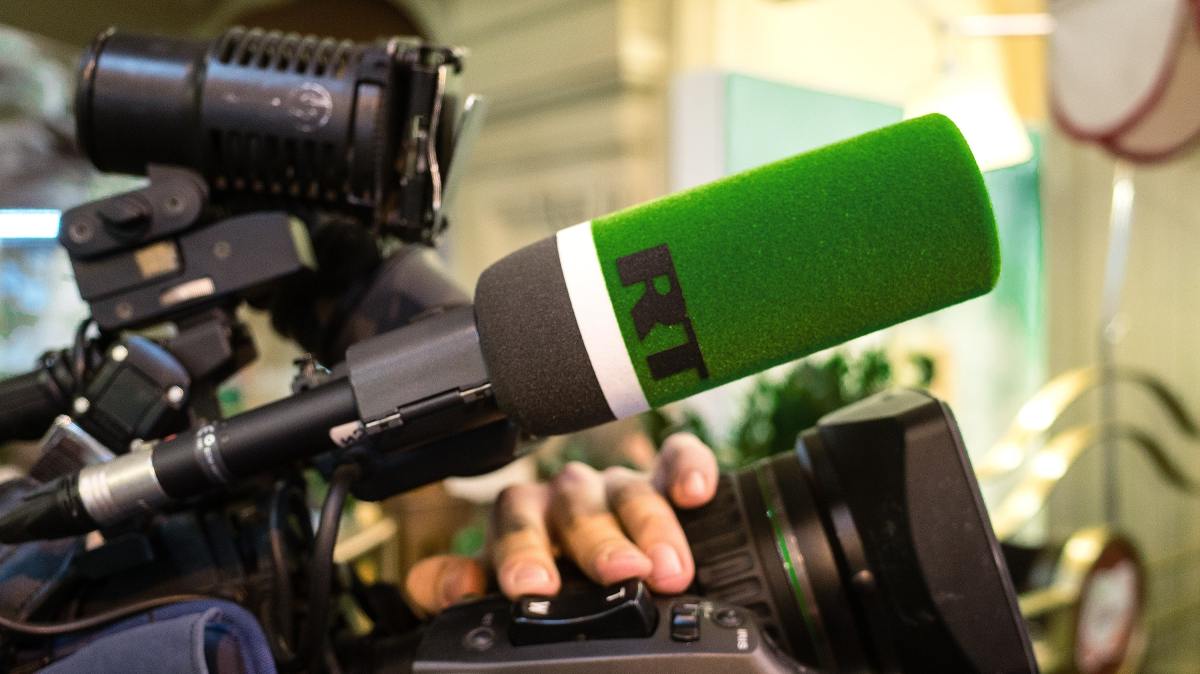 Russian state media's approach to the next U.S. presidential election will look a lot like the plan for the last one, if a new analysis of articles from the network RT is any indication.
RT is a Kremlin-funded television network with a strong digital presence that broadcasts in English, Russian and a range of other languages. The outlet's biases have been well documented, with English-language TV broadcasts, YouTube videos and articles on the RT website covering news through an anti-establishment and anti-government lens.
Researchers from threat intelligence company Recorded Future analyzed content from RT's website from Jan. 2017 through July 2019 to find that the Russian news agency continues to revisit the same topics in an apparent attempt to divide public opinion in the United States. The analysis was shared exclusively with CyberScoop prior to its publication Thursday.
Phrases including "Hillary Rodham Clinton," "Russian Hackers," and "COLLUSION" (in all capital letters, as President Donald Trump often tweets) were among the most frequently discussed topics on RT.com.
Recorded Future also determined that the English-language RT varies dramatically from its Russian-language counterpart, which favored coverage about Ukraine, the United Nations and U.S. social media companies, among other topics. The Russian-speaking version of RT covered the Western world — defined in this case as the U.S., U.K. and Canada — in 25.8% of its posts, according to the report.
"This is a clear, data-driven example of Russian state media trying to influence the American people on domestic issues while also being used to prime the government at home," said Winnona DeSombre, a researcher at Recorded Future. "They're not just reporting on the news, they're reporting on topics they know sow discord in the [U.S.] population."
Researchers declined to quantify exactly how many times RT published materials on each topic. RT earlier this year emphasized unfounded health risks supposed experts warned could come with the implementation of 5G technology, the New York Times reported.
In recent weeks, RT.com has published articles with headlines such as "Facebook tells Trump ads can't appeal to 'strong women LIKE YOU,' caving in to ex-Clinton staffer" and "Comedian says Facebook 'coming after him' after Trump retweeted #ClintonBodyCount."
A list of the 100 topics mentioned most frequently during this research period shows that, while the site's staffers frequently revisit topics that were contentious in 2016, they also continued a years-long focus on antagonists of the U.S. intelligence community. It's clear, however, that the Russian-speaking RT was more selective in sharing the same news to Russian visitors.
"Whistleblowers and leak-related entities such as Edward Snowden, William Binney, Julian Assange, Vault 7, and WikiLeaks constituted 1.9% of the 2017 to 2019 results," Recorded Future stated. "RT's Russian-speaking audience, however, appears to be far less exposed to coverage of these entities, as just one related entity, Julian Assange, appears in the top 100 for any of the three surveyed years."
The "whistleblower" news category, which included only news about Assange, made up 0.1% of the news items from the Russian-language service.
"They aren't going to be in business unless they cover breaking news, but the choices they're making in between breaking news stories are important," said DeSombre.
Recorded Future did not speculate on whether RT has succeeded in spreading a Kremlin-friendly message to an English-speaking audience. The organization's website says RT "is available" to 120 million people in Europe and to about 85 million people in North America.
The official YouTube channel lists 3.6 million subscribers and RT in 2017 claimed to lead TV news channels with 5 billion "views" on the video streaming site. The definition of success, however, remains elusive.
"Because [RT's] money comes from the government, it's not how popular they are and how much money they're generating, it's about how well they are contributing to making everyone else lose," DeSombre added.