Sen. Warner says hacking, disinformation are the future of war, and urges the U.S. to keep up
Sen. Mark Warner says the world has entered a new phase of nation-state conflict in which cyberwarfare and information warfare are the primary means through which countries assert their power on the world stage.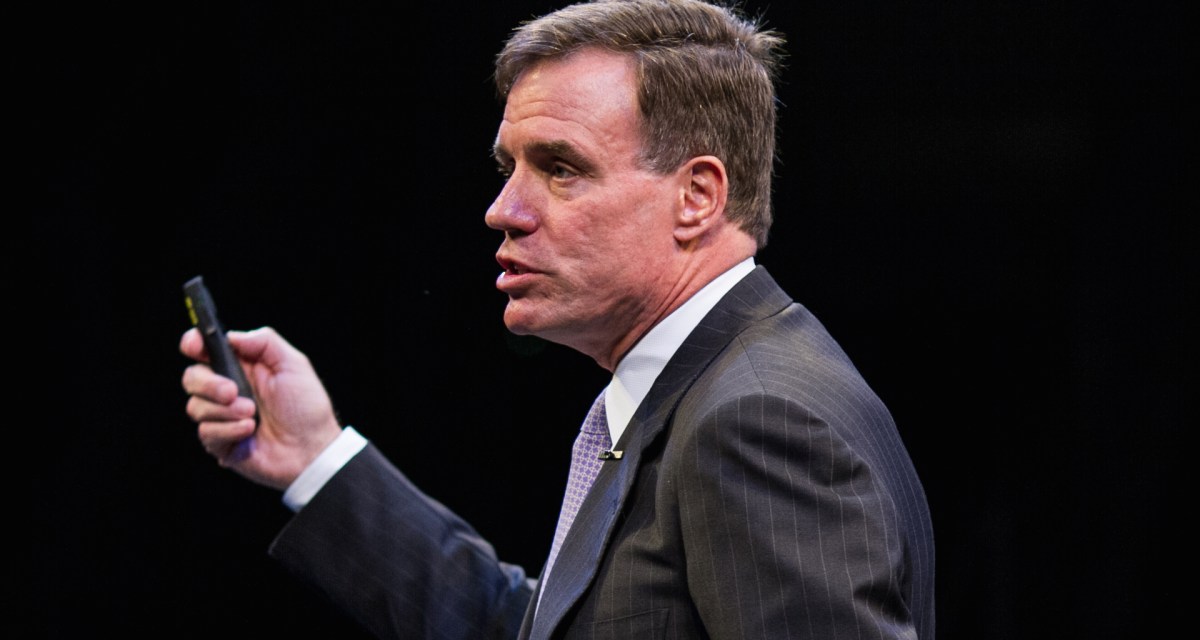 Cyberwarfare and information operations now are the primary ways in which countries assert themselves on the world stage, Sen. Mark Warner said in a speech Tuesday, pointing to a new geopolitical reality in which traditional military strength may be less urgent.
The Virginia Democrat portrayed hacking, social media manipulation, and other digital techniques as affordable options for smaller countries that don't have the financial resources to invest in modern military hardware like tanks and fighter jets. U.S. leaders need to more urgently recognize this transition, he said, and prioritize processes and technology that stifle future attempts from adversaries to interfere in U.S. elections and markets.
Warner, vice chairman of the Senate Intelligence Committee, for years has urged Congress to authorize more funding for cybersecurity.
"I worry at times we may be spending too much time [and] resources on 20th century stuff when increasingly conflict in the 21st century will be cyber, will be misinformation, disinformation," Warner told reporters after a speech at the Federal Election Commission.
While Russia and China spend less money on military spending than the U.S., both countries dedicate a higher fraction of their defense budget on cybersecurity, Warner said.
The U.S. government had an $8.5 billion budget for cybersecurity in fiscal 2019, according to the White House, while Trump's proposed budget for 2020 would devote $9.6 billion in funding to cyberdefense and related operations. Russia's military generally handles its military budgeting secretly, according to Real Clear Defense. Some of that country's operations are relatively inexpensive, though: The troll farm that interfered in the U.S. presidential election spent roughly $1.25 million per month as early as 2016, according to a Department of Justice indictment.
Warner's remarks coincide with an ongoing effort within the U.S. government to update its approach.
Army Cyber Command now aims to provide every commander in the Army with their own information warfare operations personnel, part of an effort to incorporate factors like electronic warfare, psychological operations and military deception into the service. But the Army has struggled, creating cyber units without adequate equipment and training, according to a recent Government Accountability Office review.
Meanwhile, Congress and the White House have authorized U.S. Cyber Command, a military outfit that's distinct from Army Cyber Command, and the Department of Defense to be more aggressive in cyberspace by carrying out offensive operations against foreign adversaries.
"That helped us in terms of decreasing some of the disinformation attacks in 2018," the senator told CyberScoop in a reference to Cyber Command's reported work to obstruct efforts from Russian trolls who tried meddling in the midterm elections. The command also deployed personnel to Ukraine, Montenegro, and North Macedonia in operations known as "Hunt Forward" operations.
Competing against a streamlined approach
"Over the last two decades, adversary nations like Russia have developed a radically different conception of information security — one that spans cyberwarfare and information operations into a single area," Warner said.
Six years ago Gen. Valery Gerasimov, Russia's chief of the General Staff — a role that's been likened to the U.S. chairman of the Joint Chiefs of Staff — outlined a theory of political warfare that has become foundational in Russia's thinking about national security. The "Gerasimov doctrine" encompasses far more than the digital realm.
"Russian military theorists generally do not use the terms cyber or cyberwarfare," according to the Center for Naval Analyses, a Washington think tank. "Instead, they conceptualize cyber operations within the broader framework of information warfare, a holistic concept that includes computer network operations, electronic warfare, psychological operations, and information operations."
As Warner pointed out during his remarks at the FEC, nations may be able to develop capabilities in these domains more easily than in kinetic warfare because they don't always need to create large budgets in order to be effective.
"We can see when it's near peer adversaries like Russia and China — or others, smaller actors — their ability to compete in these other domains because they're a lot cheaper and a lot easier," Warner said. "Our adversaries aren't necessarily using highly sophisticated tools. They don't need to."