As NSA expands election security task force, Director Paul Nakasone talks lessons learned
U.S. intelligence officials are trying to adapt as adversaries update their tactics.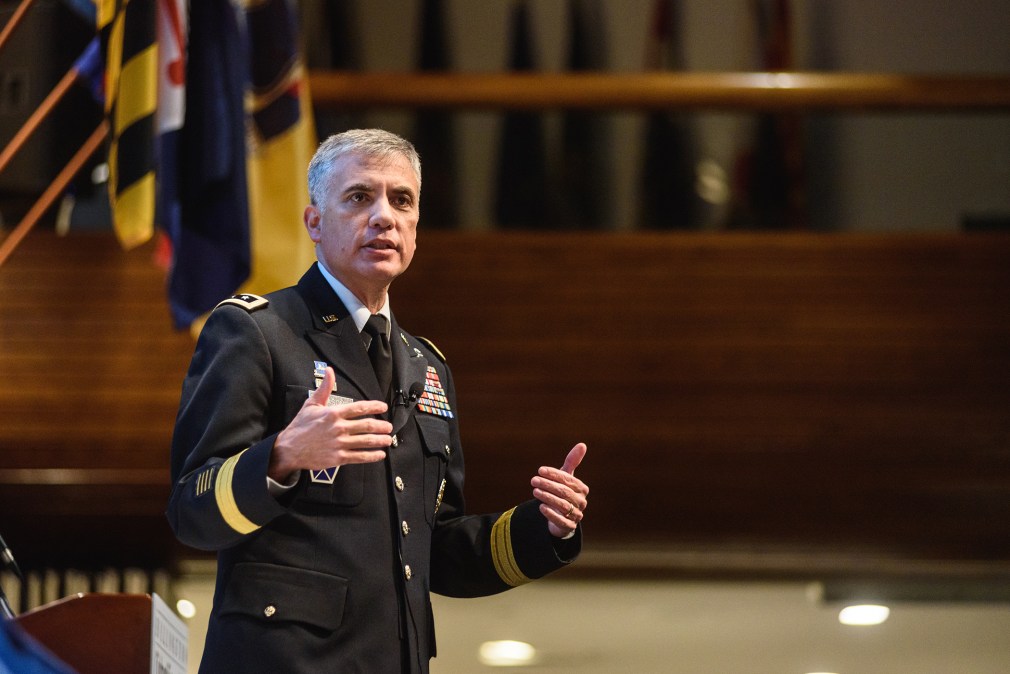 A key component of the Pentagon's effort to defend the 2018 midterm elections from foreign interference was its collaboration with the Department of Justice to disrupt operations from overseas, Gen. Paul Nakasone, director of the National Security Agency, said Thursday.
It's the kind of interagency effort American officials are trying to achieve again before the 2020 presidential election.
The NSA and U.S. Cyber Command, a unified combatant command at the Pentagon dedicated to running cyber-operations, worked with the FBI's Foreign Influence Task Force in 2018 as part of an effort to avoid the kind of Russian meddling that occurred in 2016, Nakasone said. The effort to protect the 2018 midterm elections, collectively known as Synthetic Theology, resulted in disrupting the internet access of Russia's social media troll farm, the Internet Research Agency, as The Washington Post first reported.
The effort represented the first cyber-operations abroad to protect U.S. elections, and it's helping inform the intelligence community's approach to the 2020 voting process. Last year also marked the first time NSA and Cyber Command leveraged new authorities to run offensive cyber campaigns abroad following legal approval from the White House and Congress.
"When we thought about the elections for 2018 last summer, one of the things that we immediately did is we went back and we took a look at 2016," Nakasone said while speaking on a panel at the Intelligence and National Security Summit Thursday. "And what we knew coming out of that is [that] we had to do something different." During the operation, Cyber Command personnel directly contacted the Russian military operatives who were spreading disinformation via Twitter, as The New York Times first reported.
Cyber Command also deployed personnel to Ukraine, North Macedonia, and Montenegro to help those countries defend their networks, and to collect intelligence on adversaries. This model of deploying to other countries in preparation for the elections is being recreated this year, too, one Cyber Command official who co-led efforts to protect the 2018 election told reporters earlier this year.
"If there is any adversary or adversaries attempting to either influence or interfere we are going to impose a cost on that adversary," Nakasone said.
2020 election security
The intelligence community has warned that foreign adversaries may learn from their past efforts to interfere in U.S. politics when Americans go to the polls next year. Working to defend the 2018 midterm elections from foreign adversaries was just a "dress rehearsal for the big show," FBI Director Christopher Wray said in April.
Meanwhile, changes are underway at the NSA and Cyber Command. The Russian-focused election security task force the NSA and Cyber Command created last year to protect the midterms, the Russia Small Group, has since been renamed and adjusted to better address the threats from nation-states besides just Russia, as CyberScoop first reported. That outfit, known internally as the Election Security Group, also is meant to address an expanded set of threats from North Korea, China, and Iran, as well as those from Russia.
A senior U.S. intelligence official said this summer that state and unidentified non-state actors alike are seeking to influence the U.S. elections moving forward.
"We do believe that the 2020 elections are a potential target for state and non-state cyber actors and we continue to observe unknown actors attempt suspicious and malicious activity against internet-connected infrastructure periodically," the official said in a briefing with reporters.
The senior official cited Russian social media meddling tactics and false flag operations, Iranian information campaigns on geopolitical issues like the Iran nuclear deal, and China's efforts to use media to influence the U.S. politics as particular areas of concern.