U.S. Air Force invests millions this month on cyberweapons projects
Major military contractors have seen stock prices rise as much as 20 percent since the election.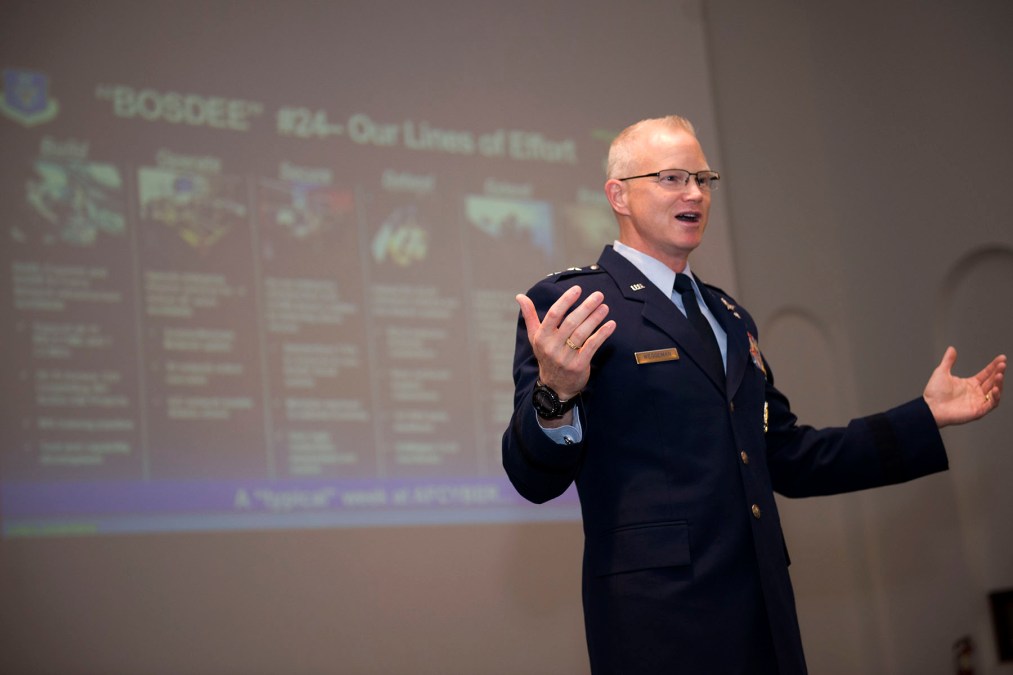 Three of the United States' largest military contractors each won multimillion-dollar projects in the last month to boost American offensive power in the cyber domain.
Raytheon, Northrop Grunman and Booz Allen Hamilton have all seen their stock prices rise 10 to 20 percent since the November 2016 U.S. election. Investors sprinted to military contractors based on Trump's promises for higher spending on — among other warfighting capabilities — the cyber domain. Many of the world's biggest weapons manufacturers are expanding aggressively into offensive and defensive cybersecurity in search of the same level of profitability found in building conventional weapons systems.
Raytheon will build the Air Force's newest Cyber Command and Control Mission System (C3MS) operating location — at San Antonio's Lackland Air Force Base — after winning an $8.5 million contract this week. Lackland is home to the 24th Air Force, the organization tasked with operating and defending the Air Force's networks. It's currently commanded by Maj. Gen. Christopher Weggeman.
The C3MS system is designed, by the military's description, to extend the U.S. Air Force's "global reach, power and vigilance" into the cyber domain by providing permanent operational support to combatant commanders around the world. In addition to securing Air Force networks and information processing systems, C3MS includes offensive cyberspace operations, expansive real-world and cyber domain surveillance capabilities and close coordination with other key cyber domain commands including the United States Cyber Command.
C3MS has been described as the system watching all the other systems. It sits atop, commands and controls the Air Force Cyberspace Defense weapons system, the Cyber Security and Control System program, Air Force Intranet Control (which just awarded a $14.7 million contract to the firm Cyber Defense Information Assurance for defensive capabilities), Cyberspace Defense Analysis and the Cyberspace Vulnerability Assessment/Hunter Weapon System. The project is expected to be complete by April 28, 2018.
Northrop Grumman won a $9.4 million contract earlier this month from the Air Force to further develop the Cyber Mission Platform (CMP) in San Antonio. The CMP is the hardware and software host for the Air Force's offensive cyber operations. Much about the project is classified. The CMP develops offensive hacking capabilities and facilitates ongoing upgrades and modifications to the classified Network Attack System, also located in San Antonio.
Booz Allen Hamilton won a $10 million contract in mid-March for research on building high-power electromagnetics into the Air Force's cyberwarfare and electronic warfare applications.