Trump's refusal to call out Russian hacking provokes swift, sharp backlash
President Trump refused to acknowledge or condemn Russian interference in the 2016 presidential election today, drawing sharp criticism from former intelligence officials and lawmakers stateside.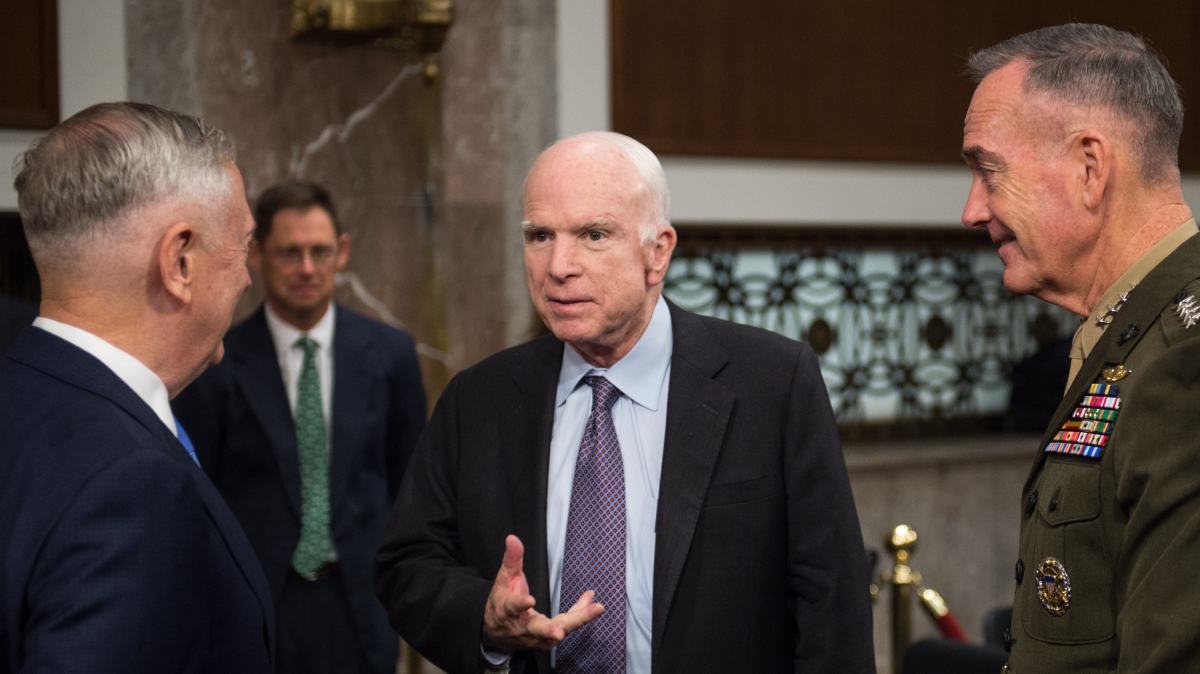 President Donald Trump drew sharp criticism Monday from former intelligence officials and lawmakers after refusing to acknowledge or condemn Russian interference in the 2016 presidential election while standing alongside Russian President Vladimir Putin.
Following a closed-door tête-à-tête in Helsinki, Finland, the two leaders held a joint 45-minute press conference. During the wide-ranging session, among other things, the sitting U.S. president publicly declined to back the unanimous findings of his own U.S. intelligence community – that Russia interfered in the 2016 presidential election, through a series of cyberattacks and carefully orchestrated information campaigns.
"They said they think it's Russia; I have asked President Putin, he just said 'It's not Russia," Trump said. "I have great confidence in my intelligence people, but I will tell you that President Putin was extremely strong and powerful in his denial today."
Within an hour, former intelligence chiefs were panning Trump and his statements at the press conference.
Former CIA Director John Brennan had the harshest words for Trump, tweeting that his performance was "nothing short of treasonous. Not only were Trump's comments imbecilic, he is wholly in the pocket of Putin."
Speaking on CNN, former defense secretary Chuck Hagel said Trump "failed America today," while former director of national intelligence James Clapper said: "On the world's stage, in front of the entire globe, the President of the United States essentially capitulated and seems intimidated by Vladimir Putin."
Even Trump's own sitting director of national intelligence, Dan Coats, released a statement following the press conference that implicitly rebuked Trump's stance.
"The role of the Intelligence Community is to provide the best information and fact-based assessments possible for the President and policymakers," the statement read. "We have been clear in our assessments of Russian meddling in the 2016 election and their ongoing, pervasive efforts to undermine our democracy, and we will continue to provide unvarnished and objective intelligence in support of our national security."
Last week, Coats also singled out Russia as the "most aggressive" cyber challenger to the U.S.
Trump's comments also drew sharp criticism from a wide, bipartisan range of lawmakers. Multiple Republican senators sharply criticized Trump for failing to stand up to Putin or draw a line in the sand on Russian hacking.
"I never thought I would see the day when our American President would stand on the stage with the Russian President and place blame on the United States for Russian aggression. This is shameful," Sen. Jeff Flake, R-Ariz. tweeted.
"This answer by President Trump will be seen by Russia as a sign of weakness and create far more problems than it solves," Sen. Lindsey Graham. R-S.C., tweeted.
"Today's press conference in Helsinki was one of the most disgraceful performances by an American president in memory," Sen. John McCain, R-Ariz., said in a press release.
Sen. Mark Warner, D-Va., the ranking member on the Senate Intelligence Committee, lamented the fact that there weren't other U.S. officials in the room with Trump and Putin.
"If Mr. Trump wouldn't stand with American and Western institutions — and stand with his own intelligence community assessment — in public, who knows what he might have agreed to in private," Warner said Monday afternoon at the Atlantic Council in Washington, D.C.
In recent years, Russian hackers have struck a range of U.S. targets, including critical infrastructure, election systems, democratic fundraising groups, Hillary Clinton's presidential campaign and more. Russian actors also co-opted U.S. social media platforms in 2016 to propagate disinformation, sway the minds of U.S. voters and stoke political division.
Trump's comments come on the heels of U.S. law enforcement officials raising the pressure for Russian hackers. Last Friday, the Department of Justice indicted 12 Russian military intelligence officers for their involvement in hacking U.S. targets during the 2016 presidential campaign. The indictments are symbolic, since the hackers are unlikely to be brought to justice. Rather, they are a way for the U.S. to "name and shame" Russia for its behavior.
Putin has repeatedly denied claims that Russian-backed hacking groups hit the U.S. in any way. At the press conference, he repeated this, saying that Russia had not engaged in "so-called interference." Putin also offered to host American law enforcement officials currently investigating foreign interference in U.S. elections, which Trump praised as "an incredible offer."
Sean Lyngaas contributed to this story.