Nord Stream pipeline disinformation fits pattern of Russian information warfare
Experts say the way Russia is using disinformation around Nord Stream fits a pattern of how it historically approaches information warfare.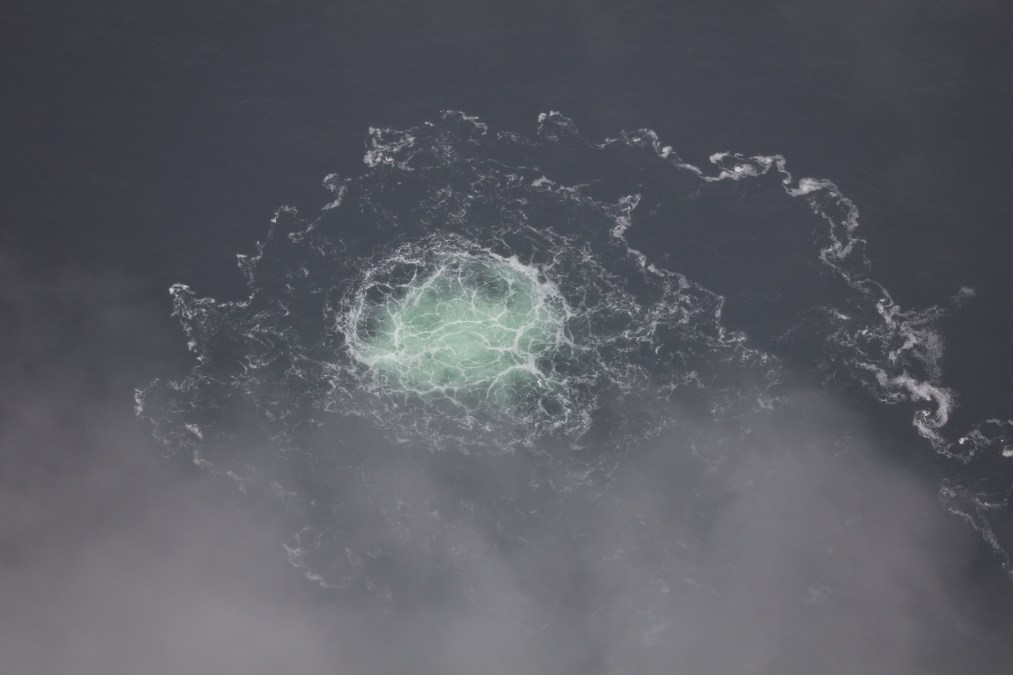 Within hours of this week's Nord Stream pipeline explosion, Russian officials, Twitter users and Tucker Carlson began circulating disinformation suggesting that the Biden administration was responsible for the apparent act of sabotage.
In fact, some viral tweets included old footage of U.S. military jets flying over Germany to support Russia's claims that the U.S. was the culprit.
While there is not yet evidence to say exactly who is responsible for the Nord Stream attack there are, however, plenty of officials pointing at Russia. State Department spokesman Ned Price and several European officials all blamed Moscow, alternately calling them culpable for the sabotage itself or at a minimum guilty of leveraging the incident to smear the U.S.
"The idea that the United States was in any way involved in the apparent sabotage of these pipelines is preposterous," State Department spokesman Price said Wednesday. "It is nothing more than a function of Russian disinformation and should be treated as such."
On Tuesday, five European officials told the Washington Post leaders across Europe believe Russia sabotaged the pipeline because it has the motive, submersible equipment and ability to execute such an attack. Not many other countries do.
The episode fits perfectly into the Russian playbook for weaponizing information, experts say, and is also a textbook example for how quickly disinformation can be ginned up in the wake of major geopolitical events. The Nord Stream pipeline has long been a lightning rod in Europe, with Germany blocking part of it from going into service, and Russia later turning part of it off, spurring a desperate European effort to heat homes.
Disinformation augmented by video of Biden comments
The disinformation swirling around the pipeline explosions was boosted by a Tuesday tweet from the former Polish defense minister Radek Sikorski, now a member of European Parliament representing Poland. While Sikorski is not known as a Russia cheerleader, and his tweet has since been deleted, it used a meme that created a template for the disinformation, with the words "Thank you, USA" emblazoned above a picture of gas bubbling in the Baltic Sea.
Cyber scholar Thomas Rid, who has written extensively on Russian disinformation, said Sikorski's tweet did something "very important," in part because it "predictably got lots of engagement, most interestingly by the Russian Foreign Ministry pointing the finger at us." (On Tuesday, Russian official and United Nations representative Dmitry Polyanskiy retweeted Sikorski's now deleted message, thanking him for "making it crystal clear who stands behind this terrorist-style targeting of civilian infrastructure!")
The director of the Alperovitch Institute for Cybersecurity Studies at Johns Hopkins University's School of Advanced International Studies, Rid said he is making the "working assumption" that Russia is behind the operation in part because they are "trying to play the disinformation card and [are] blaming others for it so quickly, before evidence has even emerged."
Jamil Jaffer, executive director of the National Security Institute at George Mason University's Scalia Law School, said the Nord Stream sabotage is a "classic example of Russian active measures: conduct a covert operation to gain a political or military advantage and then assert that others are responsible both through overt and covert channels."
Several experts said the Biden administration may have inadvertently handed Russia a powerful tool thanks to indelicate and cryptic remarks made by the president. Twitter users this week shared a news video of Biden discussing Nord Stream on Feb. 7.
"If Russia invades, that means tanks or troops crossing the border of Ukraine again, then there will be no longer a Nord Stream 2 ," Biden told reporters. "We will bring an end to it." One journalist wondered how Biden could make that promise since Germany controls the project. The president replied: "I promise you: We will be able to do it."
It's unclear exactly what Biden meant, but days after his press conference the German government shut down the pipeline in response to Russia formally recognizing two breakaway regions of Eastern Ukraine.
Carlson, the Fox News personality, seized on the Biden clip during his show Tuesday night, strongly suggesting the U.S. bears responsibility for the attack and saying Russian President Vladimir Putin would have to be a "suicidal moron" to blow up his own energy pipeline.
A spokesperson for the Russian Ministry of Foreign Affairs also picked up Biden's comments, which were then circulated this week on Russian state-owned media and Telegram channels, according to Nika Aleksejeva, a Riga-based researcher with the Atlantic Council's Digital Forensic Research Lab. She said a far right German political party also has recently pushed the narrative that the U.S caused Monday's explosions.
"Biden spoke so ambiguously — this is a powerful piece of disinformation," Aleksejeva said.
A classic hybrid warfare operation
If Russia is found to be responsible for the physical attack, then the Nord Stream sabotage would be a trademark example for how the Russian government leverages information campaigns to complement cyber operations, experts said.
"Since the stage of the war starting in February, we have seen a lot of interesting examples of how cyber operations and disinformation have been used together," said Bilyana Lilly, a geopolitical risk lead at the Krebs Stamos Group, speaking at a U.S. Naval Institute event on Wednesday. "This is the core of information warfare."
Additionally, she said, Russians recently hijacked the Facebook accounts of military leaders in Ukraine to send messages to troops asking them to surrender. Hacked Ukrainian radio stations have also been used to spread similar propaganda.
Glenn Gerstell, who worked extensively on Russian disinformation efforts when he was the general counsel of the National Security Agency, called the disinformation swirling around Nord Stream in keeping with "a longstanding pattern for Russia — they use disinformation as a direct tool of their statecraft."
Gerstell, now a senior adviser at the Center for Strategic and International Studies, said Russia has weaponized disinformation "going back literally to czarist days where the government felt perfectly free to lie to its own population as well as to foreign audiences." He cited Russia's pretense for invading Finland in 1939 as one example of the historic Russian use of propaganda to bolster military aggression.
"We know they have the capability to do it and we've seen their technical capabilities," Gerstell said, pointing to Facebook parent company Meta's Tuesday revelation that it removed what Gerstell called "very sophisticated [Russian] information operations."
The operation Meta discovered leveraged artificial intelligence to create hundreds of fake social media accounts and more than 60 phony news sites to spread Russia's narrative supporting the Ukraine invasion.