Trump's Pentagon pick 'confident' in 2020 election security
Mark Esper told the Senate Armed Services Committee that the 2020 contests will be "unfettered" by foreign actors, but the military and intelligence agencies will "always will have a lot of work to do" to secure elections.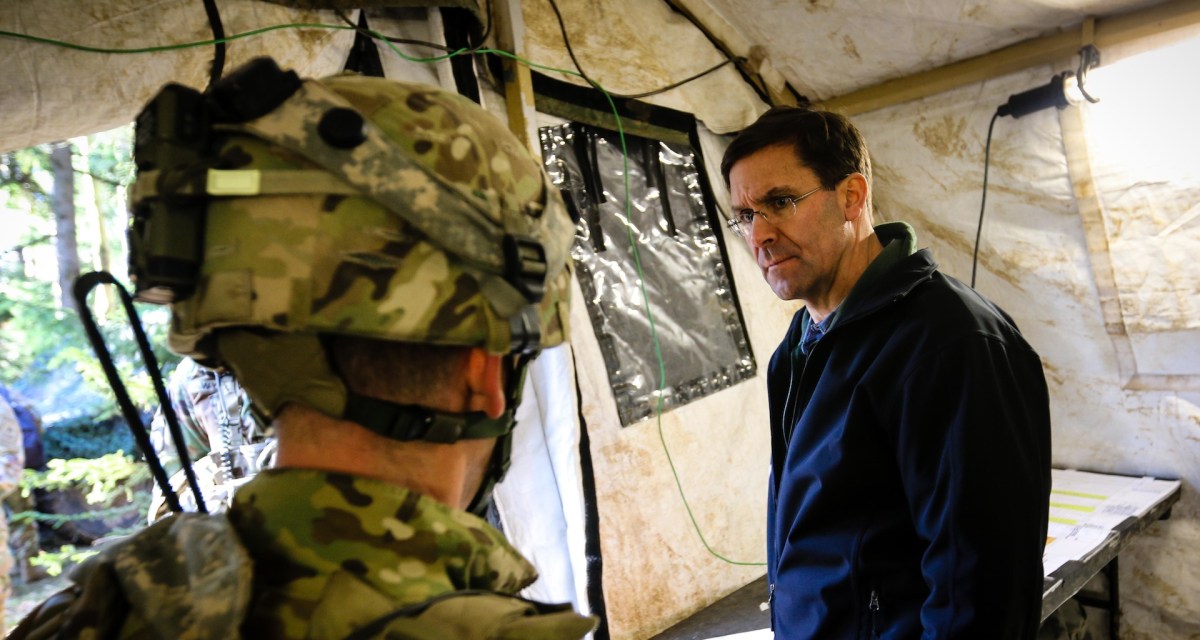 Defense secretary nominee Mark Esper told the Senate Armed Services Committee on Tuesday that although there is still work to be done, he is confident in the security of the 2020 presidential elections.
"We are more and more confident that the 2020 elections will be unfettered," Esper said. "But we always will have a lot of work to do because people will always want to influence our elections."
The 2020 elections remain a target of state and non-state cyber actors, a senior intelligence official told reporters last month in a briefing.
Esper, who has been serving as secretary of the U.S. Army since 2017, highlighted U.S. Cyber Command's capabilities while discussing election security. Efforts made in the buildup to the 2018 midterm elections left the U.S. with an improved posture than years prior, he said.
Some of the command's efforts to defend the midterm elections in 2018 included deploying soldiers to Europe to defend networks and gather intelligence on adversaries. To prepare for the 2020 elections, Cyber Command has similar ongoing operations to keep tabs on adversaries, military officials told reporters in a rare briefing this spring.
Another operation in the buildup to the 2018 elections disrupted internet access for the Russian troll farm behind the Democratic National Committee breach, as The Washington Post reported. Esper, who was nominated days after President Trump's previous pick for the job withdrew from the nomination, did not mention specific efforts.
The Stance on the Split
Esper's nomination comes just months after Cyber Command and the National Security Agency confirmed that a task force meant to thwart Russian threats against the U.S., including election security threats, had been made permanent. It comes nearly a year after the Pentagon received increased authorizations from the White House and Congress to defend outside of Pentagon networks to hold off adversaries.
The nomination also comes as Congress debates measures in its annual defense authorization bill. Among the measures are new steps Cyber Command and the NSA would need to take in order to split. Currently, Gen. Paul Nakasone is in charge of both units. In his written responses to committee questions, Esper did not pick a side on whether the NSA and Cyber Command should split.
The Work Ahead
In the last several years, Esper said he thinks the Army has done a good job in building up the Pentagon's capabilities, but he also thinks more needs to be done on defense.
"The Army has done remarkable work … in terms of standing up Army Cyber Command, creating cyber [military occupational specialties], creating a cyber officer corps, and really employing those tools at both a tactical and operational level as well," Esper said. "On the defensive side I think we remain vulnerable whether it's as a government or in the private sector."
Specifically, Esper said in written responses to committee policy questions that he thinks more resources could be distributed to the Pentagon's efforts to counter Russian influence campaigns. Esper also noted he has goals to enhance cybersecurity workforce recruitment.
Generally, Esper said he assumes the U.S. will constantly be in conflict in cyberspace moving forward.
"We are at war, if you will, in the cyber domain now, constantly battling countries such as Russia or China," Esper said. "We just have to get used to the fact that this is a new domain of warfare that we will probably be in constant conflict … with countries below the threshold of kinetic conflict. And that's just the way the world will be from now on."