DHS intel official alleges he was ordered to halt Russia reporting because it made Trump 'look bad'
The whistleblower complaint comes amid an ongoing dispute over election-security intelligence between Capitol Hill and the Trump administration.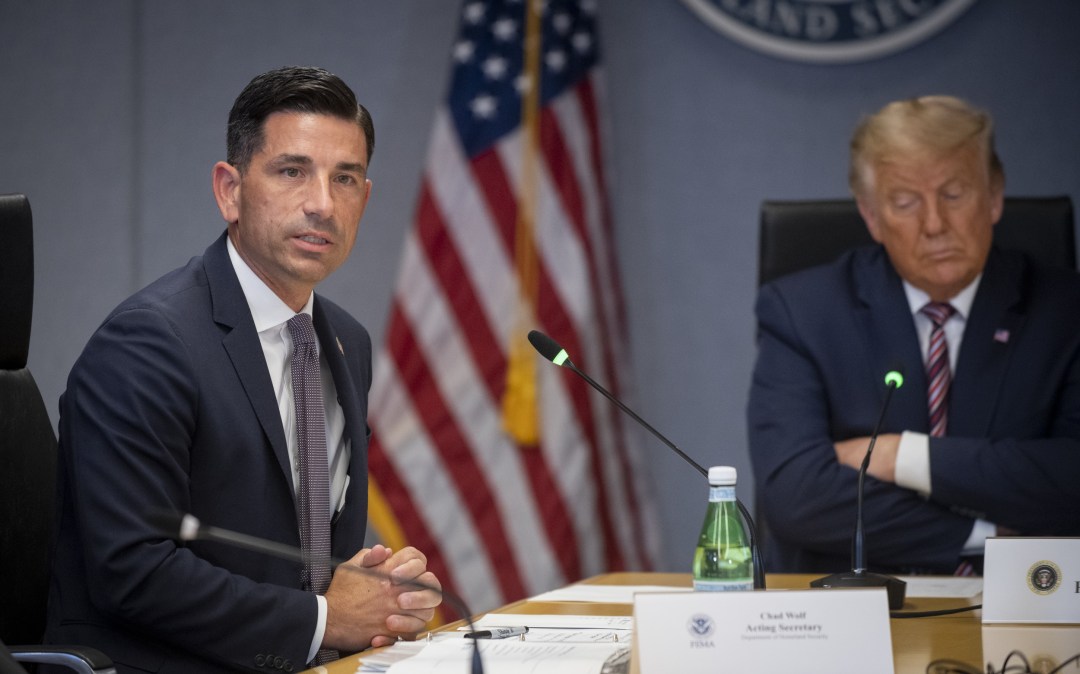 In a whistleblower complaint made public Wednesday, a senior Department of Homeland Security official accused the department's acting secretary of directing him to refrain from distributing an intelligence report on Russian election interference because it would make President Donald Trump "look bad."
The allegation from Brian Murphy, who until August was principal deputy undersecretary in DHS's intelligence office, will add to criticism from Democratic lawmakers that intelligence has been politicized under acting DHS secretary Chad Wolf.
According to the complaint, Wolf instructed Murphy in July to hold off on distributing an intelligence memo on Russian disinformation because it was unflattering for Trump.
That followed a directive in May from Wolf to Murphy, the complaint alleges, to stop providing intelligence assessments on Russian interference threats and to begin reporting on threats from China and Iran. "Mr. Wolf stated that these instructions specifically originated from White House National Security Advisor Robert O'Brien," reads the complaint, which was filed with the DHS Office of Inspector General (OIG).
"The Department generally does not comment on the specifics of OIG referrals, but we flatly deny that there is any truth to the merits of Mr. Murphy's claim," DHS spokesperson Alexei Woltornist said in a statement. "DHS looks forward to the results of any resulting investigation and we expect it will conclude that no retaliatory action was taken against Mr. Murphy."
White House spokesperson Sarah Matthews denied the allegation involving O'Brien.
"Ambassador O'Brien has never sought to dictate the Intelligence Community's focus on threats to the integrity of our elections or on any other topic," Matthews said in a statement. "Any contrary suggestion by a disgruntled former employee, who he has never met or heard of, is false and defamatory."
The whistleblower complaint comes amid an ongoing dispute over election-security intelligence between Capitol Hill and the Trump administration. Senior Democratic lawmakers have alleged that intelligence officials are drawing a false equivalence between the intent and activities of Russia and China as the 2020 election draws near. The Office of the Director of National Intelligence's decision last month to cancel in-person election-security briefings caused an uproar among Democrats.
Murphy was reassigned in August to a position in the DHS Management Division, the complaint alleges.
"A thorough investigation will establish that the actions taken or threatened to be taken against Mr. Murphy were done in reprisal for his protected disclosure," the complaint reads.
The public disputes over intelligence assessments coming from DHS's Office of Intelligence and Analysis are in contrast to the cooperative work on election security being done in other parts of the department. State and local election officials say work with the DHS's Cybersecurity and Infrastructure Security Agency and the FBI has improved dramatically since 2016.
CNN was first to report on the whistleblower complaint.
You can read the full complaint below:
[documentcloud url="http://www.documentcloud.org/documents/7204916-Murphy-Wb-Dhs-Oig-complaint9-8-20.html" responsive=true height=450]