DHS dominates government infosec awards
Workforce issues were highlighted as the Department of Homeland Security the winners' list Wednesday night at the U.S. Government Information Security Leadership Awards ceremony.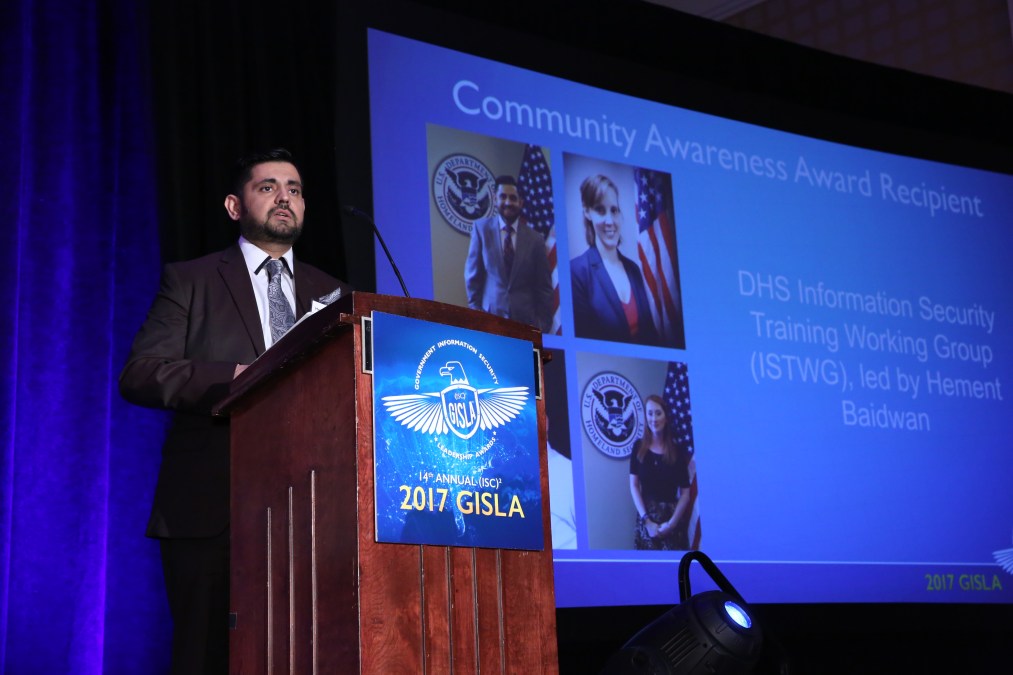 Workforce issues were prominent as the Department of Homeland Security dominated the winners' list Wednesday night at the 14th annual U.S. Government Information Security Leadership Awards ceremony.
The awards, dished out by the International Information System Security Certification Consortium, or (ISC)², went to a slew of up-and-comers and veterans alike from the cybersecurity field in three U.S. agencies — but DHS dominated, with its staff or former staff winning four of six government slots.
The awards ceremony and similar events "strengthen the foundation of our profession and reinforce the significance of our role in the big picture of national security. In a profession fraught with challenges, it is important for cyber professionals to take time to renew their confidence in the fact that they are driving positive change for the cyber workforce," Dan Waddell, head of U.S. government affairs for (ISC)², told CyberScoop. The awards come as federal agencies continue to entertain ideas about how to recruit and retain cybersecurity talent.
The sole nongovernmental award — "Most Valuable Industry Partner" — went to Parham Eftekhari and James Scott for their work in founding the first-ever cybersecurity think tank, the Institute for Critical Infrastructure Technology.
DHS staff won in the community awareness category, where Hemant Baidwan won for his team's role on the department's internal collaboration forum, the Information Security Training Working Group; in the "Up-and-Coming Information Security Professional" category, which honored Michael Rocha for his work on DHS' free penetration-testing service for industry, the National Cybersecurity Assessments and Technical Services or NCATS program; and in the process or policy improvement category, taken by Matt Shabat, DHS director of performance management, for his work on a cybersecurity incident database for the insurance industry.
Former DHS official Greg Touhill, who most recently held the job of federal CISO in the Obama White House, was also honored with the F. Lynn McNulty Tribute Award for his lifetime service.
The other two awardees were from the Army — Daniel Holmes, a senior IT ops engineer, who won in the technology improvement category for his work on U.S. Army microwave line-of-sight cyber operations — and the Department for Veterans' Affairs — Barbara Smith, information security director for the Pacific District, won in the workforce improvement category for her development of a two-year training program for the VA's Information Security Officers.
The awards were bestowed by a panel of judges from (ISC)²'s government advisory council.