White House hosts roundtable on harmful data broker practices
The roundtable coincides with an announcement from the CFPB that it will be issuing proposed rules reining in data brokers.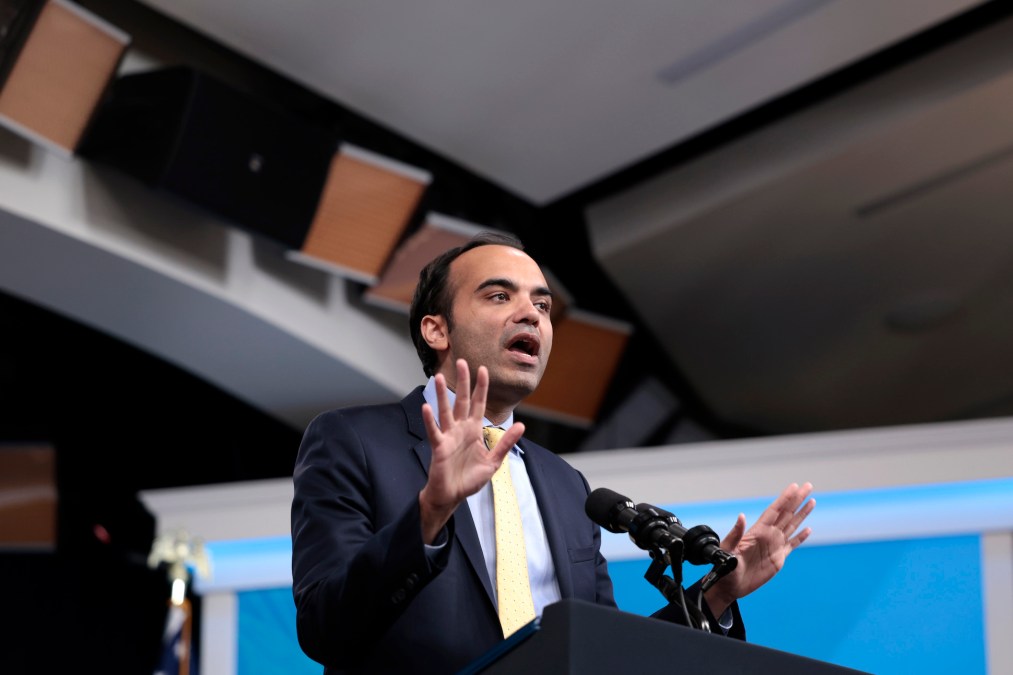 The White House on Tuesday will host a roundtable on harmful data broker practices as part of the administration's efforts to protect Americans' privacy.
"President Biden has called for stronger privacy protections to limit the personal data that companies collect on Americans," Arati Prabhakar, director of the White House Office of Science and Technology Policy, said in a statement. "The President has been clear: we need distinct limits on how companies can collect, use, and share highly personal data. Protections from abusive data practices will give people more agency over how their data is used."
The roundtable will be hosted by Prabhakar, National Economic Council Director Lael Brainard, Consumer Financial Protection Bureau Director Rohit Chopra, Federal Trade Commission Chair Lina Khan and Principal Deputy Assistant Attorney General Brian Boynton.
The roundtable coincides with an announcement from the CFPB that it will be issuing proposed rules ensuring that certain data brokers would be prohibited from selling data for purposes other than those authorized under the Fair Credit Reporting Act. Data brokers could be covered by the FCRA if they sell information such as a consumer's payment history, income or criminal records, for instance.
"Reports about monetization of sensitive information—everything from the financial details of members of the U.S. military to lists of specific people experiencing dementia—are particularly worrisome when data is powering 'artificial intelligence' and other automated decision-making about our lives," CFPB Director Rohit Chopra said in a statement. "The CFPB will be taking steps to ensure that modern-day data brokers in the surveillance industry know that they cannot engage in illegal collection and sharing of our data."
The new rules would also clarify how so-called "credit header data," which includes personally identifiable information like someone's name and address, can be used. According to the CFPB proposal, data brokers rely on purchasing this data from major credit bureaus to create profiles on individuals. The proposal would make it illegal to sell this data for purposes like training AI, targeted advertising, and services that could be used by stalkers or perpetrators of domestic violence. Purposes like government benefits applications and insurance underwriting would still be allowed.
Researchers and consumer advocates have long warned about the risks that data brokers pose to Americans' privacy. Researchers have found that data brokers market and sell highly sensitive data, including mental health data and geolocation data that could be traced to abortion clinics, often without consumers' awareness. Researchers have warned that in addition to endangering American privacy, the data broker industry could pose national security risks by allowing foreign adversaries to purchase sensitive data of military members and other targets.
Attendees of the roundtable will include consumer advocates and researchers from Consumer Reports, Duke University, Data for Black Lives and the Alzheimer's Association.
The roundtable and CFPB announcement are just the latest indication of the Biden administration taking a stronger stance against data brokers. Last year, the FTC sued a data broker for selling geolocation information from hundreds of millions of mobile devices. (The lawsuit was thrown out and refiled this summer.)
Congress has also expressed concerns about the threats that data brokers pose to Americans' privacy. In the spring, the House Energy and Commerce Committee launched an investigation into how data broker companies are harvesting people's data, selling or sharing it without their knowledge, and failing to keep it secure. Prabhakar pointed to the administration's forthcoming AI Bill of Rights, which would limit data collection by AI companies to "only involve information strictly necessary for the specific context."
In his last two State of the Union addresses, Biden has called on Congress to pass comprehensive federal privacy legislation, something it has thus far failed to do. Last year, the House Energy and Commerce Committee passed out comprehensive federal privacy legislation. So far it hasn't reintroduced the bill but a senior committee aide said that leadership is still interested in reintroducing federal privacy legislation.
Senate Commerce Committee Chairwoman Maria Cantwell, D-Wash., who has supported children's privacy legislation in the chamber, said last month that her committee plans to address additional privacy-related issues in the fall.
Civil liberties groups have also expressed concerns about how government purchases of data broker data can be used to evade the Fourth Amendment. In July, the House Judiciary Committee passed out legislation that would prohibit data brokers from selling data to law enforcement and federal agencies.