Ukraine, looking to fortify itself against Russian attacks, admitted to NATO cyber center
Ukraine joins the vaunted cyberdefense organization in the midst of war.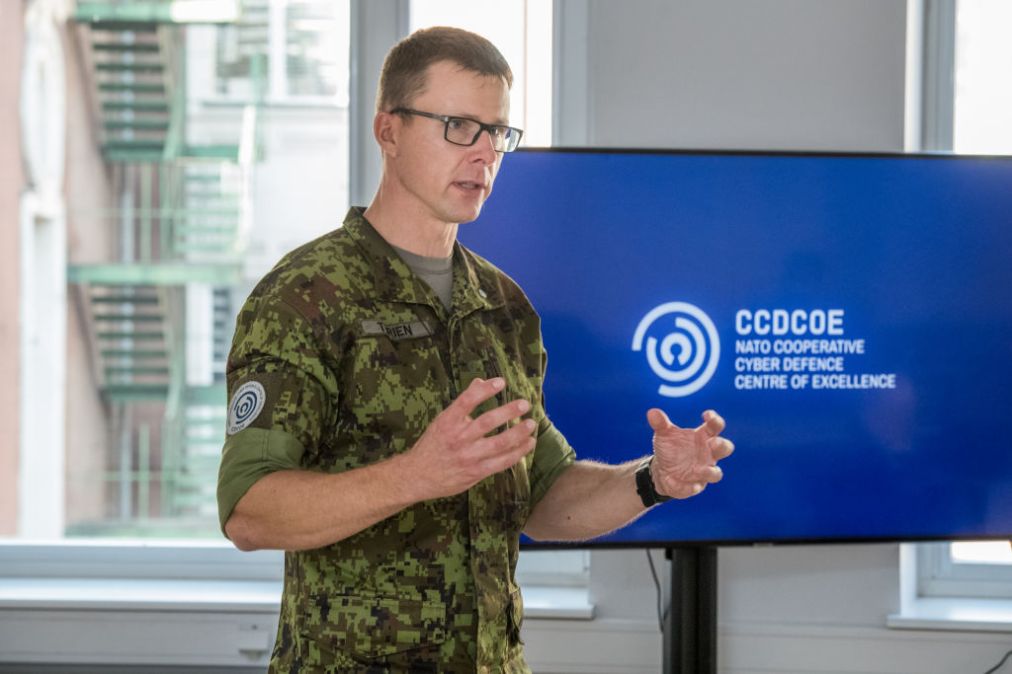 NATO nations voted unanimously on Friday to admit Ukraine to their Cooperative Cyber Defence Centre of Excellence (CCDCOE), a development which experts said will help Ukraine fight off mounting cyberthreats from Russia.
The CCDCOE is a NATO-accredited cyber knowledge hub, research institution and training and exercise facility.
"They're one of the leading if not the leading institution for thinking about cyber warfare," said James Lewis, director of the strategic technologies program at the Center for Strategic and International Studies, a Washington think tank.
Lewis said the decision to include Ukraine in the CCDCOE will have an immediate impact on its ability to fend off Russian cyberattacks.
The center is based in Tallinn, Estonia and is a legacy of the Estonian government's experience as the target of devastating cyberattacks in 2007. Russia denied being the culprit in those attacks — which disabled everything from cash machines to media outlets — but Estonia has long blamed it because the attacks followed outcry about the relocation of a Soviet-era statue in capital city Tallinn.
The Estonian government responded to the 2007 attacks in part by creating CCDOE, an international military organization which describes itself as "focused on interdisciplinary applied research, as well as consultations, training and exercises in the field of cyber security."
Col. Jaak Tarien, director of the CCDCOE, said in a press release announcing Ukraine's inclusion in the center that it "will enhance the exchange of cyber expertise between Ukraine and CCDCOE member nations."
Ukraine has received NATO support in the recent past. NATO Secretary General Jens Stoltenberg said in January that the alliance's cyber experts had been exchanging information with their Ukrainian counterparts "on the current malicious cyber activities" that Ukraine was experiencing in the lead-up to Russia's invasion. Stoltenberg also announced at the time that NATO and Ukraine would "sign an agreement on enhanced cyber cooperation, including Ukrainian access to NATO's malware information sharing platform."
CCDCOE conducts regular cybersecurity exercises simulating cyberattacks so member countries can practice their threat responses. Participants in last year's simulation organized by the CCDCOE included the FBI, Estonia's defense ministry, Cisco, Microsoft and the European Defence Agency, among others, according to Estonian World.
The Estonian government's connection to the CCDCOE could stand to benefit Ukraine, Lewis said.
"The Ukrainians have been looking at the Estonians as a model for how to respond to or how to defend against Russian cyber action and so that's where it's significant," Lewis said. "It also brings Ukraine into, really, the Western community of people who do cybersecurity. So it's an important step."
Stephen Flanagan, an expert on NATO and its defense plans at the RAND Corporation as well as a presidential adviser to the National Security Council in the Obama administration, said the move is a significant morale booster in addition to being an important source of cyber expertise for Ukraine. Flanagan also said CCDCOE member countries will gain valuable knowledge from Ukraine and its long dealings with the Russian cyber threat.
"This is a valuable political statement of solidarity with Ukraine at this moment of peril," Flanagan said via email, "but it could also provide a useful two-way exchange of information on Russian cyber threats."
The CCDCOE reportedly denied Ukraine formal membership last year. It reversed itself Friday, making Ukraine a "contributing participant," a status granted to non-NATO member countries.