U.S. Secretary of Defense urges NATO allies to block Chinese-built 5G tech
An administration effort to convince European allies to blacklist Huawei largely has fallen on deaf ears.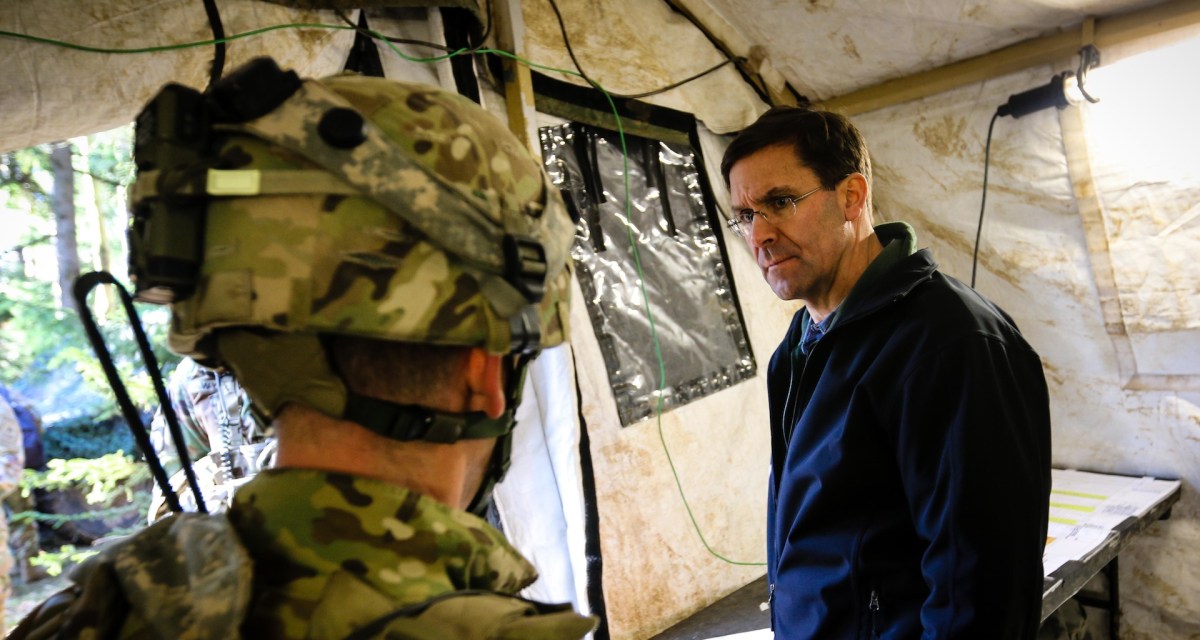 U.S. Secretary of Defense Mark Esper is calling on allies in the North Atlantic Treaty Organization to bar Chinese companies from developing 5G networks there, reiterating an American argument that largely has failed to convince European countries to blacklist telecommunication firms with ties to Beijing.
Esper, in a speech Thursday at the Cybersecurity and Infrastructure Security Agency summit in Maryland, said "every Chinese company has the potential to be an accomplice in Beijing's state-sponsored campaign to steal technology." His remarks came amid a standoff between Washington and Beijing in which the Chinese telecom Huawei has become the subject of geopolitical scrutiny while it also lobbies nations around the world to help build 5G wireless networks.
Esper in his speech warned NATO allies that using 5G networks developed by Chinese companies "jeopardizes military interoperability and intelligence sharing opportunities."
"The U.S. military does not fight alone," he said. "Just like the other warfighting domains our cyber capabilities are enhanced by a strong network of allies and partners. Our ability to share information and operate on common communications networks serves as a force multiplier — but it also comes with increased risk."
China's national intelligence law empowers the government to use its citizens and companies for intelligence-gathering purposes. The U.S. government earlier this year threatened to curb intelligence-sharing agreements with the U.K. if it allows Huawei to build its 5G networks. Huawei technology has a number of basic vulnerabilities that leave it open to exploitation, according to a U.K. government-based audit. U.S. intelligence officials and lawmakers also have warned Huawei shares close ties with the Chinese government, asserting it aims to both sabotage international competition and to conduct cyber-espionage in support of Beijing.
Huawei consistently has denied such allegations.
The White House in May issued an executive order aimed at tamping down any efforts by U.S. companies to use telecommunications technology "owned by, controlled by, or subject to the jurisdiction or direction" of foreign adversaries.
The U.S. effort to rouse allies to ban Huawei has not been particularly successful. Even countries that currently participate in intelligence-sharing agreements with the U.S. are not convinced. Earlier this year a committee of U.K. parliament declined to ban Huawei, for example. Neither did the European Union.
Chipping away at U.S. military dominance
Esper also noted that while the U.S. military has had an overwhelming presence in traditional war-fighting domains, like land, sea and air, American officials still are trying to understand what kind of behavior is acceptable in cyberspace.
"[O]nly in the past decade or so have we started to figure out what fighting in cyberspace looks like," Esper said. "Our adversaries see cyberwar as a way to take on the U.S. and impose costs without confronting our traditional strengths."
The secretary went on to cite rivals stealing information about traditional U.S. military technology and procedures as an area of concern. Earlier this year, the Pentagon in particular flagged aggressive Chinese cyber-espionage efforts that could inform China of U.S. military networks and undermine the security of the Department of Defense, the defense industrial base, and other key sectors.
By hacking into Lockheed Martin in 2007, Chinese hackers gained access to blueprints of F-35 fighter jets' electronic systems, a tactic Chinese hackers have replicated several times to pilfer off information about the U.S. military and its weapons systems.
"They are conducting long-term, strategically focused campaigns to steal sensitive DOD information to undermine our military advantage," Esper said.