Republican congressman warns of mobile threats following SCIF storming
"The fact is, [hackers have] been trying to hack my phone," Rep. Mike Rogers told reporters after speaking at CyberTalks.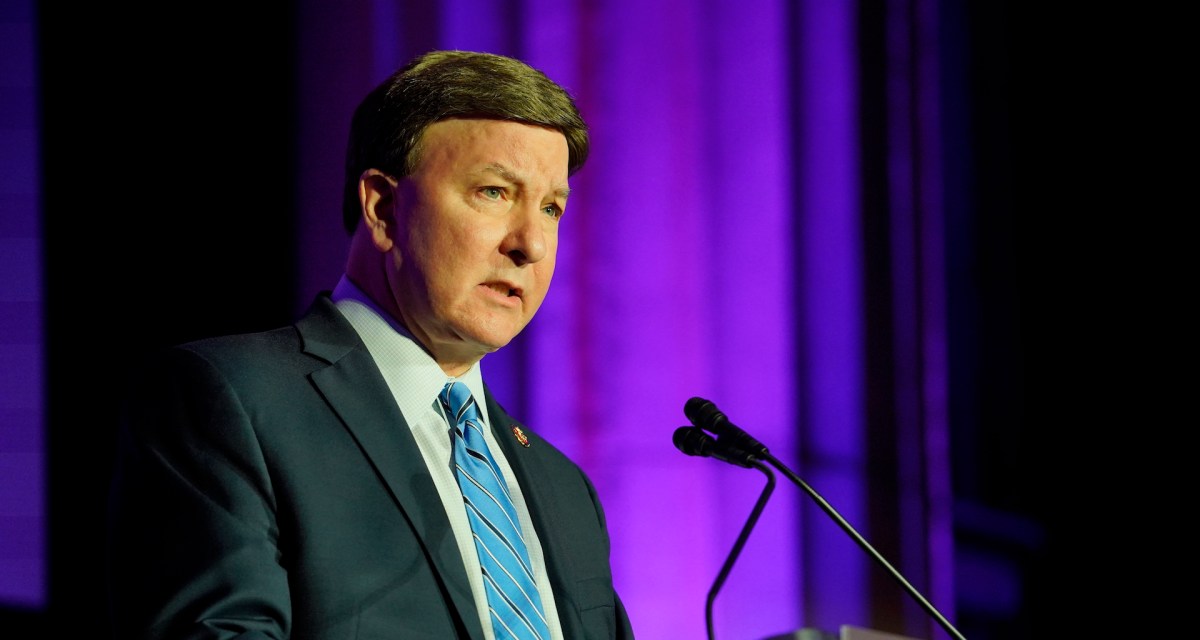 After Republican lawmakers stormed a closed-door impeachment inquiry hearing Wednesday, one of their colleagues warned against bringing mobile devices anywhere near secure briefing rooms on Capitol Hill.
In general, "if anybody brings a phone in, that's a problem," Rep. Mike Rogers, R-Ala., told reporters Thursday, adding that such an action would "absolutely" be a security concern.
Several House Republicans barged into a Sensitive Compartmented Information Facility (SCIF) on Wednesday, reportedly with their cell phones, disrupting an impeachment inquiry hearing on the Trump administration's handling of aide to Ukraine. SCIFs allow lawmakers to review classified material in a secure setting, and any introduction of outside devices could leave the rooms susceptible to eavesdropping.
In this case, one lawmaker said on Twitter that he was inside the secure facility, where outside phones are prohibited, though his staff later said it posted the tweet. Another congressman later made a phone call from the SCIF. The facility had to be swept for electronic devices before the scheduled hearing could resume.
Rogers said he hadn't seen evidence that his Republican colleagues had breached security protocols, and he blamed Democrats for the incident. Regardless, he said, state-sponsored hackers' interest in targeting lawmakers' phones makes keeping those devices away from classified settings all the more important.
"The fact is, [hackers have] been trying to hack my phone," Rogers told reporters after speaking at CyberTalks, a CyberScoop event in Washington, D.C. He declined to elaborate on who was behind those attacks.
The unusual incident Wednesday immediately raised security concerns among former U.S. officials and national security experts. Democratic Rep. Bennie Thompson, of Mississippi, who chairs the House Homeland Security Committee, asked the House Sergeant of Arms to discipline the lawmakers who entered the SCIF. Rogers, who is the committee's ranking member, said Thompson's letter didn't point to any specific lawmaker who had violated SCIF rules by bringing a mobile phone into the facility.
Lawmakers do, however, have a responsibility to protect their mobile devices, Rogers said while highlighting his education on the issue. He said he went to a SCIF last week for a briefing on phone security protocols that are necessary for congressional devices, including strong passwords and using an application for better email security.
Rogers, who has represented Alabama's Third District since 2003, also recalled how he got a rude awakening to the threat to mobile devices while carrying out his oversight duties.
"When I was in Eastern Europe, about three years ago, I came back and my phone had all kinds of Russian crap on it," Rogers said. "We had to destroy that phone. Now I take burner phones over there."
There are signs that Congress is waking up to the threat. Concerned about being in the dark about threats to their phones, a bipartisan pair of senators has asked the Senate Sergeant at Arms for a tally of when Senate computers and smartphones are breached.