Obama says he underestimated the threats posed by disinformation
Obama said the United States and other democracies helped disinformation flourish by growing complacent.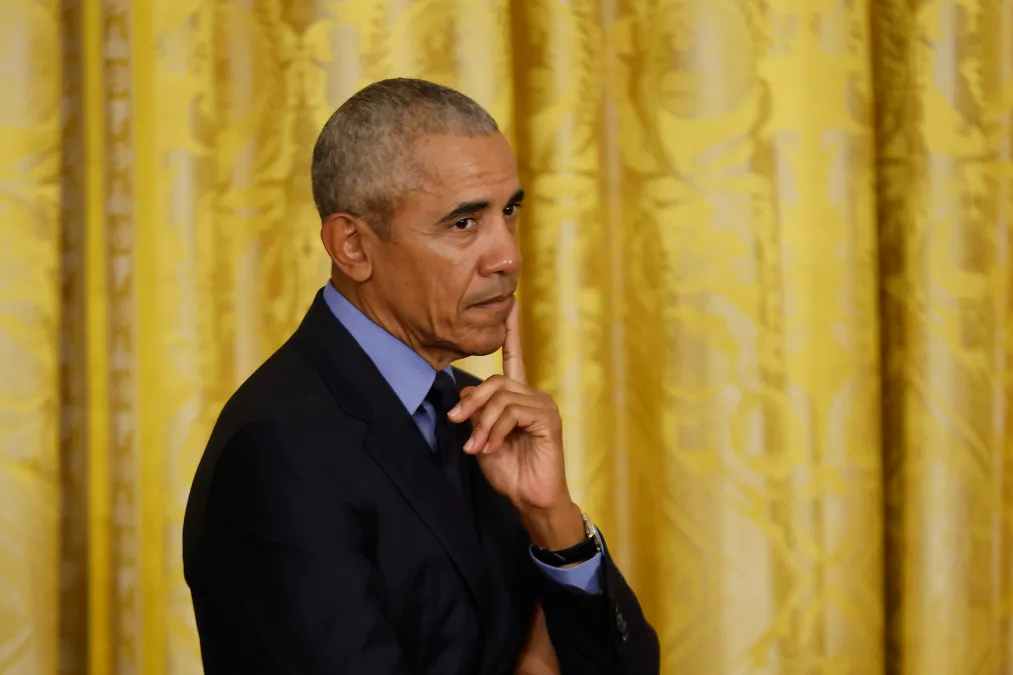 Former President Barack Obama said Wednesday that during his presidency he did not foresee how rampant disinformation would pose threats to democracies worldwide.
"It's something I grappled with a lot during my presidency, I saw it sort of unfold, and that is the degree to which information — disinformation, misinformation — was being weaponized and we saw it," Obama told Atlantic editor Jeffrey Goldberg in an interview. "But I think I underestimated the degree to which democracies were as vulnerable to it as they were, including ours."
Pointing to the fact that a huge number of Americans have elected not to get the COVID-19 vaccine, which he called a "medical miracle," Obama added that he doesn't "see how we we win the contest of ideas if, in fact, we are not able to agree on a baseline of facts that allow the marketplace of ideas to work."
Obama talked at length about the Russian invasion of Ukraine during the wide-ranging interview and said Russian President Vladimir Putin's actions are "a bracing reminder for democracies that have gotten flabby and diffused and feckless around the stakes of things that we tended to take for granted. Rule of law, freedom of press and conscience."
"You have to fight to provide people the information they need to be free and self-governing," Obama added. "That doesn't just happen, inevitably. … We have gotten complacent."
The former president did not directly mention his successor, Donald Trump, but he discussed how social media giants such as Facebook, Twitter and YouTube responded to the disinformation-spurred riots on Jan. 6, 2021, at the U.S. Capitol by some of Trump's supporters. Those companies should be more forthcoming about how their products are designed to work, he said.
"You can get any information you want right now … unfiltered, literally, there's nothing you cannot receive right now in this room," Obama said. "And yet, in our society, you have currently roughly 40% of the country that appears convinced that the current president was elected fraudulently and that the election was rigged."
'He was always ruthless'
Obama said he has been encouraged by the strong support much of Europe has shown Ukraine, saying he would not have predicted it after Europe's largely apathetic reaction to the Russian annexation of Crimea, an autonomous republic in southern Ukraine that Russia invaded in 2014.
"I have been encouraged by the European reaction because in 2014 I often had to drag them kicking and screaming to respond in ways that we would have wanted to see from those of us who describe ourselves as Western democracies," Obama said.
Obama wrestled with the question of whether Putin's invasion of Ukraine could be the result of aging or pandemic isolation. He said he did not expect Putin to become as aggressive as he has in recent months.
"I don't know that the person I knew is the same as the person who is now leading this charge — he was always ruthless," Obama said. "He had no qualms about crushing those who he considered a threat, that's not new. For him to bet the farm in this way — I would not have necessarily predicted from him five years ago."
Obama also reflected at length on the Russian invasion and said it is in part the result of the West's post-World War II assumption — a faulty one — that democracy would easily prevail indefinitely.
The Ukraine conflict "speaks to a much more bumpy, difficult, violent, challenging future for the coming generation if we don't get some things right," Obama said. "What we're seeing is a reversion back to old ways of thinking about power, and place and identity and I think part of our complacency grew out of the notion that once the Berlin Wall fell and Mandela was released, and the world was flat, and you had McDonald's everywhere, and now, suddenly, that was it and we were done."
Obama called the 60 or so years of peace and prosperity after World War II an anomaly across a millennia of cruelty and pillage. He said that while the West admirably created institutions to prevent a repeat of the 60 million dead in that war, not enough has been done to adapt to circumstances.
"We have to continually nurture and respond to new circumstances, whether that's changes in technology, changes in globalization, climate change, all those things require us to say alright, what does that mean for our capacity to maintain human dignity and freedom and self-governance?" Obama said. "And that's something that I think we have not done as well as we need to."