How one group of 'fellas' is winning the meme war in support of Ukraine
The NAFO movement has become an important component of the information war playing out online between Russia and Ukraine.
The North Atlantic Fella Organization, or NAFO, has arrived.
Ukraine's Defense Ministry celebrated the group on Twitter for waging a "fierce fight" against Kremlin trolls. And Rep. Adam Kinzinger, D-Ill., tweeted that he was "self-declaring as a proud member of #NAFO" and "the #fellas shall prevail."
Former Marine Matt Moores co-founded NAFO in May and it quickly blew up on Twitter. It's become something of a movement, drawing support in military and cybersecurity circles who circulate its meme backing Ukraine in its war against Russia.
"The power of what we're doing is that instead of trying to come in and point-by-point refute, and argue about what's true and what isn't, it's coming and saying, 'Hey, that's dumb,'" Moores said during a panel on Wednesday at the Center for International and Strategic Studies in Washington. "And the moment somebody's replying to a cartoon dog online, you've lost if you work for the government of Russia."
Memes have figured heavily in the information war following the Russian invasion. The Ukrainian government has proven eager to highlight memes on agency websites and officials have been known to personally thank online communities that spread anti-Russian memes. The NAFO meme shared by the defense ministry in August showed a Shiba Inu dog in a military uniform appearing to celebrate a missile launch.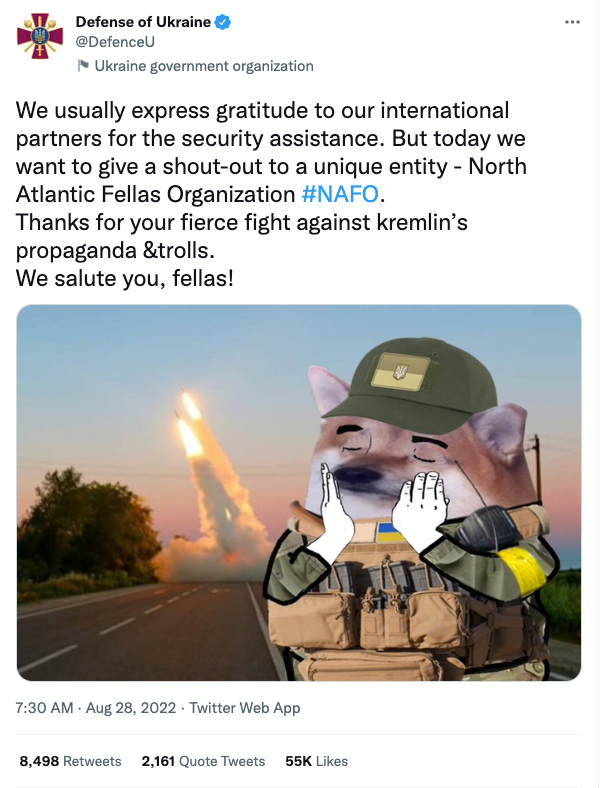 The Shiba Inu has long been a motif in internet culture. According to Vice's Motherboard, the use of Shiba Inu to represent a "fella" waging online war against the Russians dates to at least May when an artist started rewarding fellas who donated money to the Georgian Legion by creating customized fella art for online use.
Moores said he started NAFO primarily as a fundraising tool to support Ukrainians. The group sells cartoon dog avatars and has so far raised $300,000. Moores said the money goes directly to units fighting in Ukraine so they can buy clothing and ammunition.
In June, Russian diplomat Mikhail Ulyanov sparred with a fella online, becoming angry and emotional in the process. The incident reminded Moores why memes work so well, he said.
Ulyanov posted a message on Twitter defending civilian deaths in Ukraine, provoking a fella to attack him. Moores said Ulyanov's blundering Twitter retort — "You pronounced this nonsense, not me" — has become a meme used on T-shirts.
Corrected Oct. 7, 2022: This story has been updated to make clear that Moores co-founded NAFO, but did not conceive the idea for it.