Bolton book could cause 'irreparable damage' to US signals intelligence, NSA director says
Other intelligence officials also have said the book contains revelations that would harm U.S. espionage efforts.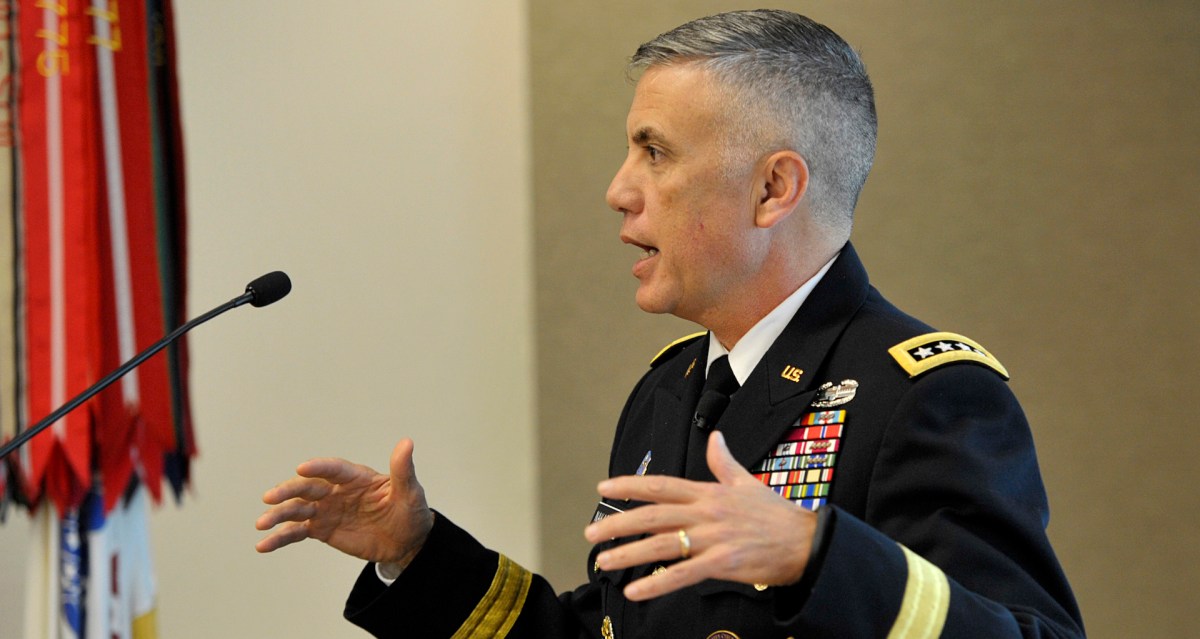 John Bolton's tell-all on his time serving as President Donald Trump's national security adviser could reveal classified information and damage U.S. signals intelligence collection if published, the National Security Agency's director, Gen. Paul Nakasone, said Wednesday.
"At the request of the National Security Council legal adviser I have reviewed a limited portion of [Bolton]'s draft manuscript, and have identified classified information in that portion of the manuscript," Nakasone said in a signed affidavit. "Compromise of this information could result in the permanent loss of a valuable SIGINT [signals intelligence] source and cause irreparable damage to the U.S. SIGINT system."
Nakasone's assessment of Bolton's book was filed Wednesday in U.S. District Court in Washington alongside an emergency Department of Justice filing seeking to block the release of Bolton's book. The Trump administration sued Bolton on Tuesday in an attempt to delay the memoir's publication, alleging that his book contained classified information and that Bolton had flouted his pre-publication review obligations with the government.
Nakasone did not detail what signals intelligence source would be damaged, only noting that "significant manpower and monetary investments have been and continue to be made to enable and maintain this capability."
The NSA director also explained that exposure of the classified information, some of which was classified at the Top Secret/Sensitive and Compartmented Information level, could also "cause considerable difficulties in U.S. and allied relations with specific nations," although he did not name them.
According to the New York Times and The Washington Post, Bolton's narration of his time in the White House in his forthcoming book, "The Room Where It Happened: A White House Memoir," contains explosive allegations about Trump's interactions with Russian President Vladimir Putin and other world leaders, including the suggestion that Trump sought help from Chinese President Xi Jinping in his re-election.
Nakasone, who also serves as the chief of Cyber Command, the offensive cyber-operations arm of the U.S. Department of Defense, warned "the unauthorized disclosure of the classified information in the draft manuscript reasonably could be expected to result in exceptionally grave damage to the national security of the United States."
Intelligence officials circle the wagons
Other top U.S. intelligence officials also claimed the draft manuscript they reviewed, if published, could damage national security in signed declarations.
"The type of classified information in these passages is the type of information that foreign adversaries of the United States seek to obtain, at great cost, through covert intelligence collection," Director of National Intelligence John Ratcliffe said in his own affidavit. "Unauthorized disclosure of these types of classified information could reveal, in some instances, the limits and, in some instances, the capabilities of U.S. intelligence collection and would cause irreparable damage to national security."
The Director of the National Counterintelligence and Security Center Bill Evanina said in his unclassified affidavit, "it is my judgment that the information contained in the passages I have reviewed is precisely what foreign adversaries' intelligence services seek to target and collect." National Security Council Senior Director for Intelligence Programs Michael Ellis made similar claims in another unclassified affidavit.
Evanina did not explicitly say that classified information was contained in the portions of Bolton's manuscript that he reviewed, according to his filing. He did state that "unauthorized disclosure of this information could reasonably be expected to enable foreign threat actors to cause serious, and sometimes grave, damage to our national and economic security."
Ellis and Evanina have submitted other declarations on the matter, which are classified.
What's at stake
Bolton began working with the National Security Council in December to review his manuscript to prevent the unauthorized disclosure of government secrets, according to his lawyer. That review is not compete, and in moving forward with publication next week, Bolton is "deciding for himself whether classified information should be made public," the White House alleged in its lawsuit.
Many copies of Bolton's book have already been shipped around the country, raising questions about the administration's ability to plausibly interfere with its distribution. The memoir is scheduled to be released Tuesday.
The U.S. government has sued when other former government officials have not followed pre-publication review obligations, including former NSA contractor Edward Snowden. In that case, in which a judge ruled in the government's favor, the Trump administration was seeking to collect the proceeds from Snowden's book, "Permanent Record." The Trump administration is also seeking to recover proceeds earned by Bolton, according to the Post.
Nakasone's unclassified affidavit is available in full below:
[documentcloud url="http://www.documentcloud.org/documents/6951091-Bolton-Nakasone-Affidavit.html" responsive=true]