New research identifies poor IAM policies as the greatest cloud vulnerability
Palo Alto Networks threat intelligence unit finds identity and access management policy flaws remain a principal cause of cloud security vulnerabilities.
Misconfigurations continue to be the leading cause of most cloud security incidents — many of those as a result of poorly written identity and access management policies, according to a recent security report.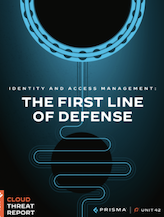 The report, "Identity and Access Management: The First Line of Defense," produced by Palo Alto Networks, unpacks cloud threat research from Unit 42 to understand the "who, what, and how" of how poorly managed IAM can be exploited by threat actors in the cloud.
The study uses data from over 680,000 identities across 18,000 cloud accounts and over 200 different organizations to analyze configurations and usage patterns.
"The research reveals that nearly all cloud identities are overly permissive, and many grant permissions that are never used," shares the report. The findings indicate a large gap between the principle of least privilege and what is currently being practiced at organizations.
Read the report to learn more about the security findings and what tactics can help your organization better defend its cloud environment against cyber threat actors.
This article was produced by Scoop News Group for CyberScoop for, and sponsored by, Palo Alto Networks.