Homeland Security chief Mayorkas announces 90-day China sprint and AI task force
The secretary of homeland security warned that China, AI, and cyber pose some of the biggest threats to the United States.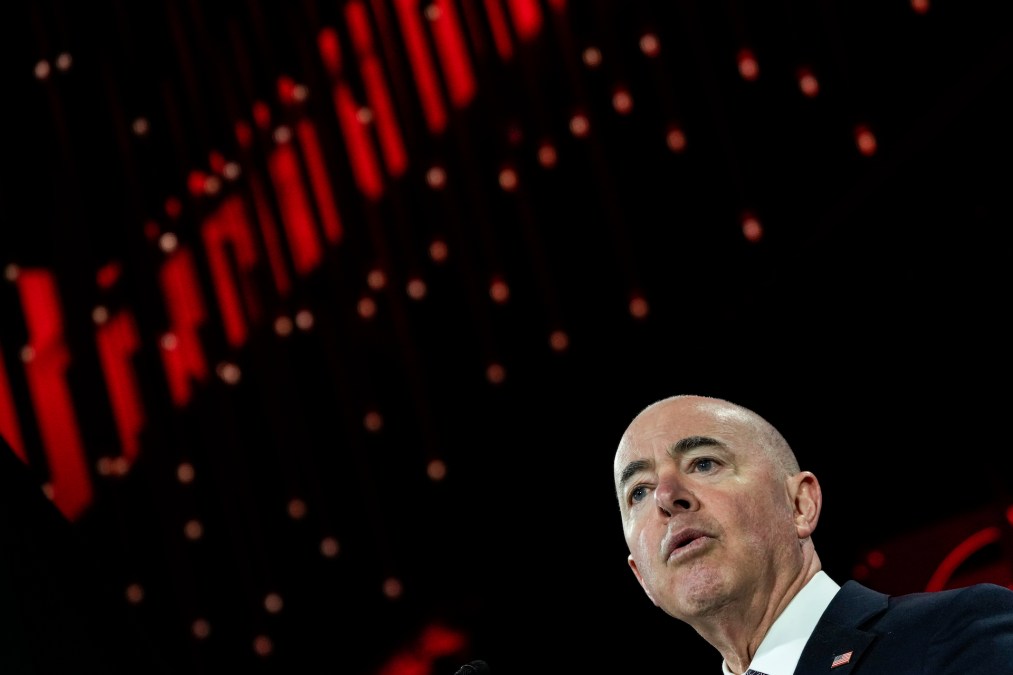 Secretary of Homeland Security Alejandro Mayorkas announced on Friday that his department will carry out a 90-day sprint to study and counter threats from Beijing and that the department will form a task force to examine how to integrate artificial intelligence into its work.
In a speech Friday that accompanied the release of the Third Quadrennial Homeland Security Review, a statutorily required strategic document that assess how threats to the United States have changed, Mayorkas said that the department's look at the threat posed by China will take a close look at how to defend U.S. critical infrastructure against Chinese cyberattacks.
"As threats of the past have changed in form complexity and magnitude, so to have new threats emerged. This is perhaps nowhere more acute than in cyberspace," Mayorkas said. "Today, malicious cyber actors are capable of disrupting gasoline supplies across an entire region of our country, preventing hospitals from delivering critical care and causing disruption in some school systems around our country."
Friday's announcements are the latest in a string of Washington initiatives to counter the influence of China, the most recent of which is a workshop to be held Friday that aims to prevent the United States from falling behind China in the deployment of 6G telecommunications infrastructure.
DHS's 90-day examination of threat posed by China will focus on six areas: defending against attacks on critical infrastructure; disrupting the fentanyl supply chain; screening travelers who are exploiting the immigration system to collect intelligence, steal intellectual property, or harass dissidents; mitigating China's influence on the supply chain, including the safe navigation and resource development in the Arctic and Indo-Pacific; and international information sharing on the counterintelligence threats posed by China.
The IC's annual threat assessment recently concluded that China "probably currently represents the broadest, most active, and persistent cyberespionage threat to U.S. Government and private-sector networks." That threat is diverse in nature, with U.S. prosecutors accusing 44 people earlier this week of working for the Chinese government with the aim of suppressing dissidents within the Chinese diaspora in the United States.
Additionally, DHS is creating an Artificial Intelligence Task Force aimed at using AI to "advance our critical homeland security missions," including by integrating AI into supply chain monitoring and using AI to screen cargo. The task force will examine how to better detect fentanyl shipments, apply AI to digital forensic tools to help authorities with child sexual exploitation and abuse and assess the impact of AI on critical infrastructure.
With AI applications widely proliferating and machine learning making rapid advances in recent years, Mayorkas said that progress marks "the dawn of a new age."