US intel: Chinese influence operations are growing more aggressive, more similar to Russia's
China is stepping up efforts to influence U.S. public opinion, which increasingly resemble Russian operations.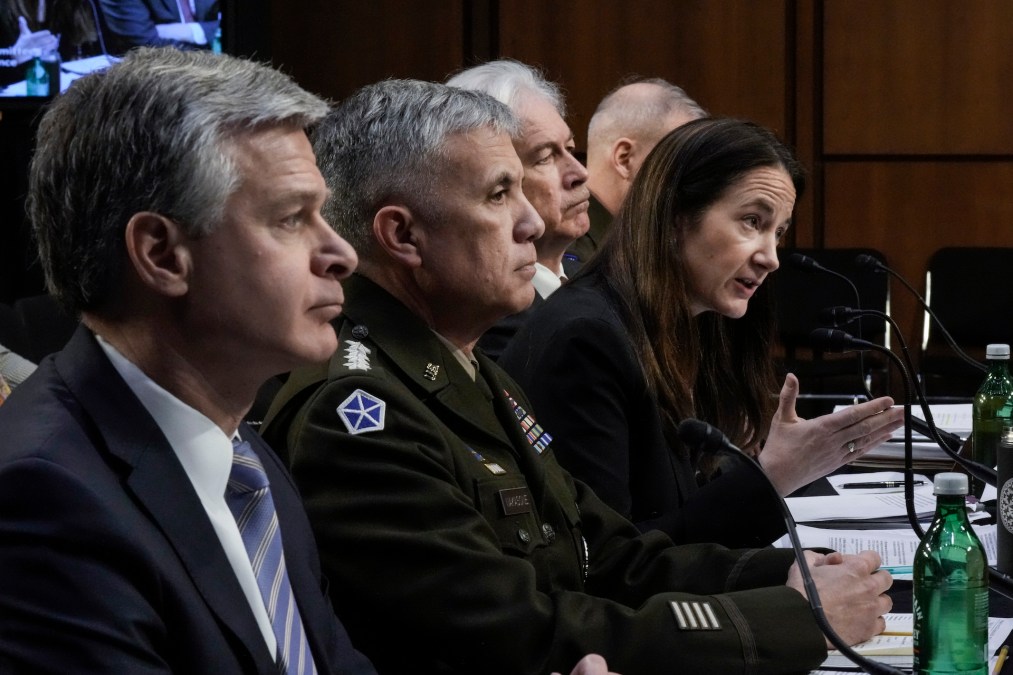 U.S. intelligence officials warned on Wednesday that China is stepping up its efforts to carry out influence operations against the United States and that its efforts to influence American public opinion increasingly resemble Russian operations.
In testimony before the Senate Intelligence Committee and in the U.S. intelligence community's annual threat assessment published on Wednesday, U.S. intelligence leaders cautioned that China represents perhaps the leading threat to U.S. power and that the conflict between Washington and Beijing is increasingly playing out along technological lines.
"The People's Republic of China, which is increasingly challenging the United States economically, technologically, politically and military around the world, remains our unparalleled priority," Director of National Intelligence Avril Haines said during her testimony on Wednesday before the Senate Intelligence Committee during its annual worldwide threats hearing.
But Haines also cautioned that Chinese leader Xi Jinping is not eager for a fight with the United States. While he seeks to return China to what he sees as its proper place among the community of nations and as a regional power, his near-term focus is on domestic and, in particular, economic development concerns. "He wants a period of relative calm to give China the time and stability it needs to address growing domestic difficulties," Haines said.
Against the backdrop of increased competition between the United States and Beijing's desire to keep a lid on a potential conflict, the U.S. intelligence community's annual threat assessment, published concurrently with the hearing, describes a wide-ranging technological competition with China, in which cyber and influence operations play a major component.
"China probably currently represents the broadest, most active, and persistent cyber espionage threat to U.S. Government and private-sector networks," the report concludes. "China's cyber espionage operations have included compromising telecommunications firms, providers of managed services and broadly used software, and other targets potentially rich in follow-on opportunities for intelligence collection, attack, or influence operations."
In the event of a conflict with the United States, the threat assessment concludes that China "almost certainly would consider undertaking aggressive cyber operations against U.S. homeland critical infrastructure and military assets worldwide."
According to NSA Director Paul Nakasone, Chinese actors are growing increasingly bold in their operations online. "We see an increasing degree of risk-taking that they've undergone with regard to stealing intellectual property, even increasing their influence operations," Nakasone said Wednesday.
With tensions rising between Washington and Beijing, the threat assessment finds that China is growing increasingly aggressive in attempting to covertly influence U.S. public opinion, including by "redoubling its efforts to build influence at the state and local level to shift U.S. policy in China's favor because of Beijing's belief that local officials are more pliable than their federal counterparts."
This increased aggressiveness is "probably motivated by their view that anti-China sentiment in the United States is threatening their international image, access to markets, and technological expertise," according to the threat assessment.
This marks a shift in strategy that makes Chinese influence operations more like Russia's. "Beijing's growing efforts to actively exploit perceived U.S. societal divisions using its online personas move it closer to Moscow's playbook for influence operations," the report finds. As Chinese operations grow more similar to Russia's, the U.S. intelligence community expects that Russia will continue to target U.S. elections with covert influence operations, including by strengthening "ties to U.S. persons in the media and politics in hopes of developing vectors for future influence operations."
Questions of China's technological prowess and ability to use Chinese-controlled platforms in its struggle against the United States dominated Wednesday's hearing.
"The revolution in technology is not only the main arena for competition with the People's Republic of China, it's also our main determinant of our future as an intelligence service," said CIA Director Bill Burns, who added that his agency is attempting to adopt a more nimble tech operation and has launched a Transnational and Technology Mission Center to address questions of foreign technology development.
Wednesday's hearing also showcased hardening opinions in Washington about the threat posed by TikTok and the need to address security concerns posed by the app. On Tuesday, Sen. Mark Warner, the Virginia Democrat who leads the Intelligence Committee, rolled out a new proposal that would grant the Commerce Department wide-ranging power to regulate foreign apps and potentially ban them.
Asked by Florida Sen. Marco Rubio, the ranking Republican on the Intelligence Committee, whether China could use TikTok to "drive narratives" and, in the event of a potential Chinese invasion of Taiwan, show American users content about "why Taiwan belongs to China," FBI Director Chris Wray said that they could and added: "I'm not sure we would see many of the outward signs of it happening if it was happening."