DHS nomination vote postponed again amid ethics violation allegations
A Senate committee vote on the nomination of Kirstjen Nielsen to be the next secretary of Homeland Security has been postponed a third time amid ethics concerns and requests by Democrats for a second hearing.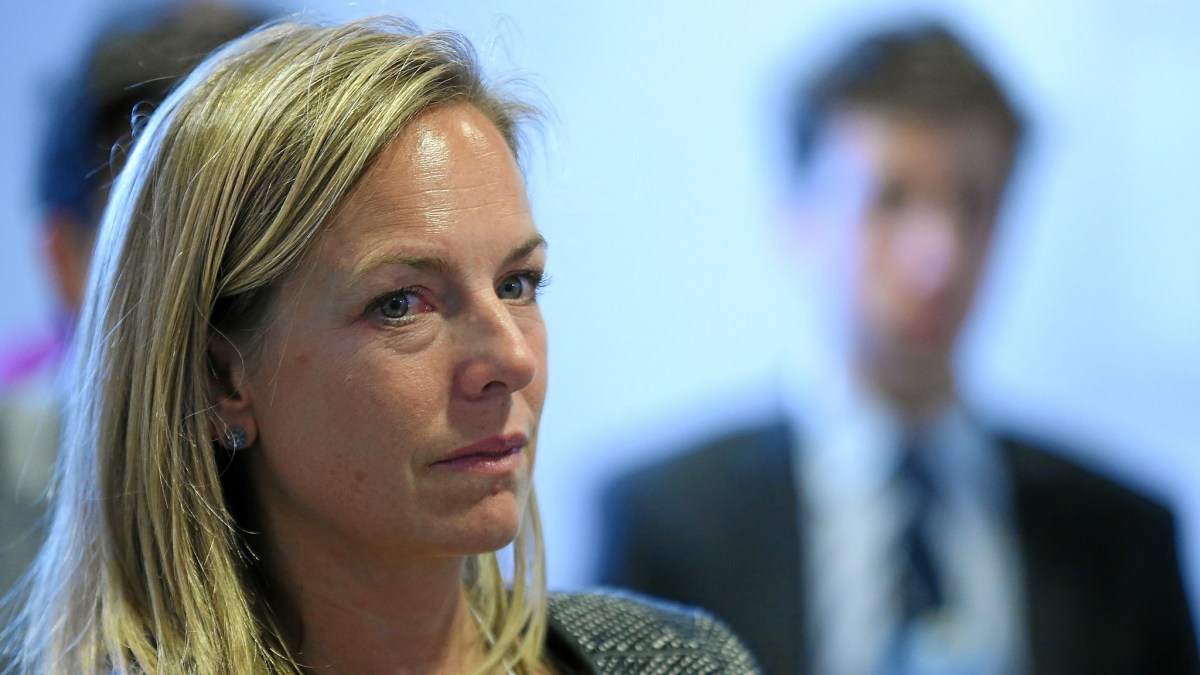 A Senate committee vote to approve the nomination of Kirstjen Nielsen as the next secretary of Homeland Security has been postponed a third time amid ethics concerns and requests by Democrats for a second hearing.
The business meeting of the Senate Homeland Security and Governmental Affairs Committee — originally scheduled for last week, then moved to Monday and subsequently postponed until Tuesday morning — was pushed back again overnight to some time Tuesday afternoon.
"By agreement of the chairman and ranking member, [Tuesday] morning's business meeting is postponed to be rescheduled … at a time to be determined in conjunction with upcoming floor votes. Further notice will be forthcoming," read a note from committee leadership Monday evening.
The postponement follows an ethics complaint filed against Nielsen Monday by the nonprofit nonpartisan Campaign Legal Center, regarding her acceptance of voluntary services from nongovernment personnel to help her prepare for her confirmation hearing last week.
A spokeswoman for committee Chairman Ron Johnson, R-Wis., said the delay was to allow time to review Nielsen's responses to almost 200 post-hearing questions members submitted last week — which were delivered late Monday.
"The chairman agreed to postpone the meeting to later in the day on Tuesday to give members of the committee time to review Ms. Nielsen's written answers to a large number of post-hearing questions, and believes the prompt consideration of her nomination is critical to advancing our homeland security," Brittni Palka told CyberScoop.
But other members have other concerns as well, including the ethics complaint and questions about Nielsen's independence from her former boss at the department, then-DHS Secretary and now White House Chief of Staff John Kelly — according to a senior staffer for Sen. Maggie Hassan, D-N.H.
Sen. Hassan "believes it's very concerning that Ms. Nielsen is using a 'sherpa' who is a consultant with business before the department. This – in addition to reports that the White House chief of staff tried to politically pressure the acting DHS secretary – is just another reason why Ms. Nielsen should appear again before the committee to answer additional questions under oath," Communications Director Aaron Jacobs told CyberScoop.
Last week, the five rank and file Democrats on the committee asked for Nielsen to return to Capitol Hill for more sworn testimony after the Washington Post reported that Kelly had tried to bully acting DHS Secretary Elaine Duke into ending a special immigration status given to undocumented migrants from countries torn apart by war or natural disaster.
The Post reported that Duke — a well-respected career official who holds the Senate-confirmed post of deputy secretary — had threatened to resign. The department, in a statement attributed to Duke, denied that Friday evening. But the concerns about whether Nielsen — who has no track record of executive leadership — will be a White House patsy persist.
The ethics complaint filed Monday by the CLC compounds those worries.
Government departments aren't allowed to accept voluntary work, for the same reason officials cannot accept valuable gifts — because of the risk it might create an obligation that could be repaid with an official act, explained the center's Brendan Fischer.
"There's a risk that such work would engender a feeling indebtedness on Nielsen's part," Fischer told CyberScoop, noting that DHS handed out $23 billion worth of contracts last year.
A DHS spokesman referred questions about the complaint to the White House press office. "There is nothing inappropriate or new about an individual volunteering their time to help prepare a nominee for the Senate confirmation process," Deputy Press Secretary Hogan Gidley told CyberScoop by email.
In her answers to post-hearing questions, Nielsen states that "Proper legal advice was sought through White House Counsel's Office to ensure that any voluntary assistance related to my nomination, as is done for all volunteers who work with the federal government, complies with all applicable legal authorities."
Asked to elaborate and provide a copy of the advice, she responded: "I have been advised that given the confidentiality of all WH Counsel legal advice given to WH officials, I am not able to provide additional information."
"It appears that Nielsen has been guided through the confirmation process by an individual whose clients have hundreds of millions in contracts before the agency she has been nominated to lead," read the CLC letter released Monday, referring to Thad Bingel, a former DHS official and Washington consultant. Last week, CyberScoop reported that Bingel was leading Nielsen's confirmation preparation, assigning government staffers to prepare policy memos and coordinating her paperwork submissions to the Senate.
Bingel did not respond to emails requesting comment.
"There are strong reasons to believe he's not doing this out of the goodness of his heart," added Fischer, "He could be in a position to receive a financial windfall."
CLC says it has worked for 15 years to "improve our democracy and protect the fundamental right of all Americans to participate in the political process."
"If Nielsen in her official capacity as principal deputy White House chief of staff (or, for that matter, any other White House or DHS staffers), are accepting Bingel's provision of professional services to the government without any compensation, then Nielsen is likely in violation of the Antideficiency Act," reads the letter. The act makes it illegal to "accept voluntary services for [the] government or employ personal services exceeding that authorized by law."
On the other hand, write CLC's Larry Noble and Brendan Fischer, if Nielsen is accepting voluntary services from Bingel in her personal capacity, then — as a current White House employee — she is likely violating the executive branch gift rules, which prohibit an employee from soliciting or accepting valuable gifts.
"The value of Bingel's gift is potentially very high, depending on his hourly rate," according to the letter, sent to Sessions, White House Chief of Staff John Kelly and Office of Government Ethics acting Director David Apol.
"The consultant has clear financial incentive to assist in the nomination of an agency secretary who would have the power to steer government contracts in his direction," added Larry Noble, senior director and general counsel at CLC in a statement. "This unusual arrangement should be investigated because of the clear potential conflict of interest, and the danger that Nielsen can be compromised as DHS Secretary."