Everything you need to know about voting by mail
While cybersecurity doesn't come to mind with the mail, we've have a guide that explains the security behind the process.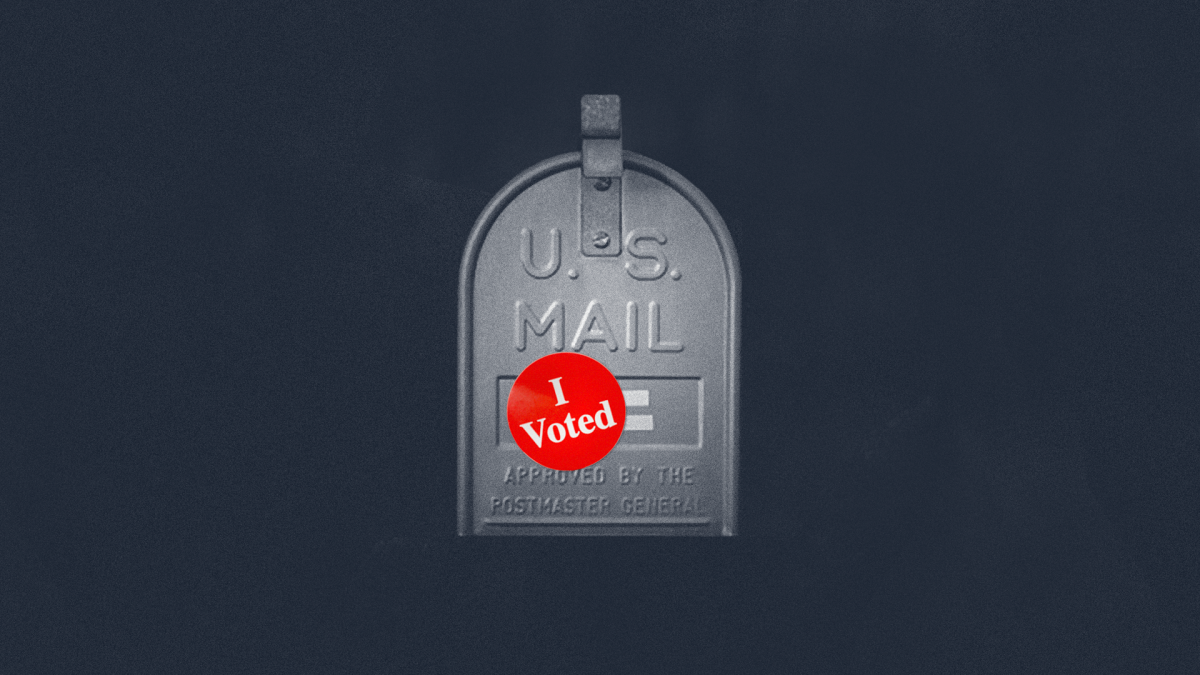 State and local governments, those running for office and the American electorate are facing an unprecedented election process this year in which mail-in ballots will play a large part in how voters pick their elected officials during a once-in-a-century pandemic.
In doing so, they have to navigate a U.S. Postal Service that has warned of tardy ballot deliveries, cut through the din of misinformation coming from President Donald Trump, and overcome a process that can be confusing on a number of different levels.
While mail-in voting and cybersecurity don't seem to go hand-in-hand, security officials are heavily involved in making sure the entire operation can be trusted once it's complete.
Here's what you need to know about mail-in balloting and how it will play a greater role in this presidential election:
How long has voting by mail been going on, and how is it used today?
Mail-in voting is not new. In the Civil War, troops stranded from their home states cast their ballots remotely in the 1864 presidential contest between Republican incumbent Abraham Lincoln and Democratic challenger George McClellan.
Today, mail-in voting is more widespread than many realize. In the 2018 elections, about a quarter of voters, or 31 million Americans, voted by mail, according to the Election Assistance Commission. That number could more than double in the 2020 election, according to a New York Times analysis, which found that at least three-quarters of American voters will be eligible to receive their ballots by mail.
Five states — Colorado, Hawaii, Oregon, Utah and Washington — already conduct elections primarily by mail, and all 50 states offer mail ballots as an option. (The terms "absentee" and "mail-in" ballots are often used interchangeably; one can receive an absentee ballot by mail, but choose to return it in person in some states.)
Polls show a majority of Americans support having the option to vote by mail. Seventy percent of voters surveyed by Harvard's Center for American Political Studies and the Harris Poll supported a vote-by-mail option, including 88% of Democrats and 50% of Republicans.
How have states changed mail voting options in response to the novel coronavirus?
The novel coronavirus, which has killed at least 177,000 people in the U.S., has prompted many states to expand voting-by-mail options. In addition to the five states that already voted primarily by mail, at least four more — California, Nevada, New Jersey and Vermont — and D.C. say they will mail ballots to all registered voters.
A flurry of states expanded the list of "excuses" that voters can cite in requesting an absentee ballot to include fear of catching the virus. Now, according to a Wall Street Journal tally, only six states — Indiana, Louisiana, Mississippi, South Carolina, Tennessee and Texas — don't accept "fear of the virus" as an excuse for receiving a ballot by mail.
In ramping up mail-in voting, funding is an issue for some states. $400 million of a more than $2 trillion federal stimulus package enacted in March was allocated to help state officials handle mail-in balloting and acquire personal protective equipment for in-person voting. But voting rights advocates have called for much more money to conduct elections during the pandemic. A bill from House Democrats proposed $3.6 billion in additional funding for elections, but a Senate counterpart offers no additional funding.
With just 10 weeks to go to the presidential vote, state officials say they are using what resources they can to increase voter turnout.
How are mail-in ballots verified and secured?
Election officials use a variety of methods to verify and secure ballots. The simplest is taking the identifying information on the ballot (such as the name and address) and matching it with what is on file in a registration database. Election officials are also trained in signature verification.
Most election jurisdictions use a bar code on ballot envelopes so that voters can track their ballot, according to the Democracy Program at New York University's Brennan Center for Justice. Those same bar codes help election administrators weed out duplicate ballots.
Another guard against ballot-tampering is to set up polling sites where voters can drop their absentee ballots. In the 2016 election, a majority of voters in all-mail-voting states like Colorado and Oregon took advantage of these drop-off sites.
From a cybersecurity standpoint, securing voter registration databases takes on added importance with the expansion of voting by mail. That's why federal officials have been drilling with their state and local counterparts to bolster the security of registration databases.
A July assessment of mail voting by DHS's Cybersecurity and Infrastructure Security Agency found the process to be secure when carried out properly. The agency also noted that "threat actors may leverage limited understanding regarding mail-in voting processes to mislead and confuse the public."
Is there cause for concern over fraud?
Instances of mail-in ballot fraud are exceedingly rare. In a study spanning nearly 20 years and 15.5 million votes cast by mail in Oregon, the conservative Heritage Foundation found only 14 cases of attempted fraud by mail — or .00009 percent of votes. A Washington Post analysis of voting by mail in Colorado, Oregon and Washington found cases of possible fraud in just 0.0025 percent of ballots cast in in 2016 and 2018.
What are secretaries of state doing to adapt to the new environment?
Since the coronavirus upended November's voting process, secretaries of state have been in close contact with one another on how to adapt to administer elections.
"That's one of the unintended benefits of all of the cybersecurity work across the country," Kim Wyman, Washington's secretary of state, told CyberScoop. "Election officials can communicate in channels that we didn't have before."
"We've spoken to every state in the country and the [District of Columbia] … mainly because we've been doing vote by mail" for years, Wyman added.
Her advice to election officials is to have a tested, consistent process in place for handling mail from across the state. "Whatever you can automate in that process is going to serve you well," she said. "You want to be lean. You want to reduce waste in your processing."
Ballots will start getting mailed out within a month in every state, and sooner in some, according to Tammy Patrick, senior adviser on elections at the nonpartisan Democracy Fund. States may find it challenging to spin up entirely new technology-driven processes in just a few weeks, and could instead draw on manual solutions like increased personnel to handle mail, Patrick said.
Jocelyn Benson, the secretary of state of Michigan, is preparing for a surge in mailed ballots. Some 38% of Michigan residents voted using an absentee ballot in the presidential primary in March. But in November, Benson suspects that number to swell to between 65 and 70%.
Benson said her office's discussions with the Postal Service have led to better tracking of envelopes and a commitment, in the days leading up to an election, to move all election mail through a facility and on to the next destination at the end of each day. But concerns remain.
In Michigan's primary election in August, more than 10,000 ballots were rejected because they were received late. That could happen again in November unless a state law that prevents absentee ballots from being counted early is changed, according Benson.
Benson said she is "hopeful" that the law will be changed before November. But in the meantime, she said, "we're using that [10,000-ballot] number to communicate with voters on the importance of voting early."
It's not just Michigan. More than 500,000 mail ballots were rejected because of delivery deadlines and other issues in primaries across 23 states this year, according to a Washington Post analysis.
How are secretaries of state responding to Trump's attacks on voting by mail?
Both Benson and Wyman have been pushing back on misinformation circulating about mail voting — no matter the source.
"My job is to provide correct information to voters," said Wyman, who is Republican. "So when the president makes an unsubstantiated claim like there is rampant fraud in mail-in voting, all I can do is point to Washington's record" of conducting elections with an infinitesimal amount of reported fraud.
State officials who spent years drilling for foreign interference in elections now find themselves combating misinformation coming from the White House.
"There's a growing dichotomy that we're preparing for: The real, actual threats to our elections, and then the perceived threats," Benson told CyberScoop. "And we have to battle them both this year."
What is going on with the Postal Service?
The U.S. Postal Service, which delivered 143 billion pieces of mail in fiscal 2019, says it can handle the spike in mail-in balloting expected this fall. But the Postal Service is also asking state officials to work closely with the service to adapt to the new environment. And it has sent out warnings about ballots arriving late because of local election deadlines.
In July, the USPS told 46 states and the District of Columbia that it could not guarantee all mail-in ballots in November would arrive in time to be counted. Some states, including Nevada and Mississippi, have moved to extend deadlines to accept ballots mailed by Election Day.
Postmaster General Louis DeJoy has also been heavily criticized by Democratic lawmakers for enacting cost-cutting measures at the service during an election year. On Aug. 18, DeJoy said he would halt some of those measures until after the November election.
Although DeJoy pledged that USPS would "deliver the nation's election mail on time and within our well-established service standards," statements alone won't put the issue to rest. Some states that had sued the USPS over its operational changes said they would carry on with the litigation despite DeJoy's announcement. And DeJoy said at an Aug. 24 House Oversight Committee that other policy changes he had made, including the removal of nearly 700 mail-sorting machines and the ban on extra mail trips for postal workers, would remain in place.
While DeJoy continues to draw the ire of Democrats on the national stage, the efficiency of mail-ballot deliveries will depend in part on how closely election and postal officials in a given state have collaborated in the past — and how they can work together between now and Election Day.
What's next? How do I know where and when to vote?
Voters can act now to get the mail-in voting process going.
"The earlier requests for ballots are sent in, the sooner they go out," Patrick said. "Voters are driving this bus by the choices being made on when to act."
Secretaries of state, meanwhile, will continue to coordinate with their election officials to try to make things run smoothly.
"The big theme this year is planning ahead and being fully informed of your choices as a voter," Benson said.
Patience will also be a theme. Some election officials and experts are cautioning that it could be several days, or longer, before the full tally of votes is known. But more of those votes will also have an auditable paper record — 92% in 2020 compared to 82% in 2016, according to federal officials — another sign of progress.
Finally, here is an easy-to-use voting guide from the National Association of Secretaries of State.