Congress and intelligence officials spar over surveillance reforms
Member of the Senate Judiciary Committee remain unconvinced that existing reforms are sufficient to address abuse of surveillance authorities.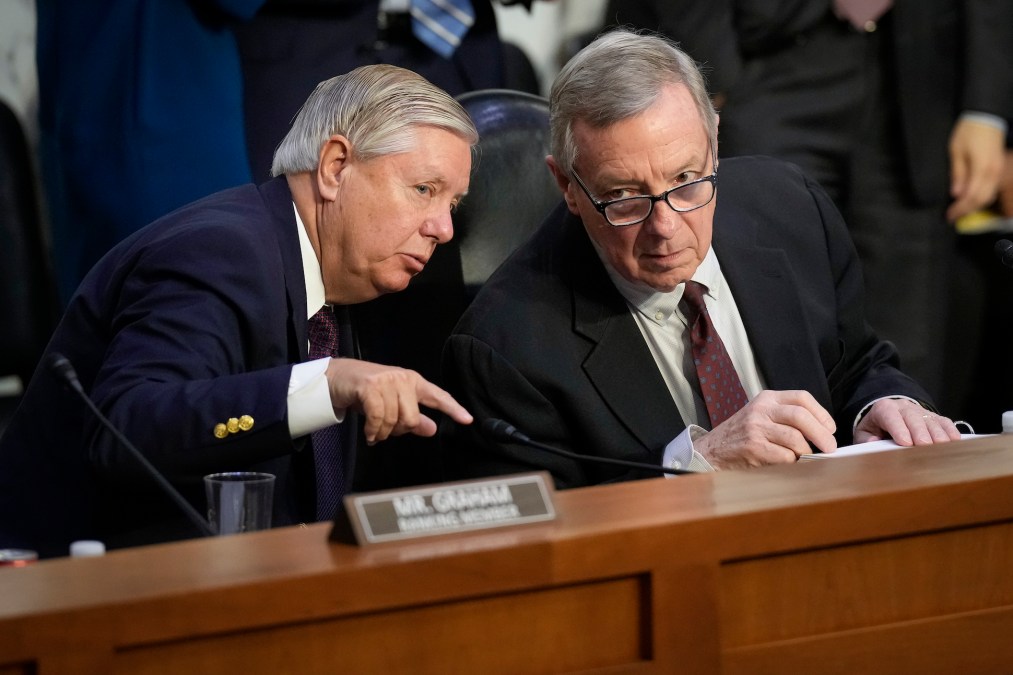 Lawmakers and U.S. intelligence officials clashed at a Senate Judiciary hearing Tuesday over how to reform a controversial surveillance program set to sunset at the end of this year, setting the stage for a difficult legislative battle to renew or potentially reform the law.
Representatives of the Justice Department and FBI made the case that the long history of abuses linked to Section 702 of the Foreign Intelligence Surveillance Act are already being addressed by significant new reforms instituted in the last two years. But several members of the Judiciary Committee questioned whether these reforms go far enough and pressed witnesses about potentially more serious reforms, including a warrant requirement for using the sensitive intelligence data.
"I will only support the reauthorization of Section 702 if there are significant, significant reforms. And that means first and foremost, addressing the warrantless surveillance of Americans in violation of the Fourth Amendment," Senate Judiciary Chair Dick Durbin, D-Ill., said in his opening statement.
The hearing sets up what is an uphill battle for the Biden administration to get Congress to renew the authority without changes. The administration and its surrogates insist that failing to renew the law would have grave national security consequences. Ahead of Tuesday's hearing, Biden administration officials detailed several newly declassified examples of Section 702's usefulness in combating cyber operations and narcotics trafficking.
But that argument has so far failed to gain traction on the Hill. Lawmakers at Tuesday's hearing were largely united in opposing a clean reauthorization, arguing that the intelligence community hasn't shown that it can self-correct a history of serious abuses or show that current systems don't merit greater reforms.
"Why should we ever trust the FBI and the DOJ again to police themselves under FISA, when they've shown us repeatedly, for more than a decade, that they cannot be trusted to do so?" asked Sen. Mike Lee, R-Utah.
The Judiciary Committee members aired a variety of reform proposals, including a warrant requirement for Section 702, adding an "adversarial" process to the FISA system and assigning amicus curiae to targeted individuals who can otherwise not challenge their surveillance — all proposals that Tuesday's witnesses opposed.
At the heart of lawmakers' concerns is the FBI's use of Section 702, which is designed to collect data belonging to foreign intelligence targets whose communications transit U.S. communications infrastructure, to query data incidentally collected on Americans. Committee members raised concerns about the FBI's history of abusing incidental collection, citing a court ruling declassified last month that showed that the FBI misused the powerful surveillance tool more than 278,000 times.
The Justice Department's Assistant Attorney General for National Security Matt Olsen said that these abuses predate reforms undertaken by the agency in 2021 and 2022 and that the bureau's policies would prevent them from recurring.
These reforms include requiring agents to opt-in to search data, something that was a driving factor in reducing U.S. person queries more than 90% between 2021 and 2022, Olsen said. The Foreign Intelligence Surveillance Court is currently carrying out a declassification process for a 2023 opinion that identifies "some additional improvements in FBI compliance," Olsen said.
On Tuesday, FBI Deputy Director Paul Abbate announced a pair of new compliance measures that the agency is putting forward as it tries to reduce FISA abuse. The first is a three-strike policy for query-related incidents that could lead to an agent's dismissal. The second involves evaluations that can affect performance ratings and promotions for agency leaders monitoring 702 compliance in their divisions.
Abbate told Sen. John Cornyn, R-Texas, that the bureau would welcome codifying reforms already in place into law.
Civil liberties advocates said these reforms fail to address the surveillance abuses — including the collection of data belonging to racial justice protesters and political donors — committed under Section 702.
"The new items the FBI touted at the hearing are wholly inadequate, and out of touch with how serious these abuses are," said Jake Laperruque, the director of the Security and Surveillance Project at the Center for Democracy and Technology, a group that is calling for FISA reforms.
Tuesday's hearing previews what is likely to be a significant clash between the Biden administration and Congress over the possibility of a warrant requirement for U.S. person queries of Section 702 data. The reform is one that both lawmakers at the hearing largely supported but the administration has opposed. On Monday a senior administration official said a warrant requirement would have "very serious national security costs."
Intelligence agency officials testifying in front of Congress shared those concerns. "The reason for not requiring a warrant is that this is lawfully collected information that is in the FBI holdings," said the Justice Department's Olsen.
But lawmakers expressed skepticism about the FBI's argument.
"The U.S .person query aspect of this is really concerning to the Congress," said Sen. Jon Ossoff, D-Georgia. "I don't think you've effectively made the case that there shouldn't be a warrant requirement whether or not it is constitutionally required."