Carbon Black stocks close 26 percent up on first day of public trading
The company is optimistic about taking on the well-established players in the cybersecurity market.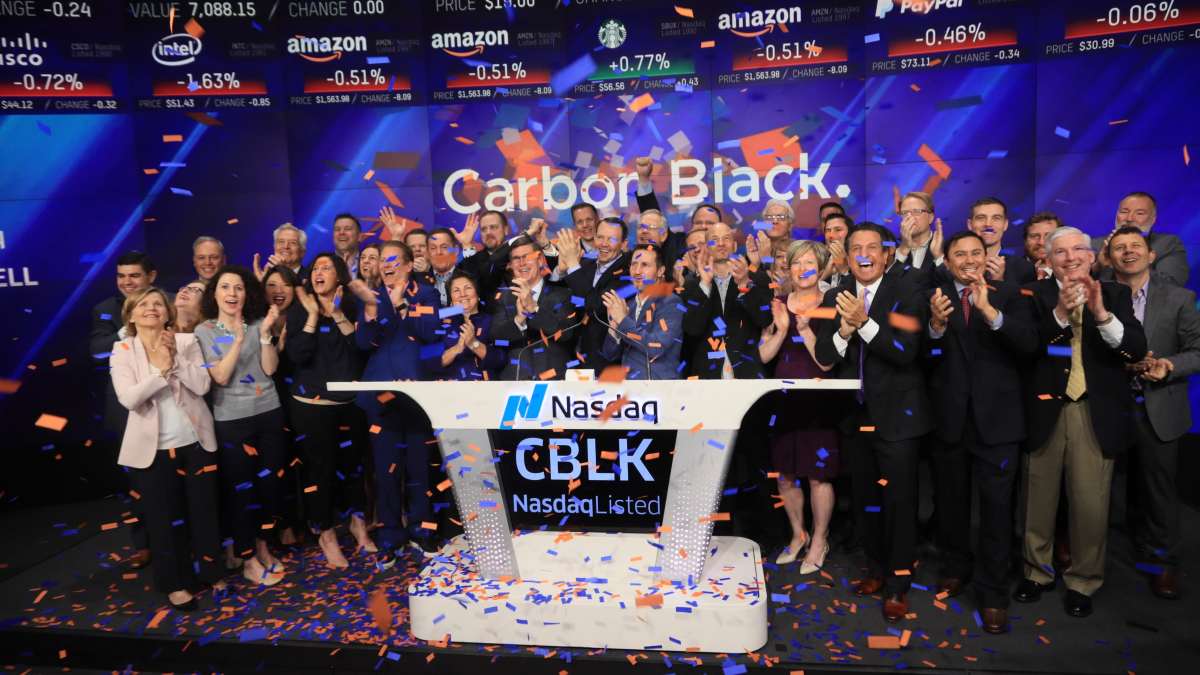 Cloud-based endpoint security company Carbon Black started trading shares on the Nasdaq on Friday, closing at 26 percent above its initial public offering price of $19 per share.
In a filing with the Securities and Exchange Commission, Carbon Black said that it is hoping to raise $152 million in its IPO by selling 8 million shares. It had set its price range between $17 and $19 — after upping it from a previous filing — and opened on Friday to trades of about $24.50 per share. Stocks were at $23.94 when markets closed at 4 p.m. EDT.
The Waltham, Mass. company has yet to turn a profit, but reports consistent increases in revenue in its SEC filings: $162 million in 2017, up from $116.2 million in 2016 and $70.6 million in 2015. The company says it serves 3,700 customers globally, including 30 of the Fortune 100.
Carbon Black provides cloud-based anti-virus and endpoint security services. The company says it sets itself apart from the competition with its Cb Predictive Security Cloud, a big data and analytics cloud platform that analyzes unfiltered customers' unfiltered data for threats.
Carbon Black executives told CyberScoop that even as larger competitors evolve to accommodate for changing network infrastructures, they see their company as driving much of that innovation in several ways.
"One is certainly leveraging the cloud to get out ahead of these threats," said Paul Morville, Carbon Black's vice president of product management. "I think that also the integration of next-generation anti-virus capability, endpoint detection and response … is something we really led the charge on and really driven a lot of innovation in the space."
The company is optimistic about taking on well-established players in the cybersecurity game. In its filing, it lists as its competitors industry giants such as McAfee, FireEye and Symantec, as well as more niche providers like Cylance and CrowdStrike.
Company executives say they see those older players as lagging in their capabilities.
"The legacy endpoint security market … is broken," said Tom Barsi, Carbon Black's senior vice president of corporate and business development. "It was built for 20 years ago for a legacy problem and the adversaries are getting stronger and more effective. So it takes a completely different approach."
Barsi said the company has been investing heavily in its products in hopes to transform the endpoint security space.
"You can't take legacy software that was built for on-prem[ises] and just overnight turn into a true [software-as-a-service] platform. And so that's really where we're unique. We take a different approach in terms of how we secure and we've also heavily invested in our predictive security cloud," Barsi said.
Technology IPOs have been rare as of late. Yet, this year has seen more than twice the number of IPOs when compared to 2017, according to Recode. Zscaler, another cloud-based cybersecurity company went public in March. And Tenable, also in the endpoint security space, is reportedly taking steps toward an IPO.