Anonymous hacker, who bragged about exploits on TikTok, says he was raided by Canadian police
Aubrey Cottle, known for his ties to the hacktivist collective Anonymous, took responsibility for multiple hacks on his TikTok channel.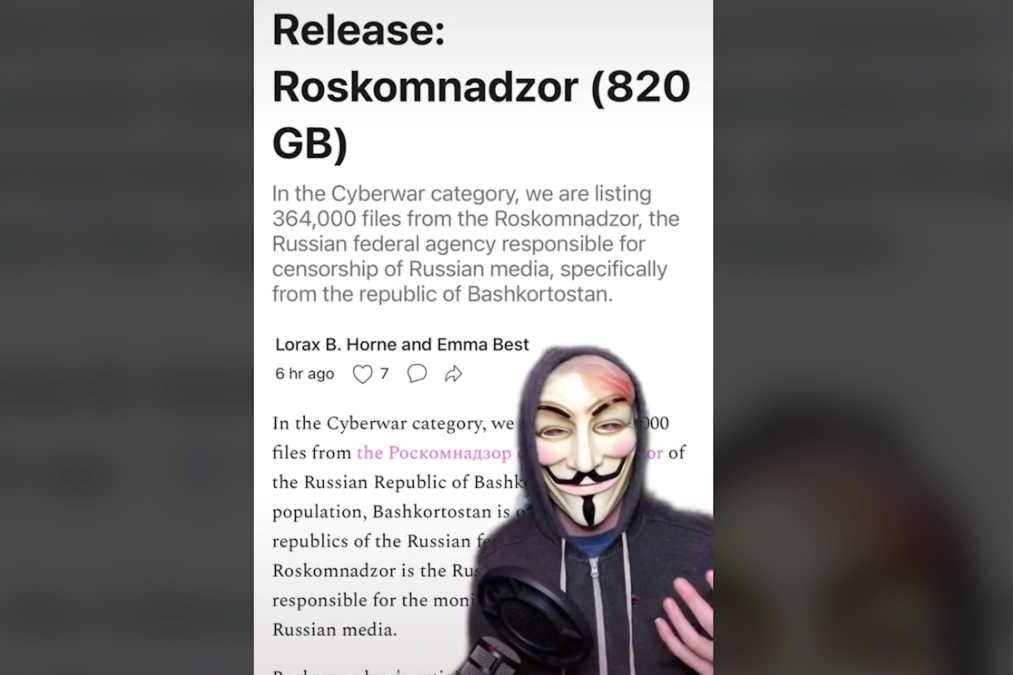 Over the past year, Aubrey Cottle developed a sizable TikTok following for his flashy hacking videos and clips promoting operations by the hacktivist collective Anonymous against the Ukraine war.
Cottle, a Canadian who goes by the online handle "Kirtaner," helped popularize Anonymous more than a decade ago when the loosely affiliated group gained notoriety for its Guy Fawkes masks, online antics and hacks. Now, he's something of a new face of a resurgent Anonymous via his TikTok channel where he has nearly 40,000 followers.
But his brash claims of hacking may have caught up to Cottle, who said this week that he was homeless and needs money to pay his attorney after being raided by Canadian police.
Cottle told CyberScoop in an online chat that the Ontario Provincial Police on Aug. 30 "took all my equipment (multiple pcs, storage devices, phones, servers, NAS) and bagged my guy fawkes mask as evidence."
He was evicted a few days later — for unrelated reasons, he said — and is now living out of his car.
Cottle has regularly boasted about various hacking adventures. In February, for instance, he claimed credit for hacking the Christian crowdfunding site GiveSendGo, and said he leaked data from the Freedom Convoy 2022 campaign, Vice reported at the time. In a livestream on his TikTok account, Cottle also said he "hacked Epic (sic) hosting, I hacked Parler, I hacked Gab, I hacked Truth Social, I hacked GiveSendGo, I don't care," according to Vice. "I'm literally a famous f–king cyberterrorist, and you think that you can scare me?"
Actions affiliated with Anonymous have also surged in connection with Operation Jane, starting in September 2021, with repeated attacks on Russian institutions, resulting in multiple terabytes of data ending up online.
In the online chat with CyberScoop following the apparent raid, Cottle said that the Ontario police detective told him that the FBI "is involved," and said agents had been with the OPP outside of Cottle's apartment a few days prior hoping to speak with him, but Cottle wasn't there.
When asked about their possible involvement case, the FBI referred CyberScoop's inquiry to Canadian authorities. A spokesperson for the Ontario Provincial Police, the agency with jurisdiction in the area where Cottle lives, said the agency is "unable to comment on any ongoing investigations," and later clarified that it can't confirm whether there even is an investigation.
Earlier this week, Cottle hosted a TikTok live telling the audience that he "was raided by federal authorities regarding a hacking investigation, and that they'd "seized all my equipment, I need help paying my attorney, and I'm homeless."
It's not clear what the raid on Cottle, who lives just outside Toronto, was specifically about. Pictures of a warrant shared by Cottle with CyberScoop indicate it was issued Aug. 26 lists the "offence" as a violation of Canadian Criminal Code 342.1(1) under the country's cyber crime laws.
The warrant also sought devices "capable of storing electronic documents" and devices capable of registering a particular IP address.
Cottle told CyberScoop that the Canadian police mentioned #OperationJane, an Anonymous operation launched in September 2021 in response to Texas Republicans passing legislation effectively banning abortions after six weeks.
While Cottle has taken responsibility for multiple high-profile hacks, some question whether he was part of everything he's claiming.
Still, there could be numerous reasons authorities might zero-in on Cottle as one of the most public figures claiming affiliation with Anonymous and its activities.
A note purporting to be from Anonymous announced Sept. 13 that Epik, a Seattle web services and hosting company known for doing business with far-right websites and social media services, had been hacked. The note claimed the hacked material as "all that's needed to trace actual ownership and management of the fascist side of the Internet that has eluded researchers, activists, and, well, just about everybody."
Shortly after the Epik hack became public, Anonymous-affiliated hackers claimed to have hacked the Texas GOP's website, which Micah Lee, the director of information security and a journalist at The Intercept, independently verified.
Rob Monster, Epik's founder and former CEO, admitted his company had suffered a breach two days after the hack in a live question and answer session on PrayerMeeting.com, another one of Monster's websites, according to the Daily Dot. During the meeting, Monster called out Cottle, who was one of the attendees, CNN reported, and asked Cottle if he was behind the hack.
Cottle denied it, saying "I would never, ever, ever, ever admit to a federal crime in a space like this," according to CNN. Monster told CNN he believed Cottle was responsible.
Epik did not respond to a request for comment.