Abortion disinformation is growing and dangerously divisive, experts say
The way influence operators manipulated a bland statement from Defense Secretary Lloyd Austin about the Dobbs' decision exemplifies how disinformation spreads, experts said.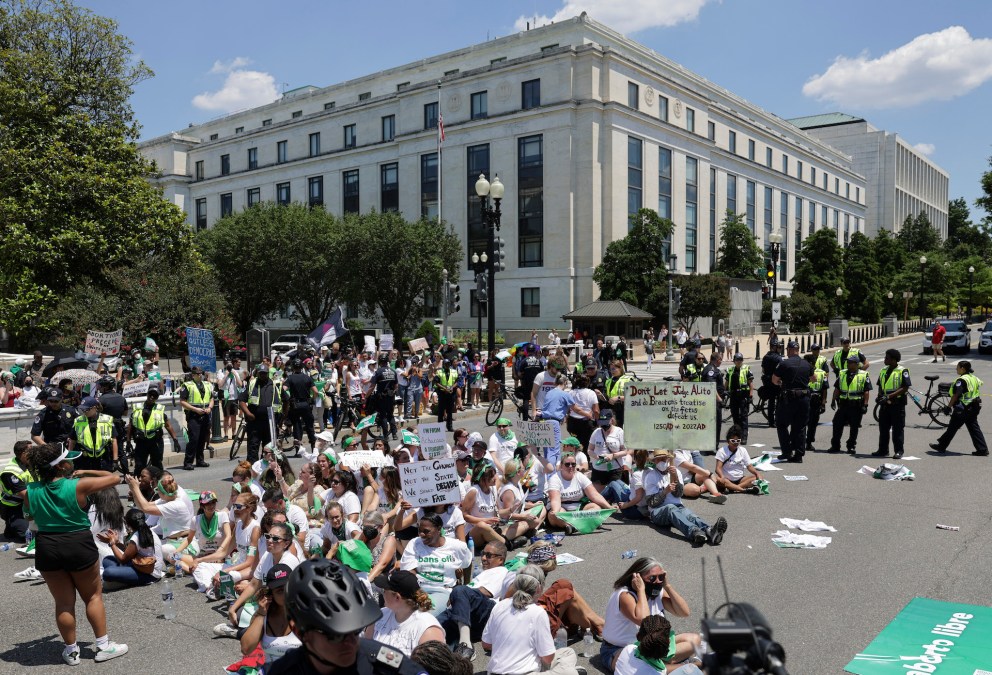 Rep. Marjorie Taylor Greene's Twitter account struck an urgent tone the Sunday after the Supreme Court's historic abortion ruling. She implored her 968,000 followers to have the "fortitude to act" against Department of Defense leaders for refusing to recognize the court's decision, which eliminates the constitutional right to an abortion.
But DOD leaders never stated they would ignore the court's ruling in the Dobbs v. Jackson case.
Taylor Greene, a Georgia Republican, repeated a trope that appears to have originated on a now suspended Twitter channel known as BNN Newsroom a day prior. The BNN post erroneously said the Pentagon would not recognize abortion laws implemented in the wake of Dobbs. It was shared more than 26,000 times before being deleted, the Associated Press reported.
While Taylor Greene's call to her followers said DOD leadership had "wage(d) an insurrection against the Supreme Court," the anodyne statement from Defense Secretary Lloyd Austin III was anything but that.
Austin's statement, made in the hours after the court ruled, noted that the agency was "examining" the Dobbs' decision and evaluating internal policies to ensure access to reproductive health care for service members and their families "as permitted by federal law."
This bland statement spawned the BNN story which, in turn, led to the Taylor Greene tweet exclaiming that DOD leadership "must be removed."
(Taylor Greene's office did not return an email seeking comment).
Disinformation scholars said this incident exemplifies why the abortion issue, both polarizing and emotional, is a perfect vessel for spreading divisive falsehoods. Herb Lin, a senior research scholar for cyber policy and security at Stanford University, said he worries these qualities will make the mounting abortion wars an easy target for foreign interference. He pointed to how Russian influence operators hoping to provoke violence simultaneously promoted pro- and anti-Muslim rallies held at the same time and place during the run up to the 2016 election.
Abortion after the Dobbs' ruling "has all the earmarks of being set up for that" kind of interference, Lin said. "It's an ideal opportunity for the Russians to intervene … this is a very emotional issue for everybody, no matter how you feel about it, and being an emotional issue means that you are much less likely to exert your critical thinking."
The Taylor Greene tweet injected hysteria into the pedestrian statement from Austin and harnessed a legitimate sounding fake news source to imply trustworthiness, both key ingredients for spreading disinformation, said Kyleanne Hunter, a senior social scientist at the RAND Corporation.
BNN Newsroom is nothing but an automated service that creates headlines by pulling from prominent officials' tweets, Hunter said. In this case, she noted, the far-right objects to DOD policy, which says that under federal law service members can still get an abortion in cases of rape, incest or where the mother's health is at risk. But instead of attacking that point head on, a much more exaggerated lie was created and spread to discredit the agency's leadership, Hunter said.
DOD Undersecretary for Personnel and Readiness Gilbert Cisneros, Jr. issued a memo Tuesday that said regardless of state law the DOD will continue to follow federal law for service members. Hunter believes the memo has helped to further fuel the disinformation targeting DOD.
The policy described in the memo "got twisted into now having a sitting member of Congress saying the DOD is undermining a Supreme Court decision," Hunter said. "It's a complete misinterpretation of what's there."
Hunter, also a senior fellow at the Center for a New American Security, specializes in disinformation involving women in the military and said there is some evidence of foreign intervention through bots helping to spread these claims.
"It's not because they're [foreign influence operators] typically wanting to target pregnancy policy or are typically wanting to target women in the military," Hunter said. "It's a hot-button, contentious issue in the United States that can agitate and divide us."
After the 2016 combat exclusion ban lifted, she pointed out, a huge spike in foreign bots on Twitter pushed fake news stories about women getting pregnant while deployed. "It agitates, it divides, and creates contention; it starts to undermine people who are in the military."
Abortion foes have had similar success spreading disinformation about abortion rights activists in the wake of the the Dobbs' decision and the leak of it weeks earlier, experts said.
An autonomous collective known as Jane's Revenge appeared online in May and while the group has no evident organization or leadership, it has become a boogeyman thanks to the far right and disinformation it has created, said Emerson Brooking, a senior fellow at the Atlantic Council's Digital Forensic Research Lab.
While one group associated with Jane's Revenge claimed responsibility for an arson, the degree of hysteria surrounding the group is completely out of step with the true threat, Brooking said.
"It's important to emphasize how quickly it broke into the political elite," he said, noting that Republican Sen. Tom Cotton, R-Ark., wrote a letter to Attorney General Merrick Garland demanding the Department of Justice investigate the group as a domestic terrorist organization.
Brooking said there has been no further action from Jane's Revenge since the arson yet Facebook declared them a terrorist organization the day after Dobbs was announced — a move which he questioned.
"Facebook hasn't taken action against collective groups like anonymous or Antifa," he said. "The immediate Facebook reaction shows how concerned Meta executives are about conservative criticism and it may indicate … how, unfortunately, responsive they might be to state subpoenas in the future, from anti-choice states and law enforcement agencies."
A Facebook spokesperson said the platform has invested heavily in fighting misinformation.
"We're committed to free expression while slowing the spread of misinformation, which is why we work with a global network of independent fact-checking partners who review and rate false content on our apps, including content around abortion and reproductive healthcare," spokesperson Kevin McAlister said by email. "When a partner rates something as false, we move it lower in Feed so fewer people see it and add a warning label with more information. We also ban ads that have been rated by one of our fact-checkers."
Over the past two months, the term "Jane's Revenge" accumulated 82,000 mentions across news and social media platforms with a 798 percent increase in mentions in June compared to a month prior, according to Zignal Labs, a media intelligence software service company.
Dina Montemarano, the research director for the abortion rights advocacy organization NARAL, said Facebook in particular is ground zero for disinformation that perpetuates lies about the safety of abortions and the abortion pill. Facebook allows free content and ads that contain virulent disinformation and even when NARAL flags concerns, she said, Facebook does not remove dangerous and untrue content.
Disinformation about abortion is very "top down" unlike the lies spread in support of white supremacy and other issues, Montemarano said. Pro-life organization leaders are crafting messages and distributing them to foot soldiers who spread the word and social media platforms, Montemarano said, are all too quick to play host.
"What we have found time and time again, is that it takes significant public and political pressure to get them to take any kind of action on this issue and they tend to see abortion as only a political issue," she said. "Our real ask for these platforms is to treat medical disinformation about abortion care as medical disinformation. … The platforms have a huge responsibility to make sure that people can get the information they need and that they're not being targeted by this disinformation machine."