Backlash to DHS Disinformation Governance Board grows, fueled in part by misinformation
The DHS rollout of the Disinformation Governance Board has been criticized for being too vague about the details of what the board will do.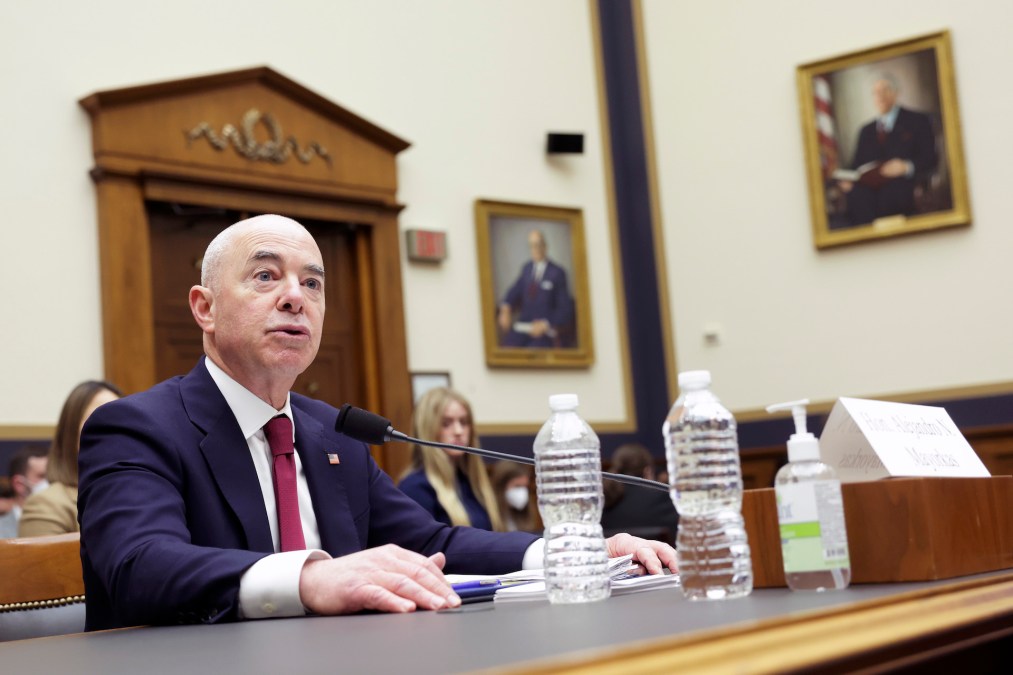 When Department of Homeland Security Secretary Alejandro Mayorkas first announced a new Disinformation Governance Board in a congressional hearing Wednesday, the news was met with a shrug.
Then, a day later Twitter's soon-to-be new owner, Elon Musk, tweeted of the board, "This is messed up." From there it was off to the races, with several on the right likening the new board to George Orwell's Ministry of Truth in the novel "1984," a dystopian entity responsible for propaganda and historical revisionism in a society in which government surveillance is omnipresent.
Republican legislators sent a letter to Mayorkas Friday, decrying "the complete lack of information about this new initiative and the potential serious consequences of a government entity identifying and responding to "disinformation."
Mayorkas spent the weekend on cable news trying to combat misinformation about the disinformation board. He emphasized that the board will be advisory and will not have operational authority. Asked about the comparisons to Orwell's Ministry of Truth, Mayorkas told CNN that "those criticisms are precisely the opposite of what this small working group within the Department of Homeland Security will do."
But Mayorkas also acknowledged that his team "probably could have done a better job of communicating what it does and does not do."
It's a view several disinformation experts agreed with, saying that the vagueness around what the board will do combined with its tone-deaf name raises important questions about whether it is an appropriate tool for DHS to use to fight disinformation.
"If the government intends to expose disinformation, one of the most important counters to that is providing legitimate information," said David Maxwell, a senior fellow at the Foundation for Defense of Democracies and a retired Army colonel who oversaw psychological operations as a special operations commander. "The announcement, without complete transparency about the organization and its activities and authorities and intent … really undermines their [DHS's] own credibility and legitimacy."
A spokesman for DHS declined to comment but sent a fact sheet that noted that "there has been confusion about the working group, its role, and its activities. The reaction to this working group has prompted DHS to assess what steps we should take to build the trust needed for the Department to be effective in this space."
Those steps include releasing comprehensive quarterly reports about the working group's activities to Congress, including its oversight committees, and requesting that the bipartisan Homeland Security Advisory Council make recommendations for "how the Department can most effectively and appropriately address disinformation that poses a threat to the homeland, while protecting free speech and other fundamental rights," the fact sheet said.
Even those who believe disinformation is a problem that DHS should tackle criticized the agency for how it launched the board. Jeff Kosseff, a cybersecurity law professor at the U.S. Naval Academy, said that he understands why many people are alarmed by the board given that the term "governance" implies authority.
Kosseff questioned why DHS gave the board "the most dystopian name possible," but was quick to add that he is not in the "conspiracy theory camp that this is some backdoor method to censor opposing viewpoints." He noted that DHS has already been working to combat disinformation for a few years, just not under the umbrella of a "governance board."
Kosseff said he believes DHS will be forced to rename the board and quickly offer more specifics on how it will function. He said he watched Mayorkas' weekend interviews and was struck by how vague the mandate for the board remains.
"He used terminology like that they'll provide best practices to the operators and they won't have operational authority," Kosseff said. "We need this in plain language … Who are the operators? What are the best practices? How are these best practices being determined?"
Kosseff said that the agency's missteps are costly because they will "just fuel endless conspiracy theories about the government trying to censor information and that makes it so much more difficult to actually implement a reasonable and constitutional way to deal with a very real problem."
The board's new executive director, Nina Jankowicz, tweeted out news of her appointment with little context. Jankowicz has become a lightning rod in part because she has bemoaned Elon Musk's purchase of Twitter by calling him a "free speech absolutist." Others on the right have pointed to her labeling of a 2020 New York Post story about Hunter Biden's laptop as a "Trump campaign product."
Herb Lin, a disinformation expert who is a senior research scholar at Stanford's Center for International Security and Cooperation, said that even if DHS had handled the rollout and naming of the board with more sophistication, there would still be a right-wing effort to undermine it.
"Let's say they printed 20 times as much information about it — Jankowicz would still be the subject of personal vilification and hyperbolic invective," Lin said. "Would I have preferred to have more information [from DHS]? Yes, but I don't think that would have mattered in the end anyway."