State prosecutors push Facebook, Twitter to do more to slow virus misinformation
Their piece by piece approach isn't enough, the attorneys general said.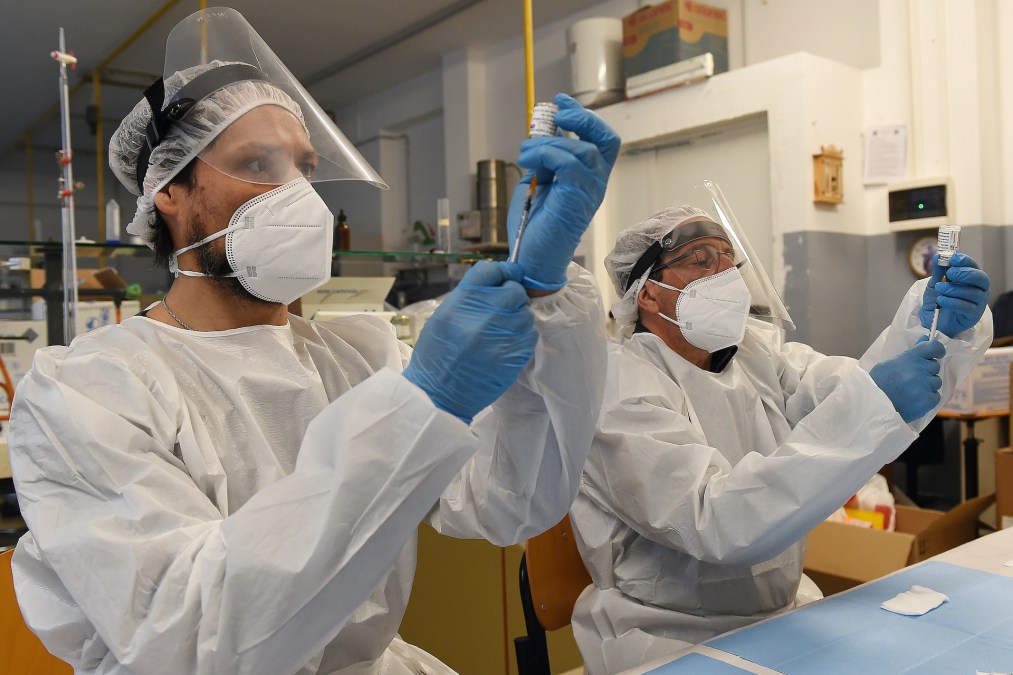 A group of 12 state attorneys general sent a letter on Wednesday to Facebook and Twitter urging them to do more to curtail vaccine misinformation on their platforms.
"Misinformation disseminated via your platforms has increased vaccine hesitancy, which will slow economic recovery and, more importantly, ultimately cause even more unnecessary deaths," the group of attorneys general state in the letter. The letter sent to Facebook CEO Mark Zuckerberg and Twitter CEO Jack Dorsey Wednesday is signed by the attorneys general of Connecticut, Delaware, Iowa, Massachusetts, Michigan, Minnesota, New York, North Carolina, Oregon, Pennsylvania, Rhode Island and Virginia.
They note that purveyors of vaccine misinformation have often targeted Black Americans, "members of communities who have suffered the worst health impacts of the virus and whose vaccination rates are lagging."
Bad actors and grifters have been spreading misinformation about vaccines on social media, including on Facebook and Twitter, for years. Some of the most infamous purveyors of vaccine and infectious diseases misinformation have been Russian government-backed trolls linked to the Internet Research Agency (IRA), the same entity that U.S. officials have said interfered in the 2016 presidential election.
The trickle of misinformation on vaccines has turned into a firehose of falsehood in the last year, though, as the global health crisis spread around the world. Russian actors have spread fabricated narratives about coronavirus vaccines in recent months, according to the U.K.'s Government Communications Headquarters. Meanwhile, apparent Iranian and Chinese operatives have also tried to amplify coronavirus-themed sodial media posts through the pandemic, according to the departments of Defense, Homeland Security and researchers.
In addition to misinformation about the origins of the virus and treatments for it that have spread over the last year, recent posts falsely linked vaccines to deaths, according to NPR.
The Centers for Disease Control has said it has no evidence that any deaths have been linked to vaccines.
The letter from the attorneys general comes just as Zuckerberg, Dorsey and Google CEO Sundar Pichai are slated to testify on Capitol Hill about misinformation Thursday.
In December Facebook said it would remove misinformation about COVID-19 vaccines. Last month the company said it would remove posts, pages and groups that contained false information about all vaccines shared on the site, such as claims that vaccines cause autism or that receiving vaccines is more dangerous than getting the disease itself.
Instead of targeting just coronavirus-focused vaccine misinformation, its newer policy includes efforts to tamp down on false claims about vaccines in general.
Twitter said in December it would begin removing misinformation about the coronavirus vaccines. Since then, the firm said it would begin labeling tweets with misleading information on the coronavirus vaccines.
Such efforts are not enough, the attorneys general say, citing the fact that just 12 accounts and their associated groups are responsible for 65% of the misinformation on vaccines on Facebook, Instagram and Twitter.
"The updated community guidelines you have established to prevent the spread of vaccine misinformation appear to be a step in the right direction," the prosecutors said. "However, it is apparent that Facebook has not taken sufficient action to identify violations and enforce these guidelines by removing and labelling misinformation and banning repeat offenders. As a result, anti-vaccine misinformation continues to spread on your platforms."