Ukrainian president warns of Russian meddling in next year's election
Petro Poroshenko has taken an anti-Russian line while embracing the West, making his ouster at the polls – or through other means – a goal for Moscow.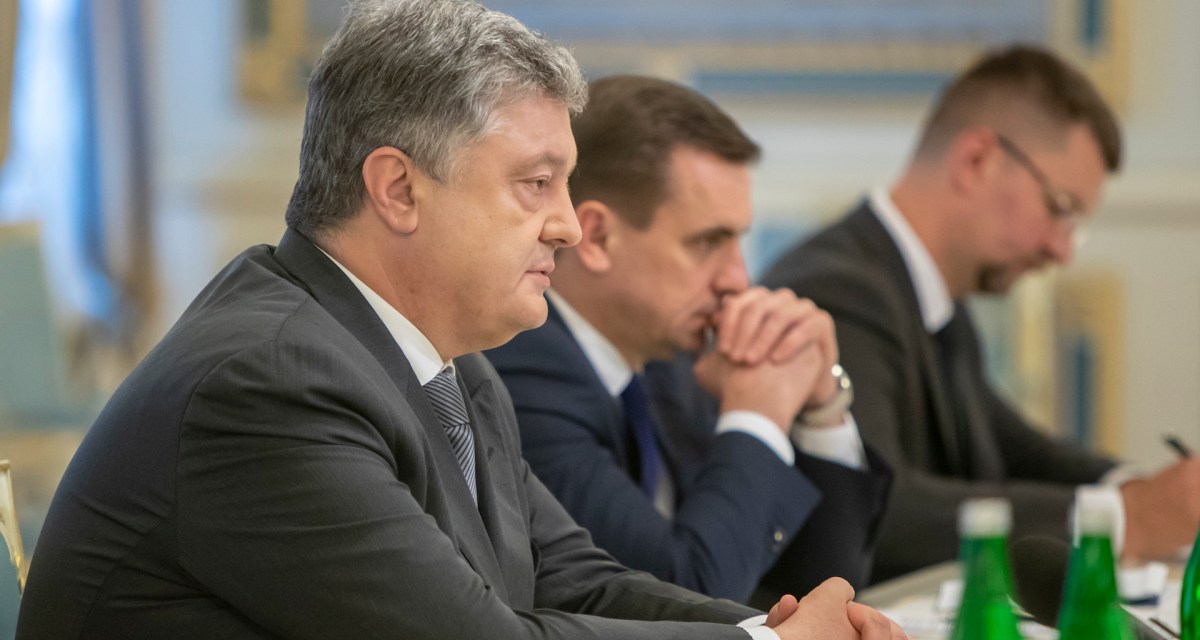 Ukrainian President Petro Poroshenko is sounding the alarm on Russian election interference, saying his country must ready plans to fight back against Kremlin designs to sway upcoming elections.
Poroshenko said he had directed the National Security and Defense Council — Ukraine's equivalent of the U.S.'s National Security Council — to set up a meeting and devise strategies to counter Kremlin attempts to influence Ukrainian elections, which are slated for March 31. The move mirrors one by President Donald Trump, who recently chaired an NSC election-security meeting.
"Next year, we, Ukraine, and many of our partners will hold important elections that will determine the pace and quality of our development and interaction in the medium term," Poroshenko posted on Facebook. Seats in parliament are up for election, as is the presidency. Approval ratings of the government and Poroshenko have been in the 10 to 20 percent range, sometimes edging closer to single-digit levels.
Poroshenko has taken an anti-Russian line while embracing the West, making his ouster at the polls – or through other means – a goal for Moscow. The Ukrainian Independent Information Agency provided a translation of Poroshenko's statement.
"Kiev, Brussels and Washington, and the vast majority of Western capitals have no doubt about the Kremlin plotting large-scale interference in the electoral processes to break the European unity and solidarity with Ukraine that is dangerous for the aggressor, to split the Transatlantic Alliance, and support populist, nationalist and Euroskeptic forces," Poroshenko wrote.
But this could just be a front for an unpopular president to cast shade on his opposition and further align himself with the Americans, one expert told CyberScoop. Mark Galeotti, a Russia watcher and senior fellow at the Institute of International Relations Prague, said that Poroshenko's statement warrants scrutiny.
"Of course we know the Russians do conduct election meddling," Galeotti said. "But on the other hand, this is Poroshenko trying to imply the Russians are backing his political rivals."
Galeotti said he would be surprised if the Russians directly attempt to tamper with election infrastructure or voting. What's more likely, he said, is a Russian campaign to dig up dirt on Poroshenko to hurt his reelection prospects, support for pro-Russian candidates or information operations to "sharpen divisions and stir up ethnic Russian Ukrainians."
"Something like that is much more likely than outright fiddling," Galeotti said. "From the Russians' point of view, Ukraine is not a real country. They feel no qualms about interfering in whatever means."
Attractive target, and a testing ground
Digital interference – through cyberattacks on critical infrastructure and carefully orchestrated information campaigns – has been one of Moscow's tactics in its campaign against Ukraine.
Russia has provoked a long-running separatist campaign in eastern Ukraine and waged a plausibly deniable military operation, pitting "little green men" – unmarked soldiers working at the behest of the Russian Federation – against Ukrainian forces in the Donbas region and earlier in Crimea, which it now controls.
Cyberattacks and information campaigns are as important as these operations and part of Russia's wider playbook to "use Ukraine as a battlefield to test new weapons and political warfare techniques," Galeotti said.
"But at the same time, Ukraine is a country with incredible weaknesses – low levels of institutional stability, a highly unpopular government, and incredible levels of corruption," Galeotti said. Because of this, the degree to which Russia has succeeded in achieving its aims in Ukraine may not reproducible in the West writ large.
What's more, many of Ukraine's computers – even some of the government's – run on legacy or bootlegged software. The public sector, military, banking system and critical infrastructure inviting targets to Russian hackers.
Ukraine has been hit hard before. Parts suffered a widespread blackout last year as a result of a cyberattack, presumably at the hand of Russia.
Washington's best strategy to help Kiev fight back against Russia shouldn't just be the sale of guns, bulletproof vests or missile defense systems, Galeotti said. Instead, the most effective avenue of support would be cybersecurity aid. "There's so much more that could be done," he said, to help Ukraine shore up its digital security, which is under near-constant siege from Russia-backed hacking groups.
The U.S., for its part, has put forth some measures committed to bolstering Ukraine's cyberdefenses. Last year, a bipartisan bill passed the House that called for greater collaboration between the U.S. and Ukrainian governments to fend of attacks from Moscow.
"Over the last few years, Russia has been using Ukraine as a field test for cyberattacks that endanger the national security of our great ally Ukraine, its regional neighbors, and the United States," Rep. Brendan Boyle, D-Pa., said when introducing the bill. "Time is of the essence, with American and Ukrainian elections each right around the corner."
In September, the U.S. and Ukraine announced a bilateral cybersecurity dialogue in Kiev, and the U.S. committed $5 million in cybersecurity assistance to bolster Ukraine's digital defenses. This year, the State Department doubled its cyberdefense aid to Ukraine.
"The threat from Russia is real," State Department spokeswoman Heather Nauert tweeted in May. "Our commitment to Ukraine is unbending."