U.S. warns countries not to 'manipulate the extradition process' for cybercriminals
The U.S. processes extraditions "without regard to the nationality of the offender, but that cooperation must be reciprocated," Rod Rosenstein said at an Interpol conference.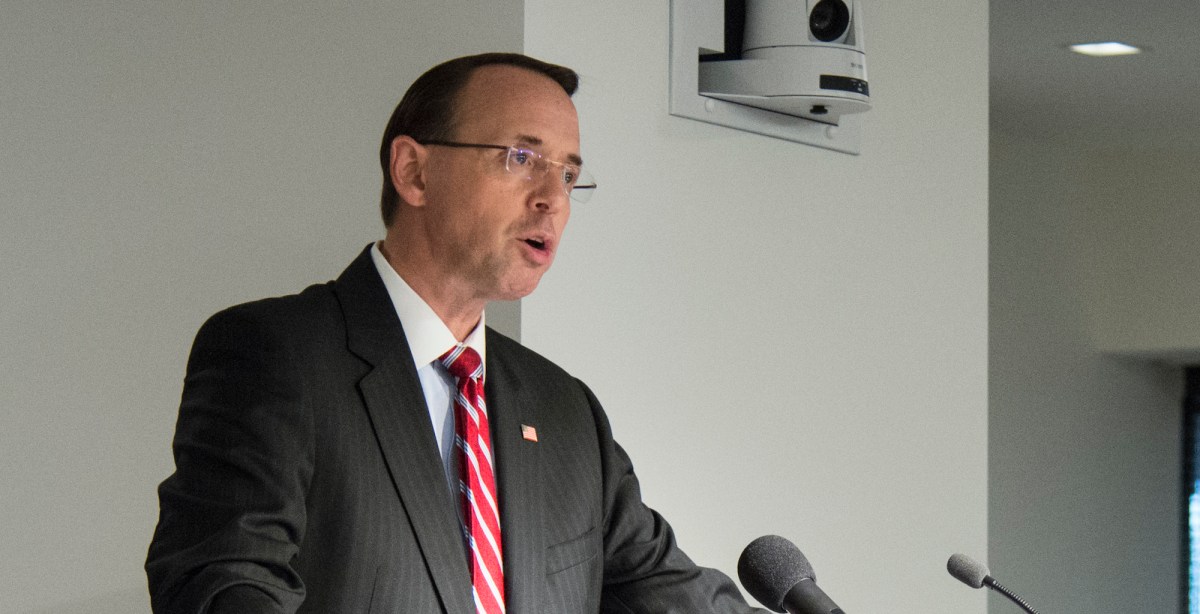 The Department of Justice's second-in-command has called on other countries to step up their efforts to extradite accused cybercriminals, warning that the U.S. will "expose" attempts by other governments "to manipulate the extradition process."
"We will identify nations that routinely block the fair administration of justice and fail to act in good faith," Deputy Attorney General Rod Rosenstein told a general assembly of Interpol, an international police organization, on Sunday.
"In some instances, nations shield their citizens from the rule of law with schemes that waste resources, cause needless delay, thwart investigative efforts, and undermine justice," Rosenstein said in his prepared remarks.
The U.S. processes extraditions "without regard to the nationality of the offender, but that cooperation must be reciprocated," Rosenstein said.
Rosenstein cited the case of Aleksey Belan, a Russian national charged with helping compromise 500 million Yahoo email accounts in 2014. In 2012, Belan was charged in a separate hack of major U.S. e-commerce companies. After reportedly being arrested in 2013, Belan was allowed to return to Russia, where he carried out the Yahoo breach at the behest of Russian intelligence agents, Rosenstein lamented.
DOJ has for years brought charges against criminal and nation-state-linked hackers as part of a U.S. strategy to deter malicious cyber activity. But successful prosecutions hinge on the extradition of suspects, and the U.S. does not have extradition agreements with China and Russia, whose hackers have been repeatedly charged by American authorities.
Interpol, which helps countries combat cybercrime through training and assistance in investigations, is set to elect a new president. British officials expect that person will be former Russian interior ministry official Alexander Prokopchuk, The Times reported. What, if any, impact such a move would have on U.S. efforts to address extradition issues at Interpol remains unclear.
U.S. officials have occasionally pounced when suspects from China or Russia have ventured to other countries. A Chinese spy accused of stealing trade secrets was arrested in Belgium and extradited to the U.S. last month. Russian national Yevgeniy Nikulin, who allegedly hacked LinkedIn and Dropbox, was extradited from the Czech Republic to the U.S. in March.
As a counterpoint to the Belan case, Rosenstein cited a recent DOJ victory in prosecuting another suspected Russian cybercriminal, Peter Levashov. In February, Spanish authorities extradited Levashov, the alleged operator of the ransomware-carrying botnet known as Kelihos. Levashov pleaded guilty in a federal court in Connecticut in September.
"Levashov's extradition represented effective coordination with our foreign partners," Rosenstein. "Unfortunately, not every case is a success story."
While some extradition efforts stall, other opportunities arise.
Earlier this month, Bulgarian authorities arrested an accused Russian cybercriminal based on an Interpol warrant that originated with prosecutors from the Eastern District of New York, a lawyer familiar with the case told CyberScoop.