Bipartisan Senate proposal sets stage for banning TikTok, other foreign tech
The RESTRICT Act would hand Commerce wide-ranging powers to regulate the presence of foreign technology companies such as TikTok.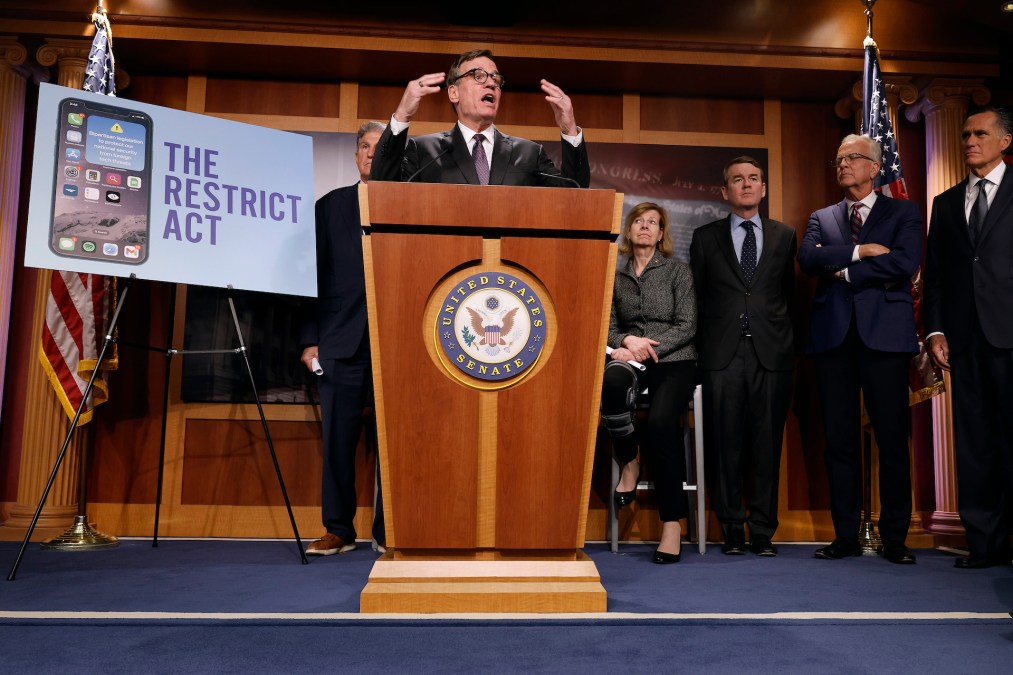 A bipartisan group of 12 senators unveiled a proposal Tuesday to grant the Commerce Department wide-ranging powers to review and potentially ban the U.S. operations of tech companies such as TikTok and others that officials deem a national security threat.
Sen. Mark Warner, D-Va., who leads the Senate Intelligence Committee, described the proposal as an effort to deal more holistically with the threats posed by foreign technology companies operating in the U.S. "Before there was TikTok, there was Huawei and ZTE, and before that there was Russia's Kaspersky Labs," Warner said, referring to the Chinese networking and Russian cybersecurity companies whose American operations have been severely curtailed in recent years.
While Washington has grown more aware of what Warner described as the threat posed by these companies, the federal government lacks a "holistic interagency whole of government approach" to mitigating their presence. "So instead of playing whack-a-mole on Huawei one day, ZTE the next," Warner argued, "we need a more comprehensive approach to evaluating and mitigating these threats."
The proposal — dubbed the Restricting the Emergence of Security Threats that Risk Information and Communications Technology (RESTRICT) Act — does not demand that the Commerce Department take any particular action on TikTok; rather, it gives the commerce secretary wide-ranging authority to review a huge variety of technology companies — ranging from quantum computing firms to social media platforms — from China, Russia, Iran, Cuba, Venezuela and North Korea and determine whether their domestic presence is a threat to national security.
Warner's proposal gives the secretary of commerce and the president discretion in how to craft a mitigation measure, including by ordering divestments or banning targeted companies from operating in the U.S. Additionally, the proposal gives the department wide latitude in carrying out investigations of targeted companies, including by issuing subpoenas for witnesses and the production of documents.
The White House immediately backed the measure. "This bill presents a systematic framework for addressing technology-based threats to the security and safety of Americans," National Security Adviser Jake Sullivan said in a statement that urged Congress to send it quickly to President Biden for his signature. "Critically, it would strengthen our ability to address discrete risks posed by individual transactions, and systemic risks posed by certain classes of transactions involving countries of concern in sensitive technology sectors."
Between wide-ranging sanctions against the Chinese technology sector, scrutiny of companies such as Huawei and ZTE and investments in the U.S. chipmaking industry, Washington has in recent years attempted to create a moat between America and China to maintain U.S. technological superiority. TikTok is at the center of that conflict.
"Tiktok has vexed policymakers struggling to evaluate legitimate questions about online content and data security at a time where anything to do with China is politically toxic," said Samm Sacks, a senior fellow at at Yale Law School's Paul Tsai China Center who questioned whether Tuesday's proposal will "create a blueprint for using national security as a justification for protectionism."
By granting the commerce secretary the ability to scrutinize the operations of a huge variety of foreign firms, the RESTRICT Act would give the executive branch a powerful tool to regulate the presence of foreign firms in the United States without having to rely on a merger or acquisition to trigger review by the Committee on Foreign Investment in the U.S., or CFIUS, which has served as the primary venue for reviewing the presence of foreign companies in the United States.
"CFIUS requires a transaction to trigger its tools. It doesn't deal at all with a foreign enterprise that just enters the market without a transaction," Warner said.
Warner's proposal also aims to address a persistent criticism of U.S. efforts to crack down on foreign, and especially Chinese, technology companies — a lack of public evidence about the actual threat they pose. In the case of Huawei, this meant U.S. officials spent years expounding on the theoretical threat posed by the company, without ever disclosing any concrete evidence about how its products had been used in espionage, as U.S. officials claimed.
In the absence of compelling public evidence, Huawei made major inroads with rural American telecom carriers and in Europe, where it was only this week that German officials revealed they are considering a ban on Huawei from its telecommunications system. The RESTRICT Act includes provisions that the U.S. government will need to present some public material on the threat posed by companies it targets.
"It's up to the government to show its cards as to how this is a threat," Warner said.
While the RESTRICT Act does not target any one company, it comes partly in response to a protracted process to determine whether TikTok, the Chinese-owned viral video app, will be allowed to continue its American operations. For the past two years, TikTok has negotiated with CFIUS over how to mitigate the app's perceived security and privacy threats, but that review has failed to yield an outcome and left the app in a regulatory limbo.
TikTok has presented a detailed technical proposal that relies on the U.S. technology giant Oracle to wall off the company's U.S. operations and grant U.S. regulators wide-ranging ability to audit its systems. By creating a series of what the company describes as "gateways" around the U.S. version of the app, TikTok aims to create a version of the app that American officials can audit and monitor for any inappropriate data transfers.
A spokesperson for TikTok criticized Tuesday's proposal, arguing that the federal government has a ready-made solution for addressing the security issues posed by the app. "A U.S. ban on TikTok is a ban on the export of American culture and values to the billion-plus people who use our service worldwide," said Brooke Oberwetter, a TikTok spokesperson. "The Biden Administration does not need additional authority from Congress to address national security concerns about TikTok: It can approve the deal negotiated with CFIUS over two years that it has spent the last six months reviewing."