Senators press DHS for details on election security progress
Much of the hearing focused on the increasingly close relationship between DHS and the state and local offices that run elections.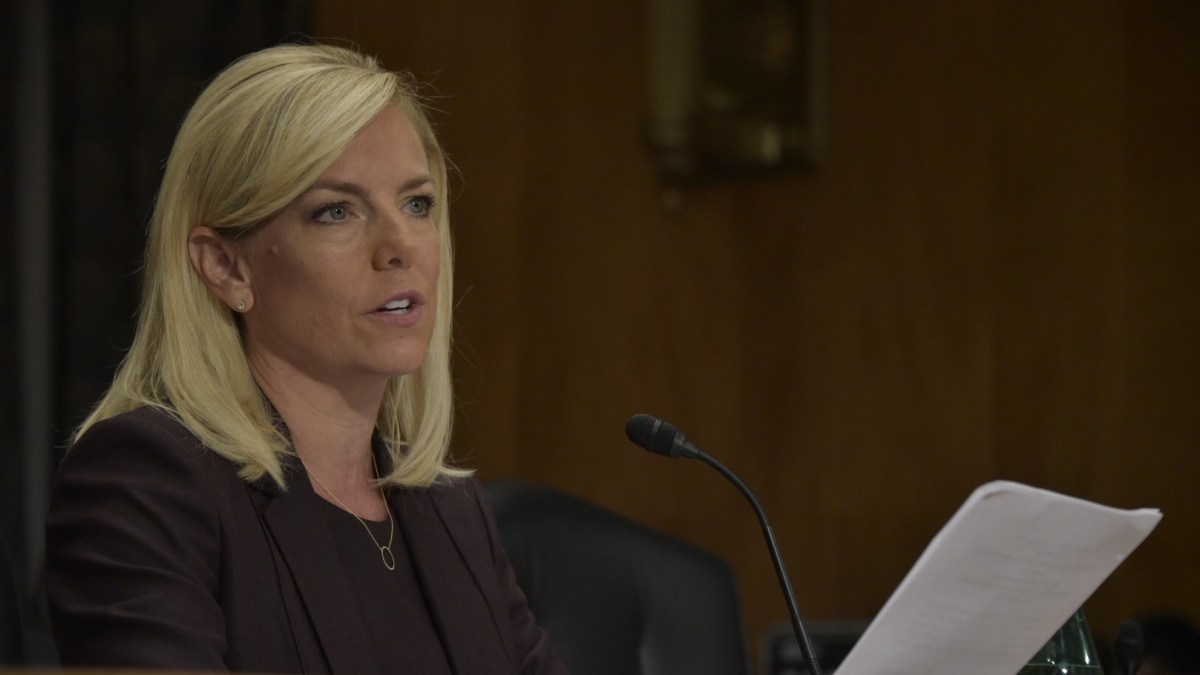 The increasingly close relationship between the Department of Homeland Security and the state and local offices that run elections was the focus of a Senate Intelligence Committee hearing Wednesday that appraised the Trump administration's efforts on election security.
Having declared election systems as part of the country's critical infrastructure in January 2017, DHS has been offering states and localities various forms of voluntary support on election security, amid fears of foreign interference through cyberattacks and other means.
Many election officials initially were skeptical of the designation and feared federal overreach — a sentiment that was acknowledged at Wednesday's hearing.
"The administration of elections is the responsibility of the state and local officials and the support your agency provides is on a voluntary basis. What we've learned is that states will only engage with the department if they feel there's value," said Chairman Richard Burr, R-N.C.
DHS Secretary Kirstjen Nielsen highlighted the efforts the agency has taken to coordinate with states and localities. That includes facilitating the sharing of information about vulnerabilities, threats and incidents across jurisdictions. DHS also offers cyber hygiene scans, vulnerability assessments and penetration testing to jurisdictions that request it. Nielsen stressed that the services are all voluntary.
"The threat of interference remains and we recognize that the 2018 midterm and future elections are clearly potential targets for Russian hacking attempts. Today we have a whole of government effort to improve the resilience and security of the systems," Nielsen said. "Our services are voluntary and not all election services accept our support. We continue to offer it and demonstrate it's value, but in many cases state and local officials have their own resources and simply don't require the assistance that we're offering."
DHS has also been sponsoring security clearances for state election officials in order to share classified threat information. Lawmakers have pressed the agency to act faster to provide those clearances. Jeanette Manfra, assistant Secretary for DHS's Office of Cybersecurity and Communications, told the committee in a later session that DHS has so far provided clearances for 21 individuals in 19 states.
Nielsen noted that the agency is also holding one-off "read-in" sessions to share pressing classified information with election officials who have not yet gotten clearances.
"We've worked out a process … such that if we have intel, we will read in the appropriate state election officials that day, so we're not waiting for clearances. If we have something to share, we will read them in and share it that day," Nielsen said.
Senators sought to allay concerns that states would have to cede control of elections as a result of the critical infrastructure designation.
"It's something that can be overcome with trust," Burr said. "And I want to make it clear: our recommendations do not intend or suggest that the [federal] government take over elections. … But that designation did affect their willingness to come in and ask for help and suggest where problems were that they saw."
Senators and panelists both discussed the decentralized nature of federal elections as something to be reckoned with.
"The reality is that given our electoral college and our current politics, national elections are decided in this country in a few precincts in a few key swing states. The outcome, therefore, may dance on the head of a pin," said Jeh Johnson, Nielsen's Obama-era predecessor.
Nielsen concurred, presenting the decentralization of elections as a double-edged sword.
"Our decentralized nature makes it difficult to have a nationwide effect but also perhaps makes it of greater threat a at a local level, and if it's a swing state or area, that can have a national effect," Nielsen said.
Manfra hinted that the agency focuses its efforts on those critical states and localities that could push an election one way or the other.
"While our focus is on the security, not the political dynamics of elections, we do take a risk-based approach to everything that we do with critical infrastructure in terms of how we prioritize," Manfra said.
Even as Nielsen highlighted progress her agency has made in coordinating lower jurisdictions, senators pressed on, saying more centralized accountability is needed.
"I don't disagree that it needs to be 'whole of government', but one of my concerns is no one's saying 'the buck stops here.' We keep hearing whole of government. We heard it in a worldwide threats hearing recently. But someone has to take the responsibility to make this happen," said Sen. Martin Heinrich, D-N.M.
Heinrich also called for stronger acknowledgement from President Donald Trump that Russians attempted to interfere in the 2016 election and will try again.
"I think he has said that it's happened," Nielsen responded. "The line that he's drawing is that no votes were changed. That doesn't mean there's not a threat. It doesn't mean we need to do more to prepare." Nielsen added that several Cabinet meetings have been held on election security.
Johnson said that focus from a presidential level would help bring more attention to the issue.
"The president of the United States is the most visible American — maybe the most visible person on the planet — and the things he says and does are watched very, very closely," Johnson said.