Supreme Court's Roe v. Wade reversal sparks calls for strengthening privacy
Data collected by tech companies could be used to prosecute abortion seekers, they warn.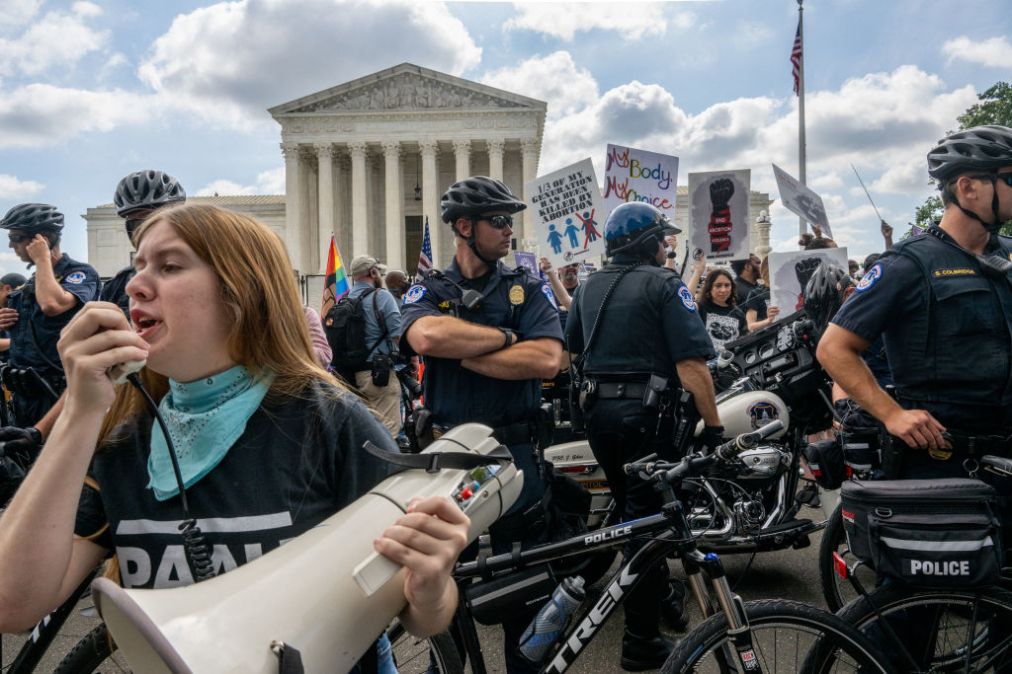 The Supreme Court overturned Roe v. Wade Friday, ending nearly 50 years of the nation's highest court affirming the constitutional right to abortion and prompting privacy-focused lawmakers and advocates to say the ruling for federal privacy legislation even more urgent.
"Congress must pass legislation protecting people's data so their web searches, text messages and location tracking aren't weaponized against them," Sen. Ron Wyden, D-Ore., said in a statement in response to the ruling. "Technology companies must take immediate steps to limit the collection and retention of customer data so that they don't become tools of persecution."
Wyden is one of several lawmakers who have in recent months urged tech companies to rein in the data they collect that could be subpoenaed or bought by law enforcement in abortion-related cases. Wyden — alongside Sens. Elizabeth Warren, D-Mass., Patty Murray, D-Wash., Sheldon Whitehouse, D-R.I. and Bernie Sanders, I-Vt. — introduced legislation earlier this month that would prevent data brokers from selling American's location and health data.
In May, Motherboard found at least one data broker that sold data related to abortion clinic visits. (The company stated it would stop the practice after the report was published.)
Law enforcement has leveraged user data against abortion seekers well before the reversal.
States including Indiana and Mississippi have used data including search history and text messages to charge women accused of aborting their pregnancies. Other device data, such as location data showing an individual visited an abortion clinic, could be swept into a law enforcement dragnet. Geofence warrants, which allow law enforcement to request the data of all active mobile devices within a particular area, have skyrocketed in use.
Friday's ruling increases those risks, technology policy and advocacy groups said.
"Today's decision deprives millions of people of a fundamental right, and also underscores the importance of fair and meaningful protections for data privacy," the Electronic Frontier Foundation wrote in a statement. "Everyone deserves to have strong controls over the collection and use of the information they necessarily leave behind as they go about their normal activities, like using apps, search engine queries, posting on social media, texting friends, and so on. But those seeking, offering, or facilitating abortion access must now assume that any data they provide online or offline could be sought by law enforcement."
Tech groups are also calling on tech companies to act.
"In the digital age, this decision opens the door to law enforcement and private bounty hunters seeking vast amounts of private data from ordinary Americans," the Center for Digital Technology's president and CEO Alexandra Reeve Givens wrote in a statement. "In this new environment, tech companies must step up and play a crucial role in protecting women's digital privacy and access to online information."
Facebook, Google and TikTok did not immediately respond to requests for comment. Twitter declined to comment.
Even President Joe Biden, who stressed to Americans in a speech Friday that "privacy is on the ballot," raised concerns about how app data could be used.
"Extremists governors and state legislators looking to block the mail, or search a person's medicine cabinet, or control a woman's actions by tracking data on our app she uses are wrong and extreme and out of touch," Biden said.
Privacy legislation has seen some momentum in recent weeks. On Thursday, a House subcommittee approved legislation that would introduce a comprehensive privacy framework. Senate Commerce Chair Maria Cantwell, D-Calif., has said the Senate won't consider the bill until changes strengthening privacy protections are made.
In the meantime, privacy experts are urging individuals to take steps to protect their data. EFF is advising individuals to review privacy settings, turn off location services on apps that don't need them and switch to encrypted messaging apps like Signal. Experts also advise individuals who are attending protests related to the ruling to leave their phones at home or take a burner phone to minimize the risk of location data being used against them by law enforcement.