Amid military coup, Myanmar's internet is partially blacked out
President Joe Biden denounced the military's seizure, which coincided with large-scale internet blackouts.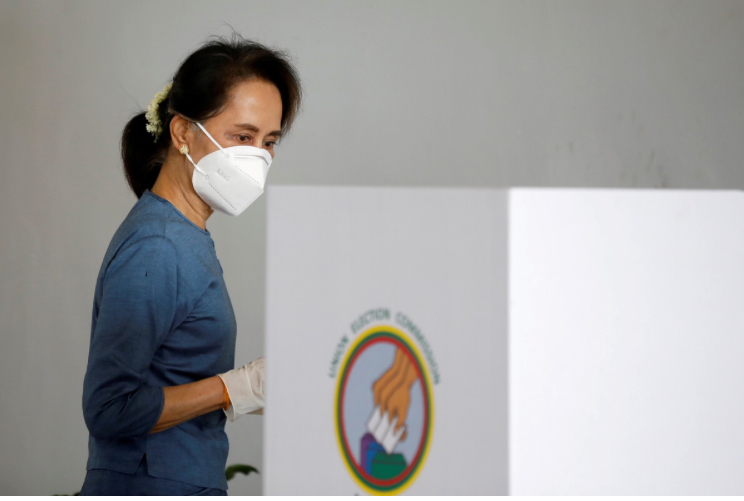 Internet connectivity dropped precipitously in Myanmar on Monday as the military seized power, likely the result of the government shutting down access in a move that drew condemnation from President Joe Biden and digital freedom activists.
The Myanmar military detained senior civilian politicians, including President U Win Myint and Nobel laureate Aung San Suu Kyi, whose party won a majority of parliamentary seats in the November elections. A military-owned television network said Commander-in-Chief Senior Gen. Min Aung Hlaing would assume control of the nation for one year following the military's allegations that the elections were fraudulent.
NetBlocks, which tracks digital freedom, said connectivity fell in Myanmar by 50% at one point before later recovering to 75% of ordinary levels. The disruption pattern pointed to a centrally issued blackout order to telecommunications providers, NetBlocks said. The outage accompanied a reported Army order to shutdown state media and the disabling of phone lines.
"It is unacceptable to shut down the internet and disrupt telecommunications in order to prevent a democratic transition," said Raman Jit Singh Chima, senior international counsel and Asia Pacific policy director at Access Now, a nonprofit dedicated to digital rights. "Cutting connectivity at a moment like this is far too often used to obscure abuse and repression, and facilitate impunity. All Myanmar authorities, including the military, must immediately act to restore uninterrupted connectivity in the country and to all people, no matter their political beliefs."
Internet blackouts are a not-infrequent occurrence in countries with authoritarian leaders in times of turmoil. In August, for instance, Belarus appeared to block major websites and journalists' virtual private networks.
Biden condemned the military's seizure of power in Mynamar, also known as Burma, and threatened possible punishments to come. The president also said the military should lift telecommunications restrictions.
"The United States removed sanctions on Burma over the past decade based on progress toward democracy," Biden said in a statement. "The reversal of that progress will necessitate an immediate review of our sanction laws and authorities, followed by appropriate action."