Mark Zuckerberg tells employees Facebook's 'encryption' will protect abortion-seeking users
Facebook has said it plans to fully roll out end-to-end encryption across its services by mid-2023.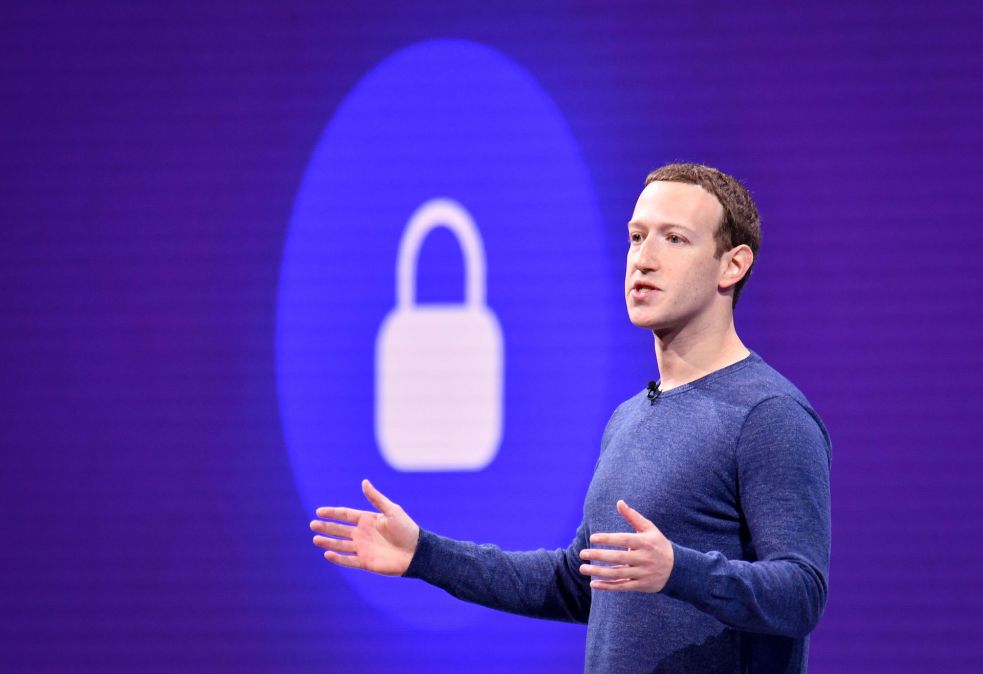 When asked at an all-staff virtual meeting Thursday what Facebook was doing to protect the privacy of users who are seeking abortions after the Supreme Court's reversal of Roe v. Wade, CEO Mark Zuckerberg pointed to the company's ongoing push to encrypt its services.
"Protecting people's privacy is always important, I get that this is extra salient right now [with] the Supreme Court decision and that specifically bearing on privacy," Zuckerberg said according to a recording obtained by CyberScoop. "But it just has always been a thing that we care about."
"So I've had a lot of debates over time around things like encryption, right?" he said. "Where there have been some safety advocates who have said, 'Hey, if you encrypt messages, you're making it harder to see some bad behavior?' Well, you know, I think in this case having your messages encrypted is actually one of the ways that you keep people safe from bad behavior or, or overbroad requests for information or things like that."
Zuckerberg noted that Facebook is continuing to scale up its use of encrypted services, something that has put the company at odds with the Justice Department before.
Facebook fully offers users the ability to turn on end-to-end encryption in group chats and calls in Messenger. Facebook spokesperson Thomas Richards confirmed in an email to CyberScoop that the company expects to make end-to-end encryption the default across its products sometime in 2023.
Facebook declined to elaborate on how its encryption expansion plans would apply to concerns about abortion-related data collected by its advertising business.
Naomi Gleit, head of product at Meta, elaborated that the company, as well as the tech industry, is still dealing with uncertainty about what the kinds of law enforcement requests new abortion bans will spark.
"It's too early honestly, to say anything new," she said. "But the importance of privacy and protecting people's data is not new."
Gleit noted that Facebook assesses requests to make sure they're consistent with standards including human rights, freedom of expression and rule of law.
"If the request is overly broad, we reject it. If we do comply, we narrow it to providing only the information specific to the request. And we do want to notify users whenever we're legally able to do so," said Gleit. She added that "this is not just impacting tech companies. This is impacting telcos, cable companies, Wi-Fi companies. And so we are all watching this very carefully."
Facebook did not respond to a request from CyberScoop last week asking about steps it would take to protect sensitive reproductive health data from law enforcement requests. Major tech companies including Amazon, Google, Apple and TikTok have also declined to comment.
Under the law, tech companies are required to respond to legal requests for data such as subpoenas and warrants. However, in some instances companies have chosen to challenge requests in courts, arguing that they are overly broad or acting against the law.
A growing number of lawmakers and privacy advocates have urged tech companies to cease the collection of sensitive data that could be used by law enforcement to criminalize abortion.
The Facebook meeting highlights how employees at large technology companies continue to pressure their employers on their responses to the reversal of Roe v. Wade. In response to the Supreme Court decision, many companies including Meta have offered benefits to employees who will need to travel to get an abortion. But as Meta's Gleit acknowledged in the meeting, the company is still assessing how the benefit will work based on different state laws.
Internal efforts to support employees haven't been enough to placate some workers. Employees at both Amazon and Google have issued statements seeking additional public action from their employers, according to The Washington Post.
At the Thursday Meta meeting, employees continued to raise concerns about the company's policy prohibiting groups of more than 20 individuals from discussing the Supreme Court decision.
Facebook has an imperfect record on user privacy and has faced intense scrutiny from the U.S. and international regulators for its handling of user data.
Updated 6/30/22: to include comment from Facebook.