Kirstjen Nielsen, a cyber-minded DHS chief, resigns
In her resignation letter, Nielsen said she was proud that "we have replaced complacency with consequences in cyberspace."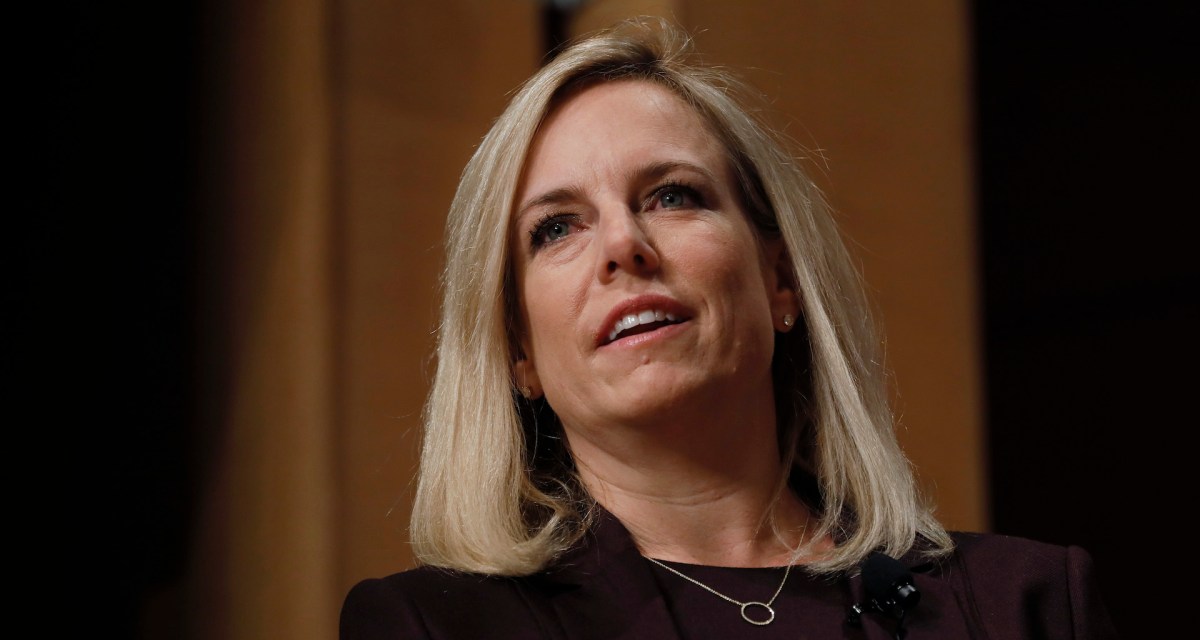 Kirstjen Nielsen resigned on Sunday as head of the Department of Homeland Security, ending the tenure of one of the most cybersecurity-focused secretaries the department has had in its 16-year existence.
In her resignation letter to President Donald Trump, Nielsen said she was proud that "we have replaced complacency with consequences in cyberspace," – a line she has often used to argue that the Trump administration has been tougher on foreign hackers than its predecessors. The letter also highlighted DHS's election-security efforts, which the department ramped up after the Russian intervention in the 2016 presidential campaign.
Nielsen's letter did not say why she was resigning, only that it was "the right time" to do so. Trump had reportedly been unhappy with her enforcement of his immigration policies in recent months. Two senior administration officials told The Washington Post that Trump had forced her to step down.
Kevin McAleenan, the current commissioner of Customs and Border Protection, will replace Nielsen on an acting basis, Trump said Sunday.
For the broader public, Nielsen's 16 months as DHS secretary were defined by her advocacy for Trump's hardline immigration policies. Legal challenges and public protests have followed those policies since Trump entered the White House. Thousands of migrant children have been separated from their families by border patrol and immigration officials at DHS.
In the cybersecurity realm, Nielsen will be known for using her pulpit to call attention to adversaries' increasingly potent hacking capabilities, and for ushering through an overhaul of DHS's cybersecurity-focused agency.
"Cyberattacks, in terms of their breadth and scope and possible consequences, now exceed the risk of physical attacks," Nielsen said in September.
Inside the department, officials reflected on Nielsen's cybersecurity legacy and what might come next.
"We'll miss her; [the cybersecurity efforts] need some continuity," one DHS official told CyberScoop, requesting anonymity so they could speak freely about Nielsen's resignation. "We also need a leader because the border is going to be a thing for a while."
Another official said Nielsen was "instrumental" in getting Congress to codify DHS's Cybersecurity and Infrastructure Security Agency into law, and credited her for empowering the agency's director, Chris Krebs.
Chris Cummiskey, a former senior DHS official in the Obama administration, said the department was at a crossroads of sorts in its work on cybersecurity. In recent years, Congress has granted DHS greater authority to carry out its cybersecurity mission, he said.
"Now it's about results and making sure the department can deliver on the cyber mission," Cummiskey told CyberScoop. The agency has a "growing and important cyber mission that has to be tended to as part of the leadership."
Nielsen's background, which included a private-sector stint as a cybersecurity consultant, helped her ensure the issue was on the agency's front burner, Cummiskey added.
Whether her Senate-confirmed successor will do the same remains to be seen.