DHS plans to overhaul disinformation efforts to 'increase trust with the public'
Disinformation scholars worry that a formal government apparatus to label and quash disinformation could be manipulated by partisan politics.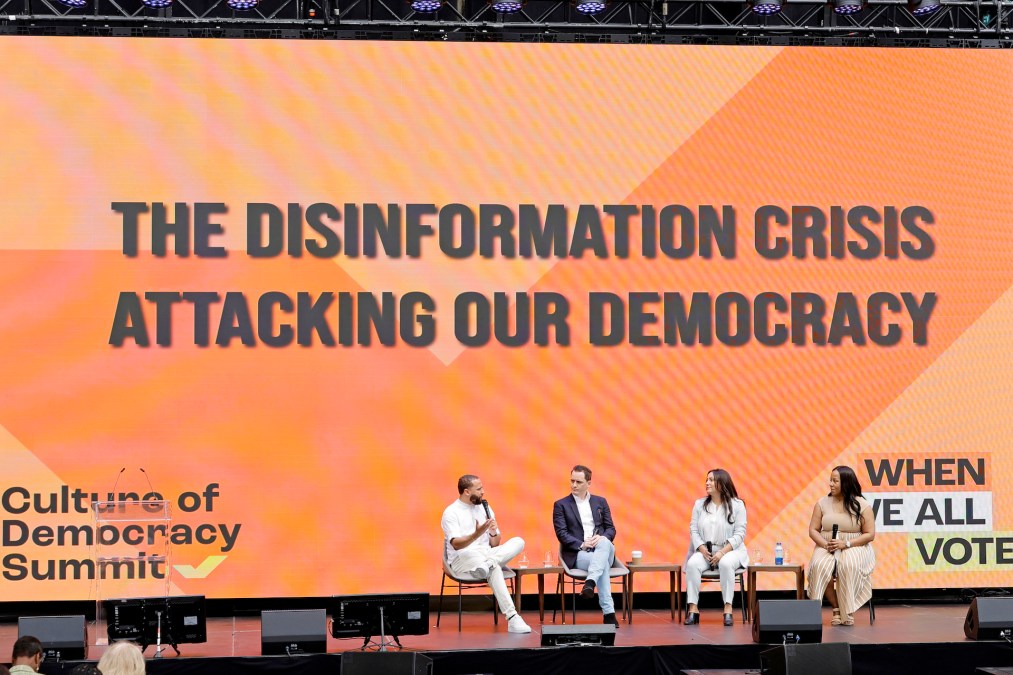 When the Department of Homeland Security's Advisory Council announces it plan next week for overhauling how the agency combats the spread of disinformation online, its focus will be on "how to achieve greater transparency across our disinformation related work" and how to "increase trust with the public," according to council meeting minutes released Monday.
No less than 40 top department officials and members of the DHS Advisory Council attended the meeting last week to preview an imminent announcement for how to reimagine the department's disinformation efforts in the wake of what even DHS leadership has acknowledged was a botched roll out for a planned "disinformation governance board."
The final recommendations to be announced next week will focus on how to "properly define what is and is not disinformation," said former DHS Secretary Michael Chertoff, who has been leading the review and whose comments were captured in the meeting minutes.
The plan will attempt to delineate "what is within and outside DHS's authorities to deal with in terms of countering disinformation, some of the analogs across the US government that deal with disinformation, the roles and responsibilities of the various DHS components in the space and finally our recommendations going forward," said Chertoff, according to the meeting minutes.
Chertoff's team already announced last Monday that it has concluded there is no need for a disinformation governance board as such.
The governance board construct came under fire for what many described as its Orwellian name and framing. Republican pundits were especially outraged by the planned "governance board;" a group of GOP lawmakers sent a letter decrying "the complete lack of information about this new initiative and the potential serious consequences of a government entity identifying and responding to 'disinformation.'"
Disinformation experts told CyberScoop they were not surprised the disinformation governance board fell apart.
"A broad-based agency push against disinformation — a still poorly defined problem — under the auspices of a 'governance board' — which conjures more bureaucratic fiat than collaborative problem-solving — was probably ill-advised," said Gavin Wilde, a disinformation expert at the Carnegie Endowment for International Peace and a former Russia director at the National Security Council during the Obama administration.
DHS is backpedaling from the "governance board" construct because that idea is simply too politicized at this point, he said.
"The imprimatur of government hinges on a bare minimum of credibility with the public, which doesn't offer second chances to make a first impression," Wilde said. "To the extent that strategic comms and transparency are key components of countering disinformation, this episode certainly demonstrates that DHS had a lot more work to do on both scores."
He pointed to a Cybersecurity and Infrastructure Security Agency disinformation education campaign ahead of the 2020 elections and known as "pineapple on pizza" as a "creative and non-inflammatory" way to educate the public. Then-CISA director Chris Krebs tweeted that he doesn't like pineapple on pizza — a topic CISA noted is a divisive one, just like all subject matters purveyors of disinformation try to leverage. CISA used the pineapple on pizza theme to lay out how disinformation works in an education campaign.
Much of the Chertoff-led review team's focus is on how the government can combat disinformation while "increasing transparency and protecting free speech, civil rights, civil liberties, and privacy," according to the meeting minutes.
The review team says it will propose "unified principles" to guide all DHS disinformation work and will seek to "increase trust with the public and other key stakeholders, in a way that could serve as a model for achieving transparency in other mission areas," the meeting minutes say.
A disinformation governance board predestined to fail
Experts hailed DHS for moving away from the governance board model. Some suggested that proceeding would have violated Constitutional protections for freedom of speech by allowing the government to define and label free expression.
"It was badly designed and executed from the start," said Jim Lewis, a cybersecurity expert at the Center for Strategic and International Studies. "The First Amendment means no agency has [this] authority. If they're serious, bring back the Fairness Doctrine at the FCC."
The Fairness Doctrine required broadcast license holders to present controversial issues of public importance and to do so in a manner that fairly reflected differing viewpoints. It was abolished in 1987.
The disinformation governance board became a right-wing punching bag during its short existence. Many Republicans acknowledge disinformation is a problem, but say DHS is not the appropriate agency to fight it.
Jamil Jaffer, a former Senate Foreign Relations Committee Chief Counsel and Senior Advisor under Chairman Bob Corker, R-TN., and Senior Counsel to the House Permanent Select Committee on Intelligence under Chairman Mike Rogers, R-MI., is the founder and executive director of the National Security Institute at George Mason University, and strongly opposes a DHS-led disinformation governance board.
Jaffer said that because disinformation is key tool used by nation-state adversaries such as Russia and China to affect political conditions in the U.S., it is vital that the government aggressively fight it. But he said DHS should not be tasked with the work of telling people what is true.
"DHS is not the right place to coordinate or house any effort that purports to tell the American people what the truth is, particularly given its core mission and history," he said. "Rather every federal agency and their respective leaders have always had the responsibility to disseminate factual information in their domain."
Chertoff's review team plans to recommend new elements to DHS's work on disinformation, according to one person briefed on the discussions who was not authorized to speak publicly.
The review team has done exhaustive work since the early May announcement that Chertoff and former Deputy Attorney General Jamie Gorelick would be leading the effort. According to the meeting minutes, the review team has met with leaders and subject matter experts "from every DHS component that plays a role in dealing with misinformation, disinformation and malinformation." These components include the Office of the Secretary, the Privacy Office, Office of Public Affairs, Civil Rights and Civil Liberties Office, Cybersecurity and Infrastructure Security Agency, Office of Intelligence and Analysis, US Customs and Border Protection, The Federal Emergency Management Agency, The Office of Strategy, Policy and Plans and The Office of the General Counsel.
Herb Lin, a disinformation scholar at Stanford, said DHS will need to tread carefully moving forward. He worries "about any government involvement in this business" and whether "any mechanism that you set up can be made tamper proof."
Lin is concerned about how different administrations might try to manipulate a disinformation apparatus to achieve political ends and said that for a formal disinformation board to work a mechanism to prevent manipulation would need to be baked in.
But he said setting up an effective mechanism to block corruption will be very difficult.
"I wouldn't want a mechanism that could be taken over by [former President Trump,]" Lin said. "Going down this path is a very dangerous thing to do."