DOJ drops massive report on its efforts to protect U.S. from cyberattacks
The 156-page document details the DOJ's work regarding election interference, attacks against critical infrastructure, industry and government, and the spread of propaganda on the internet.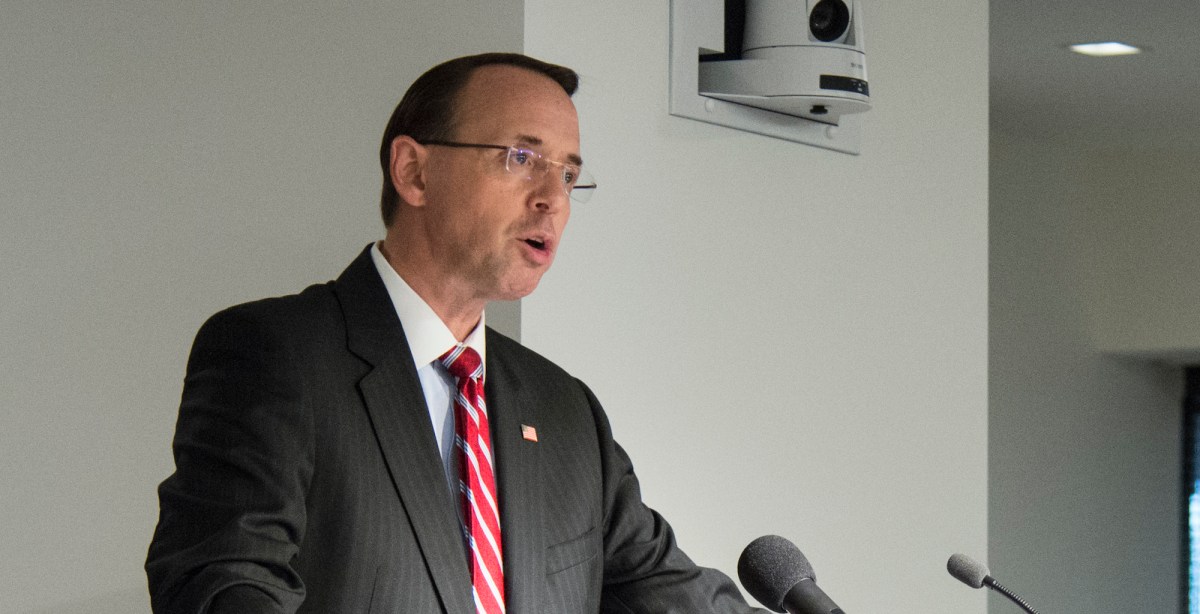 The Department of Justice has laid out its strategy to fight malicious foreign influence and cyberattacks against U.S. elections.
The department's "Cyber-Digital Task Force" released a 156-page report Thursday night detailing its work regarding election interference, attacks against critical infrastructure, industry and government, and the spread of propaganda on the internet.
Just prior to Deputy Attorney General Rod Rosenstein announcing the new strategy, it was reported that the three top cyber officials at the FBI are leaving their posts, according to the Wall Street Journal. It's a significant blow at a time when the FBI is playing a central role in the Justice Department's ongoing efforts to curb offensive cyber operations aimed at U.S. companies and government agencies.
Some of the authors behind Thursday's DOJ report are among those reportedly departing.
"The Russian effort to influence the 2016 presidential election is just one tree in a growing forest," Rosenstein said in prepared remarks. "Russian intelligence officers did not stumble onto the ideas of hacking American computers and posting misleading messages because they had a free afternoon. It is what they do every day."
With the FBI's cybersecurity leadership reportedly in flux, the new report details how the FBI is tasked with countering "malign foreign influence operations" in myriad of ways. This includes briefing political organizations and campaigns on foreign hacking threats. American intelligence and law enforcement officials say Russia, seeking to repeat its success in 2016, is a threat against 2018 campaigns.
Earlier on Thursday, a Microsoft executive revealed the first known Russian hacking attempts aimed at the 2018 midterm elections.
The cyber-digital task force was established in February 2018 by Attorney General Jeff Sessions and is chaired by Associate Deputy Attorney General Sujit Raman. It is tasked with answering two broad but timely questions: How the Justice Department is currently combating the global cyber threat and how federal law enforcement can more effectively accomplish its mission in the cyber domain.
The report detailed numerous digital threats and how federal authorities are tackling the issue today.
Rosenstein referenced a recent indictment against 12 Russian military intelligence officers charged with hacking into the Democratic National Committee (DNC), the Democratic Congressional Campaign Committee (DCCC), an unnamed U.S. election technology company and individuals affiliated with Hillary Clinton's 2016 presidential campaign.
"Do not underestimate the long arm of American law – or the persistence of American law enforcement," he said. "People who thought they were safely under the protection of foreign governments when they committed crimes against America sometimes later find themselves in federal prisons."
Public indictments achieve deterrence, he argued, demonstrate detection capabilities, vindicate victims, impact the public and support other penalties against foreign influence operations.
The task force report also lays out factors the Justice Department will consider when deciding whether to publicly disclose foreign influence operations. The DOJ will weigh whether publicity will alert victims, support arrests, alert Congress and alert the public to a threat.