Civil society, labor and rights groups express concerns about AI at White House meeting
Attendees discussed wide-ranging risks such as fraud and deepfakes that could be exacerbated by rapid advancements in generative AI tools.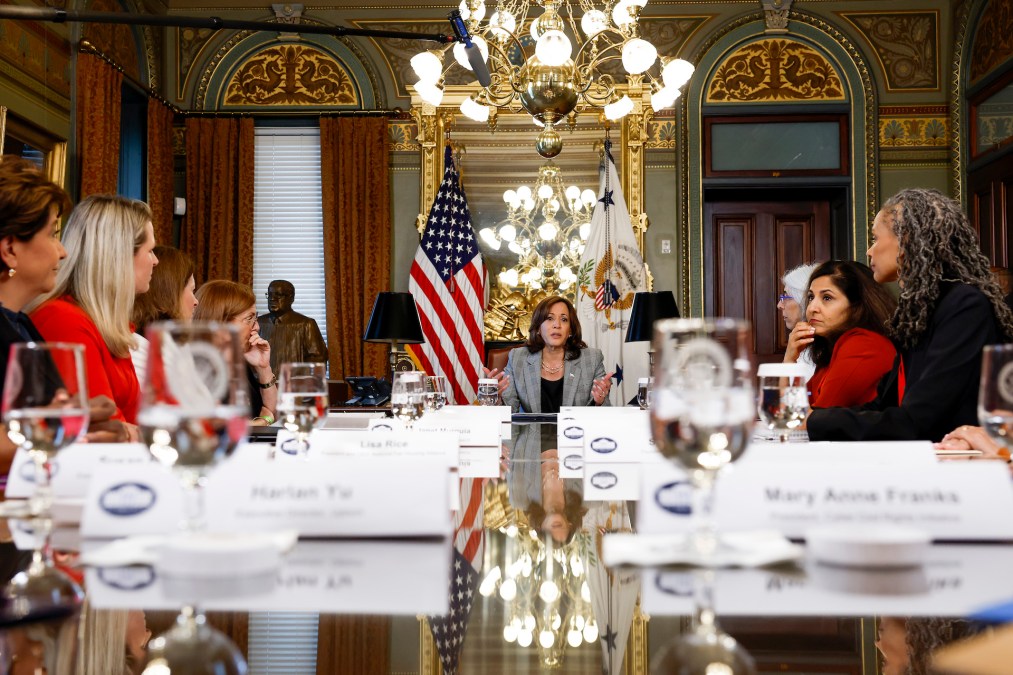 Vice President Kamala Harris and other Biden administration officials met Wednesday with civil society, rights and labor leaders to discuss a wide range of impacts of artificial intelligence on consumers and the public.
"We should not dampen or in any way slow down innovation that can improve the condition of people's lives," Harris said in opening remarks. "And we must also ensure that in that process, we are not trampling on people's rights."
Groups including the Center for Democracy and Technology, AARP, AFL-CIO, Leadership Conference, Encode Justice and the Cyber Civil Rights Initiative attended the meeting. Government officials included Director of the White House Office of Science and Technology Policy Arati Prabhakar, Director of the Domestic Policy Council Neera Tanden and staff from other White House offices including the National Security Council, National Economic Council and the Office of Management and Budget.
Attendees discussed wide-ranging risks such as fraud and deepfakes that could be exacerbated by rapid advancements in generative AI tools, according to people who attended the meeting. They also talk about the effects of AI decision-making tools such as those that determine public benefits. Attendees said the conversation focused on both federal government's use of AI as well as how the federal government can guide private sector use.
"It's clear those were all priority issues for the vice president," CDT President Alex Reeve Givens, who attended the meeting, told CyberScoop. "The consumer protection lens of this is clearly very important to her."
Attendees also touched on AI's impact on the workforce.
"Workers must play a leading role in this moment of rapid tech development because – as AFL-CIO President Liz Shuler emphasized to Vice President Harris – A.I. will profoundly transform Americans' relationship to work. For many women and workers of color, it already has: increasing digital surveillance, deskilling workers, or eliminating jobs altogether," Amanda Ballantyne, Executive Director of the AFL-CIO's Technology Institute said in a statement to CyberScoop about the meeting.
Attendees also raised concerns about law enforcement's use of AI, though Reeve Givens told CyberScoop that the White House didn't provide immediate feedback on those issues.
The summit follows a May meeting between the White House and leading AI companies in May and a meeting between the White House and technology leaders and academics in June. The White House also hosted a listening session with union leaders about AI earlier this month.
The Biden administration has issued a suite of guidance for responsible AI use and development, including a blueprint for an AI Bill of Rights and NIST's AI Risk Management Framework. The White House is expected to soon release policy guidance to federal agencies on how to procure and use AI tools.
"The biggest opportunity before them right now is to create a comprehensive, whole-of-government approach that will create infrastructure for agencies to address this for years to come," said Reeve Givens of CDT.