2020 redux: Trump and allies push another round of election fraud claims
Former President Trump and his allies made spurious claims that lay the groundwork for arguing the midterm elections were rigged.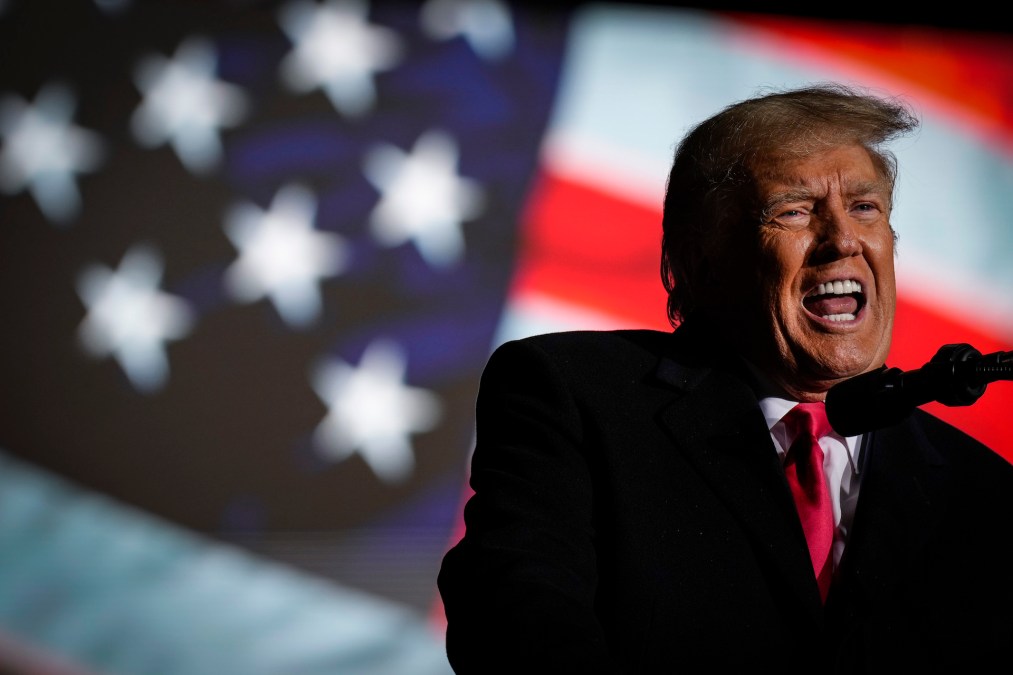 During midterm voting Tuesday, former President Donald Trump and his allies seized on procedural hiccups at polling centers to lay the groundwork to claim widespread fraud.
Weeks before the election, security experts warned that technical glitches during voting would be seized on to undermine public confidence in election results — and these predictions played out most starkly in Arizona's Maricopa County, where right-wing figures such as Trump began alleging the election was rigged against Republicans long before polls closed.
On Tuesday morning, election officials in Maricopa said that tabulators in some 20% of voting centers in Arizona's most populous county were malfunctioning. Writing on Truth Social — the social media platform he helped launch — Trump mischaracterized these problems to claim the "Voting Machines are not properly working in predominantly Republican/Conservative areas." In another message, he asserted, "They are trying to steal the election with bad Machines and DELAY. Don't let it happen!
In 2020, Trump and his allies fixated on delays in vote counting — and votes counted late in the night breaking in favor of Democrats — as evidence of voter fraud, and by spending Tuesday highlighting technical problems in the administration of the vote, election deniers may be priming their audiences to embrace the spurious claim of widespread fraud once again.
Arizona election officials have said that while some ballot tabulators are not working, it is not impacting the ability of Arizona voters to cast their ballots. In a video posted to Twitter, Maricopa County election officials acknowledged the problem with some tabulators but explained how ballots that could not be scanned by tabulators would simply be counted at a central facility later in the day. By the afternoon, the county said on Twitter that it had found a solution for the problem, which it said had impacted 60 voting facilities.
Despite having no observed impact on the administration of the election, influential right-wing figures nonetheless amplified this story.
Among the first to bring the story to a wider audience was Charlie Kirk, the conservative political activist who played a key role in spreading election fraud narratives around the 2020 election, from there, the story quickly spread, according to an analysis by the Election Integrity Partnership. Over the span of two hours, the research group observed more than 40,000 tweets on the topic, with many implying that the tabulators had been sabotaged.
Donald Trump Jr. and the activist Dinesh D'Souza — both of whom have used their large online followings to question the outcome of the 2020 election — amplified messages regarding voting irregularities in Maricopa County.
Some Arizona Republican candidates have embraced this fearmongering about the state's election systems. "Hard to know if we're seeing incompetence or something worse," Blake Masters, the Republican candidate for Senate, wrote on Twitter. "All we know right now is that the Democrats are hoping you will get discouraged and go home."
These narratives are not limited to Arizona. In Pennsylvania, some polling sites in Luzerne County are staying open until 10 p.m. after running out of paper. Some right-wing conspirators, including Jenna Ellis, a legal adviser to Trump, alleged the paper shortage amounted to voter disenfranchisement — even though county officials said voters were able to file provisional ballots.
Researchers at the Election Integrity Partnership have logged some 10,000 tweets regarding events in Luzerne County, but so far this narrative has been less successful in breaking into the mainstream than events in Maricopa.
On Tuesday, Trump also attacked the use of absentee ballots in Michigan — which his allies have tried to restrict. This prompted a reply from Michigan's Secretary of State Jocelyn Benson: "This isn't true. Please don't spread lies to foment or encourage political violence in our state. Or anywhere. Thanks."