Transcom completes zero trust implementation across its classified network
U.S. Transportation Command also released a new strategy to ensure it can remain ready now and in the future.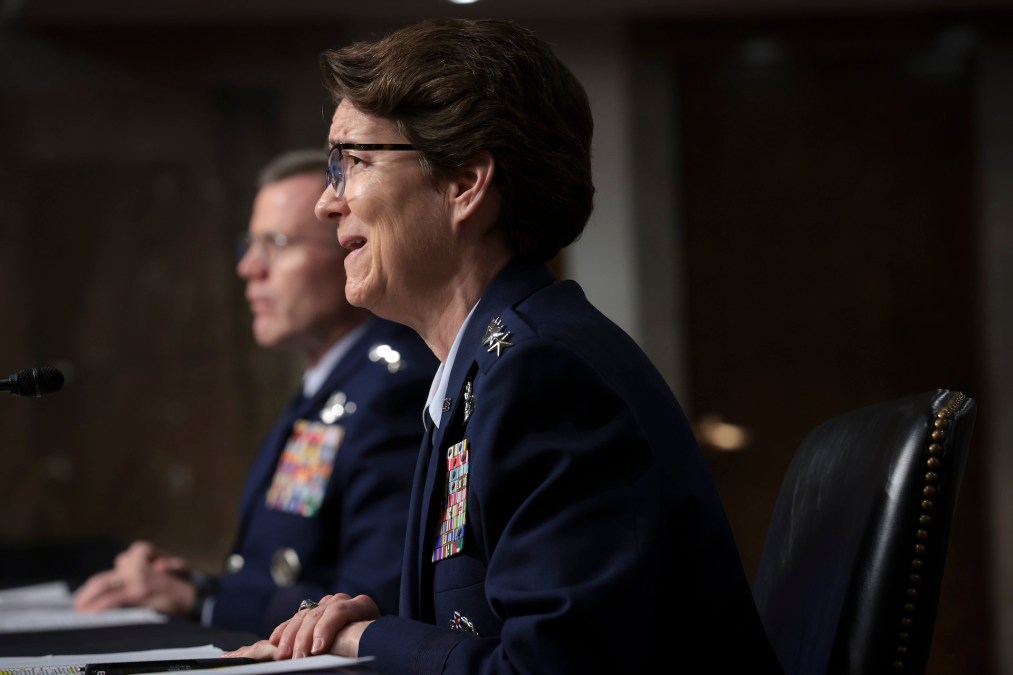 Armed with a new guiding strategy that prioritizes cybersecurity and maneuverability, U.S. Transportation Command is making notable progress applying zero-trust capabilities to parts of its vast and complex network, Commander Gen. Jackie Van Ovost confirmed Monday.
"Last month, we completed our implementation of our core zero-trust capabilities on our classified network, reaching the baseline maturity level," Van Ovost said at the National Defense Transportation Association's Fall meeting. "Our work is never done on this front and we will continue to advance this initiative, especially in the unclassified environment."
Zero trust is a buzzy security framework at the heart of the Pentagon's broader cybersecurity strategy that essentially moves responsibility for digital defenses from static, system-based perimeters to the constant evaluation of users and platforms on networks. Recognizing that resilience in the cyber domain directly translates to agility in all the others — now, and moving forward — the command is working deliberately to ensure that its technological enterprise is backstopped by a secure and resilient cyber ecosystem.
Van Ovost thanked the association's cybersecurity committee and industry members for collaborating with Transcom's cyber mission assurance team to inform its zero-trust work.
"Our strength is derived from the interconnection of our capabilities, the resilience of our global network and the dedication of our people. This is a strategic advantage. We must evolve — and we need you with us all the way," she said.
The command has been instrumental in the U.S. government's delivery of weapons and equipment to Ukraine, particularly since Russia's unprovoked invasion in February — but also before it.
These "current events driven primarily by the acute threat posed by Russia" are demonstrating for military leadership that logistics remains a key and critical warfighting function, according to Van Ovost. At the same time, the President's recently unveiled National Security Strategy also "makes it clear that China and Russia are working overtime to undermine democracy," she noted. Each in their own ways, she said, both nations aim to erode the legitimacy of established international norms and laws that have persisted for nearly a century.
"Geopolitically, China remains our most consequential strategic competitor," Van Ovost said Monday. "Daily, in the cyber domain, they target our networks, probe our critical infrastructure servers and seek to benefit from the intellectual properties of our civilian companies and military organizations."
And "militarily," the Chinese have studied America's logistics capabilities and "have custom-designed their kinetic and non-kinetic capabilities to target our lines of communication," she added. Further, the underlying physics of the problem set across the vastness of the Pacific Ocean and the capacity to generate and sustain operational momentum in compressed timelines to more destinations with limited capacity would likely present new challenges in future warfare for the command.
"With this in mind, and to ensure Transcom remains ready now and in the future, earlier today we released our command strategy that is focused on evolving our strategic advantage," Van Ovost noted at the event. That 16-page document presents the unit's priorities as it works to ultimately "meet the realities of the contested environment that we operate in," she added, as well as future hurdles that will likely need to be confronted.
Transcom's operations rely on the connectivity of the Defense Department's networks, and cybersecurity is one of the main elements prioritized in this new strategy.
The document directs "everyone" within the command to "drive mission assurance" to support this capacity by "embracing the individual responsibility to be a cyber defender" and maintaining vigilance every day.
"Future operations will not resemble recent successes," Van Ovost said Monday. Still, these ongoing pursuits are demonstrating the importance of unified strategies and integrated deterrence-based approaches for military leadership. In her view, only through secure and reliable command and control capabilities will the joint force be able to effectively apply its finite resources against potential future requirements to maneuver at a pace and scale that's never been done before.
"There's a lot at stake in this decisive decade," Van Ovost noted frequently during her talk.
Emphasizing that focus on mission assurance, she also requested that Transcom's commercial partners more openly share the cybersecurity threats they are facing with one another — and, particularly, the government — going forward.
"I know that's maybe a concerning topic, especially when you're competitors in the commercial marketplace. But in the end, our adversaries are really not interested in our competition. They're just interested in ensuring that you cannot mobilize the force and we cannot deploy the force," Van Ovost said. "So I think you'll see on the intelligence side that we'll share more and more, and I think that's where we need to go. But that requires trust."