Rosenstein warns encryption can be 'significant detriment' to public safety
The "Going Dark" debate continued in a speech at a Georgetown University law conference.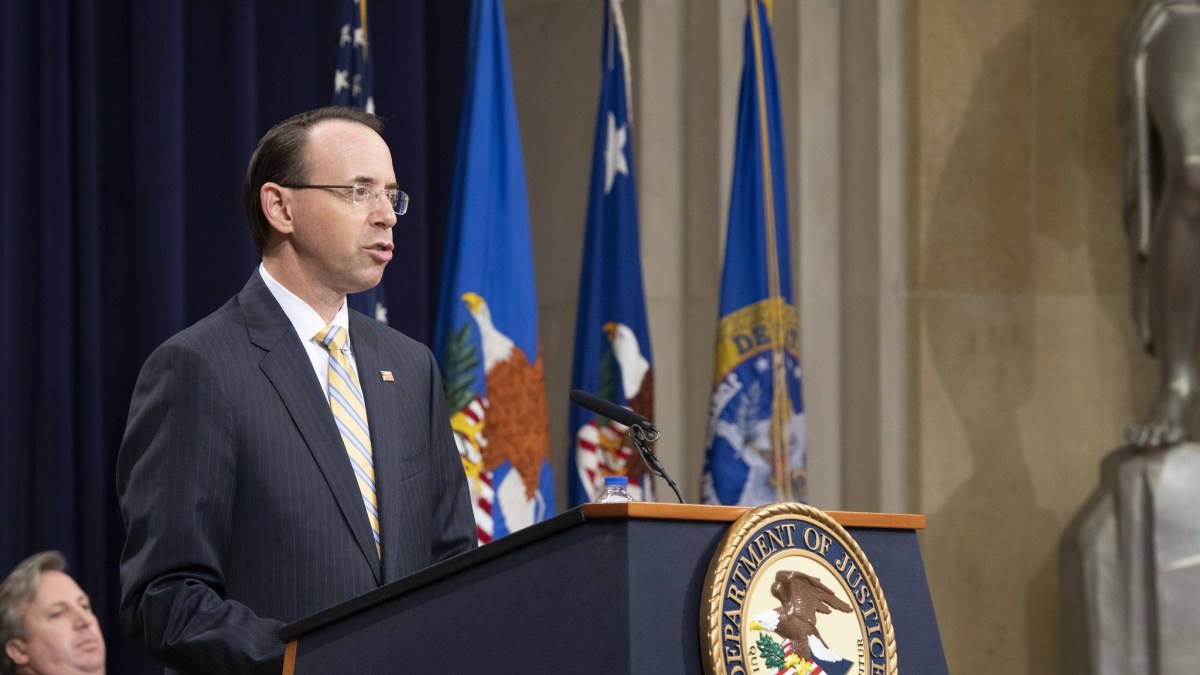 U.S. Deputy Attorney General Rod Rosenstein warned technology companies that Americans will not accept a culture in which encryption makes it impossible for law enforcement to investigate crimes, the latest comments in a long effort by the Department of Justice to find a way around end-to-end encryption.
In a speech Thursday, Rosenstein urged tech firms to develop technology that keeps users' data and communication as secure as possible, while also maintaining the ability to provide that information to law enforcement if it's tied to an investigation. Firms including Apple, WhatsApp and others have introduced end-to-end encryption, a security measure that renders messages unreadable except to the sender and recipient.
That type of technology is having "a dramatic impact on our cases, to the significant detriment of public safety," Rosenstein said.
Rosenstein's remarks at Georgetown University Law Center's Cybercrime Conference come amid the years-long "Going Dark" debate in which the public and private sectors have sparred over what constitutes appropriate encryption. Rosenstein, as one of the highest-ranking law enforcement officials in the U.S., complained that some technology companies under-invest in the number of employees necessary to respond to court orders for information about suspected criminals.
"When you hear corporate lawyers complain about law enforcement demands it's important to keep in mind that what's good for technology companies in terms of bottom line profits is not always good for America," he said.
"Some technology experts castigate colleagues who engage with law enforcement to address encryption and similar challenges," he added later. "Just because people are quick to criticize you does not mean you are doing the wrong thing."
Rosenstein also encouraged stronger collaboration between the public and private sectors, citing a new law as a evidence that solutions do exist. The Clarifying Lawful Overseas Use of Data (CLOUD) Act was enacted earlier this year, allowing technology companies to provide the Department of Justice with data no matter if it's stored in the U.S. or international borders. Congress passed that law as the Supreme Court was due to settle a legal battle between Microsoft and the Justice Department on law enforcement access to data.
"That's an area, by the way, where tech companies are very cooperative and supportive of the CLOUD Act," he said. "If you're a business you want a stable legal regime."