McCaul: U.S. should go on the cyber offensive if Russia hacks midterms
The Texas Republican is the latest lawmaker to specify that the U.S. should have a forceful response on the table.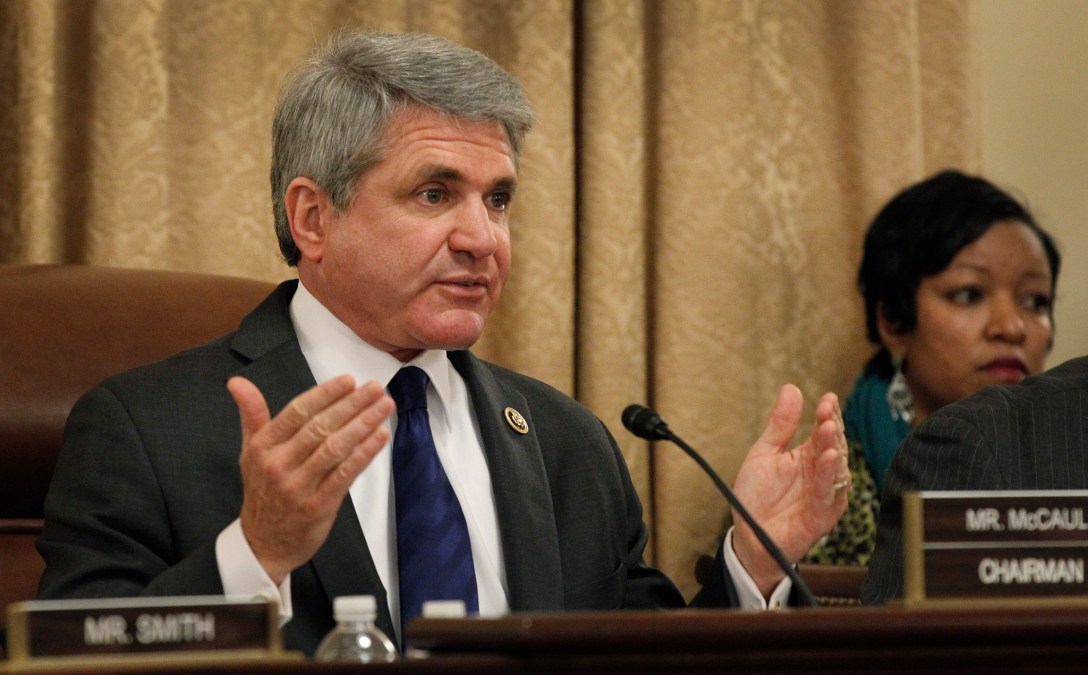 The United States should respond with offensive cyber-operations if the Russian government tries to meddle in the 2018 U.S. midterm elections like it did in the 2016 presidential election, according to an influential Republican lawmaker.
"Personally, if [the Russians] attempt to do that again in the 2018 midterms, I think there should be an offensive response to it," Texas Rep. Michael McCaul, chairman of the House Homeland Security Committee, told reporters Wednesday.
In January 2017, the U.S. intelligence community concluded that Russian government-linked hackers meddled in the 2016 presidential election as part of a broad Kremlin-backed effort to help elect U.S. President Donald Trump. Over the last several months, senior U.S. intelligence officials have repeatedly warned of the possibility of renewed Russian information operations ahead of midterm elections this fall.
While nothing on the scale of the 2016 meddling has been detected yet for the 2018 cycle, a public discussion has continued on how the U.S. government should try to deter Russian hackers from striking again.
McCaul is one of several lawmakers who have made clear that a forceful U.S. response in cyberspace to Russian hacking should be on the table.
In a book published in May, Sen. John McCain, R-Ariz., argued that the U.S. should strongly consider using its cyber capabilities to expose "the epic scale" of the Russian government's corruption.
Member of Congress have for years lamented the lack of a coherent U.S. strategy that outlines policy options to deter foreign hackers. The State Department recently sent recommendations for such a strategy to the White House.
Talk in Washington of going more on the offensive in cyberspace is a recognition of a geopolitical state of play that includes rampant government-backed hacking. It is also an acknowledgement that other U.S. tools, such as criminal prosecution, haven't been enough to deter cyberattacks.
Hackers linked with Russia, China, Iran, and North Korea have all carried out aggressive and high-profile hacking operations in recent years. The United States, of course, does its own hacking against foreign adversaries, as McCaul alluded to by saying, "We are doing things in the classified space that I can't get into."
In remarks Wednesday at the American Enterprise Institute, McCaul highlighted the strong hacking capabilities at the Trump administration's disposal – should the White House want to escalate their usage.
"We have the capability to shut down governments. We have the capability to conduct major offensive cyber-operations," McCaul said. "Our adversaries have that now, too," he added, citing cyberattacks on the U.S. financial sector that U.S. officials have blamed on Iran.
Members of the Trump administration's National Security Council have pushed to streamline the approval process for conducting cyberattacks to avoid having hacking operations delayed or aborted, CyberScoop reported in May.
'Demoralizing' Helsinki Summit
The Department of Justice last week announced the indictment of 12 Russian military intelligence officers for their role in allegedly hacking the Democratic National Committee and other organizations, and for leaking stolen information in advance of Trump's election.
After a meeting with Russian President Vladimir Putin on Monday, Trump once again cast doubt on the U.S. intelligence agencies' conclusion, saying that Putin gave an "extremely strong and powerful" denial that Russia had interfered in the U.S. election. (Trump walked back his comments on Tuesday, saying he accepted the findings of U.S. intelligence agencies.)
McCaul expressed dismay at Trump's warm treatment of Putin.
"I don't understand the reluctance when [Trump] almost sided with Putin over our intelligence community assessment," McCaul said. "That, I think, is demoralizing to our intelligence community."