Maksim Boiko, an accused money launderer and part-time rapper, to plead not guilty
The 29-year-old Russian entered the U.S. in January with $20,000 in cash. The FBI says he is a "significant cybercriminal" with links to the QQAAZZ group.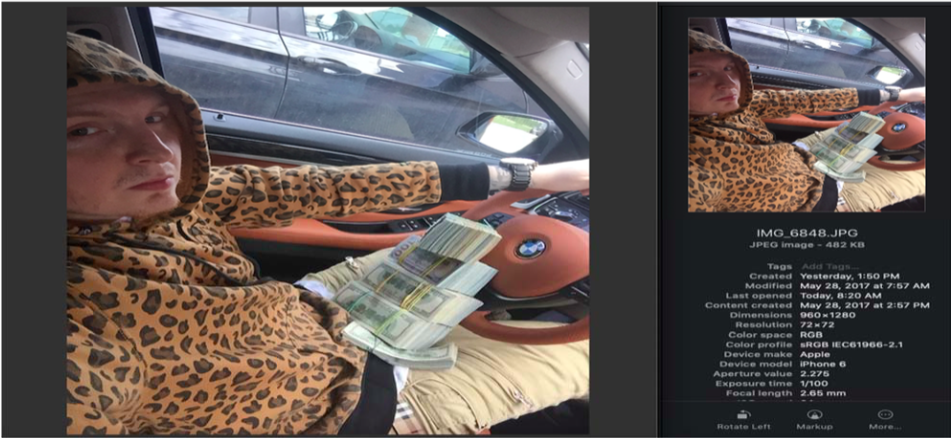 A Russian man caught carrying $20,000 in cash through the Miami airport earlier this year will plead not guilty to laundering money on behalf of a transnational cybercriminal organization, his attorney said Friday.
An FBI complaint unsealed in March charges that Maksim Boiko, 29, was a "significant cybercriminal" who converted stolen money into cryptocurrency for a group called QQAAZZ. Boiko was taken into custody in Florida earlier this year, though he's due to be arraigned via teleconference in the Western District of Pennsylvania soon, defense attorney Arkady Bukh told CyberScoop.
"My client will plead not guilty," he said.
Boiko, known as "gangass" among other accused cybercriminals, was arrested in March at a Miami condominium on March 28 after entering the U.S. with his wife through the Miami airport in January. An FBI complaint unsealed the next day included pictures of Boiko driving a BMW with bundles of U.S. cash on his lap, and the Russian holding a stack of dollars against his face.
Investigators pointed to the images as evidence that Boiko's actions were "inconsistent with the practices of a legitimate business operation[.]" In fact, the FBI said, Boiko has for years provided the QQAAZZ cybercrime gang with access to criminally controlled bank accounts, which they could use to move funds stolen in prior cybercrimes. The effort worked as a kind of "global, complicit bank drops service," the FBI complaint said.
Evidence included in the complaint, Boiko's defense attorney acknowledged, could present a thorny issue for the defense.
"The pictures are a difficult part of this case," Bukh said, adding that attorneys will assess their approach as prosecutors provide evidence. "At this time we still don't have the full discovery materials … but plea deals are a good option in the vast majority of these cases."
QQAAZZ consisted of at least five Latvian men, according to the Department of Justice, who opened bank accounts around the globe. They would provide hackers to access to those accounts, giving scammers a destination to send stolen money. Prosecutors say QQAAZZ then would take a cut of the stolen money, up to 50% in some cases, in exchange for the bank account.
The Pittsburgh Post-Gazette first reported on many of the QQAAZZ court filings.
The case could be further complicated by Boiko's apparent social media activity. Instagram and Twitter posts first uncovered by The Daily Beast show Boiko posting pictures of himself throughout the world, often with cigars and champagne. In one post on the @plinofficial Instagram page, Boiko appears in front of Italy's Leaning Tower of Pisa, alongside the caption "Straight Up." (The Instagram account hasn't made any public posts since February.)
View this post on Instagram
Boiko also is an aspiring rapper under the name Plinofficial. Songs with titles like "Chasing Paper," "Millions" and "Kosmonavt," which translates to "Cosmonaut," the Russian equivalent of an astronaut. The music was released under a music label called "Smells Weed Music," a phrase that's also a major theme on Boiko's Instagram.
View this post on Instagram
A spokesperson from the Western District of Pennsylvania, where Boiko is set to be arraigned, confirmed Boiko has arrived in Pennsylvania after being transported from Florida.
The FBI's affidavit in support of the complaint against Boiko is available in full below.
[documentcloud url="http://www.documentcloud.org/documents/6821383-Maksim-Boiko.html" responsive=true]