Senators urged to question DHS nominee Nielsen's management experience
There's one topic many observers are hoping the Senate Homeland Committee will ask about: whether Nielsen has padded her resume based on her time as DHS chief of staff.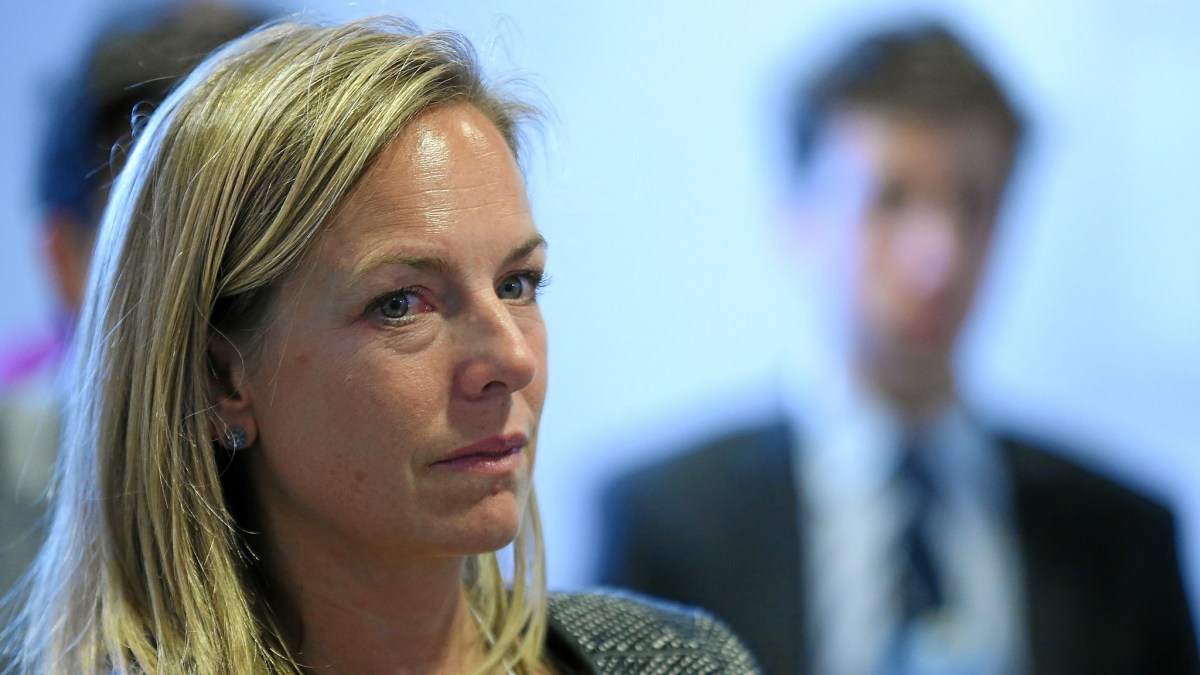 Senators of both parties were tight-lipped Tuesday about their plans for Homeland Security Secretary nominee Kirstjen Nielsen's confirmation hearing — but there's one topic many observers are hoping they'll ask about: Her experience.
The issue of leadership is key one for the department — a sprawling government behemoth which encompasses two of the largest federal law enforcement agencies and is responsible for a bewildering variety of missions. In particular, observers say, its cyber mission has been handicapped by the absence of an operational agency responsible for securing government computer networks and helping vital U.S. businesses harden their IT systems against online attacks.
Nielsen's defenders point to a career in emergency preparedness, first as a junior White House official and later as a consultant and think-tank fellow, culminating in her brief stint this year as chief of staff at DHS under then-Secretary John Kelly. But critics point out that, until this year, she'd never managed more than 15 employees — DHS has 240,000 employees — and some accuse her of resume padding.
"While she has a background in several of the issues the department deals with [like critical infrastructure protection and emergency management], there's concern that she lacks familiarity with some of its domestic law enforcement priorities," said John Cohen, a former senior DHS official who worked under both Presidents George W. Bush and Barack Obama, pointing a lack of knowledge in anti-drug, anti human-trafficking operations and counter-terrorism.
"Her experience has been principally as a policy adviser, rather than in executive management," added Cohen, noting that two of five previous DHS secretaries were governors and one was a four-star general. "That is a concern."
"There's a huge difference between advising the principal and being the principal," said Cohen, who was an advisor to DHS Secretary Janet Napolitano and later was acting undersecretary heading the department's large and unwieldy cyber and infrastructure protection directorate known as NPPD.
Nielsen's defenders are numerous and effusive. "We write enthusiastically in support of the nomination of Kirstjen Nielsen to be the sixth secretary of homeland security," reads a letter penned by a bipartisan group of 40 former department officials. The letter, sent Monday to the Senate Homeland Security and Government Affairs Committee which holds Nielsen's confirmation hearing Wednesday, urges committee members "and the full Senate, to act on her nomination quickly to provide DHS, and the nation, with the full extent of Ms. Nielsen's expertise and judgment."
Among the signatories are a handful of democratic political appointees who worked at DHS under President Obama and a sheaf of career and presidentially appointed officials who served under President Bush. Both former GOP secretaries wrote a similar letter to senate leaders last week.
"I think her roles in the White House and as DHS [chief of staff] are excellent preparation for the job she is nominated for," former DHS general counsel Gus Coldebella told CyberScoop.
It's unclear what tack either Democrats or Republicans will take at the hearing Wednesday, but the experience issue adds to some doubts about her candidacy already stirred by the unprecedented role in her confirmation preparations — which CyberScoop reported this week — of Thad Bingel, a consultant and former lobbyist with ties to big DHS contractors.
Nielsen's written submission for the hearing Wednesday states that "As DHS chief of staff, I had the privilege of overseeing all DHS staff (240,000) and directly managed not only the Office of the Secretary, which included approximately 65 people but had resourcing and budget related decision making authority and responsibility for the …. executive management [office], made up of 10 offices, 585 personnel and with a budget of $137 million."
"That's a lie, is what that is," said one DHS official, noting that the org chart on the department's own website shows the chief of staff off to the side of the secretary, with only the executive secretary and the military adviser reporting through her. The official was granted anonymity because they are not authorized to speak to the press.
The official pointed out that the 65 people in the secretary's office included two senior executive service-level officials and multiple senior staff supervisors at the GS-15 level. "Only maybe a dozen or fewer people reported directly to her and they were all administrative staff," the official said.
"I think the many senate-confirmed leaders and presidentially appointed officials [included in the 585 personnel total for the executive management office] would be very surprised to hear that she was managing them," the official went on.
The DHS chief of staff's one-and-a-half-page job description, reviewed by CyberScoop, makes no mention of any line management responsibilities.
One other entry on the questionnaire has raised eyebrows. Asked to describe the department "core mission," she first notes its counter-terror role and then adds "Additionally, DHS has a number of specific responsibilities to enforce our immigration laws, ensure the security of our borders, protect the nation's critical infrastructure and respond to natural disasters" without mentioning the department's leading role in defending federal IT networks.