Keybase launches end-to-end encrypted git
The product rolls out free of charge, but the company's long-term plan to is to make money of enterprise versions of its offerings.
Keybase is quickly becoming the free and open source way to do anything on a computer with the added benefit of encryption.
Two years after nabbing a $10.8 million investment, the tool announced "encrypted git" software designed to create end-to-end encrypted file repositories for individuals and teams. Last month, the company announced Keybase Teams as an encrypted competitor to Slack. That follows Keybase Chat, introduced earlier this year, designed to bring encrypted messaging across social networks.
"It is end-to-end encrypted," the team wrote in a blog post. "It's hosted, like, say, GitHub, but only you (and teammates) can decrypt any of it. To Keybase, all is but a garbled mess. To you, it's a regular checkout with no extra steps. Even your repository names and branch names are encrypted, and thus unreadable by Keybase staff or infiltrators. We think this is better than paying a fee to store it in plaintext. Remember, it is impossible to delete cloud data with any kind of confidence, and your host may already be compromised."
The goal is to take encryption beyond a buzzword and make it mainstream. That's a laudable and popular goal — just look at Signal, WhatsApp and Facebook Messenger — but bringing in a critical mass of users is a large mountain to climb. Adding useful features is meant to help that task.
Keybase, launched by the founders of SparkNotes and OK Cupid in 2014, currently has around 180,000 users — a 23 percent increase since May 2017 — and everything it offers is currently free. "Charging for anything on Keybase right now would be a big mistake," Coyne said on Wednesday.
The goal is to build more, charge big companies for the products and offer everything else for free.
"We'll increase the breadth of our communication platform (eventually: voice and video), and we're about to start focusing on making team onboarding and management easy," co-founder Chris Coyne told CyberScoop.
"The goal is for the IT people or team leaders to build a secure collaboration environment without any inconvenience to the team members. We'll also start focusing on the more social aspects of Keybase. Unlike some enterprise apps, we're embracing a single sign-on. You don't have to sign in and out of Keybase to switch which people you're working with. So making quick and easy teams for your old college roommates or family is going to be a breeze."
Here's how encrypted git looks in Keybase's desktop app: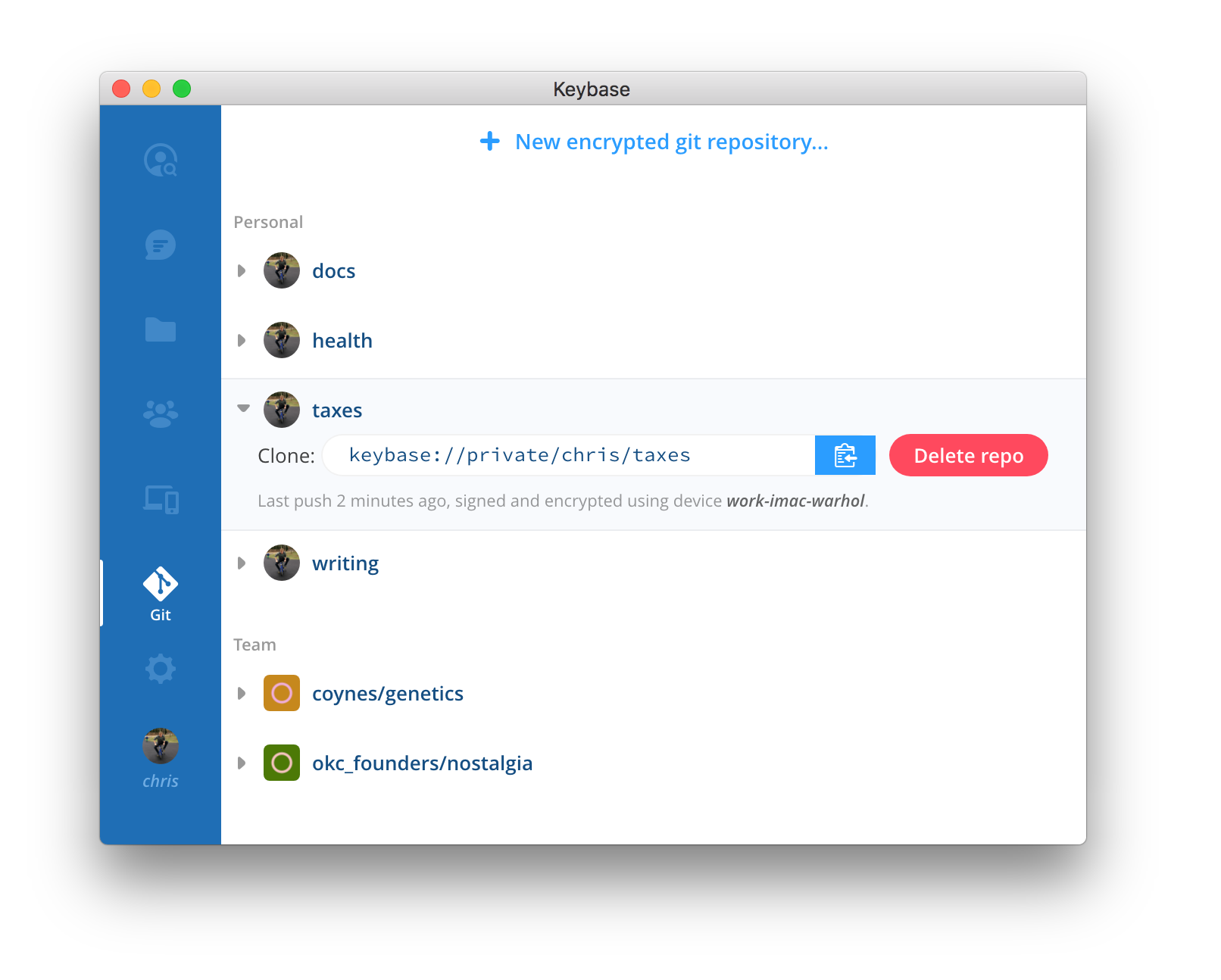 "I would say [enterprise] a big part of the financial strategy," Coyne told CyberScoop, "although the majority of users will not be enterprise. I would say the most comparable story I can think of is GitHub."
If barbs from rivals is any measuring stick, Keybase is making inroads. When the popular encrypted messaging platform Wickr announced their own Slack rival last week, the sales pitch included slides comparing themselves to Keybase's offerings.
Keybase has the notable advantage of being free and, now, an added file-organization system that's already working in their desktop and mobile apps.