Want to work in cybersecurity for the government? Curb your enthusiasm.
The shutdown's effects were on full display for CyberCorps students this week, as multiple agencies had to skip out on an OPM-run job fair.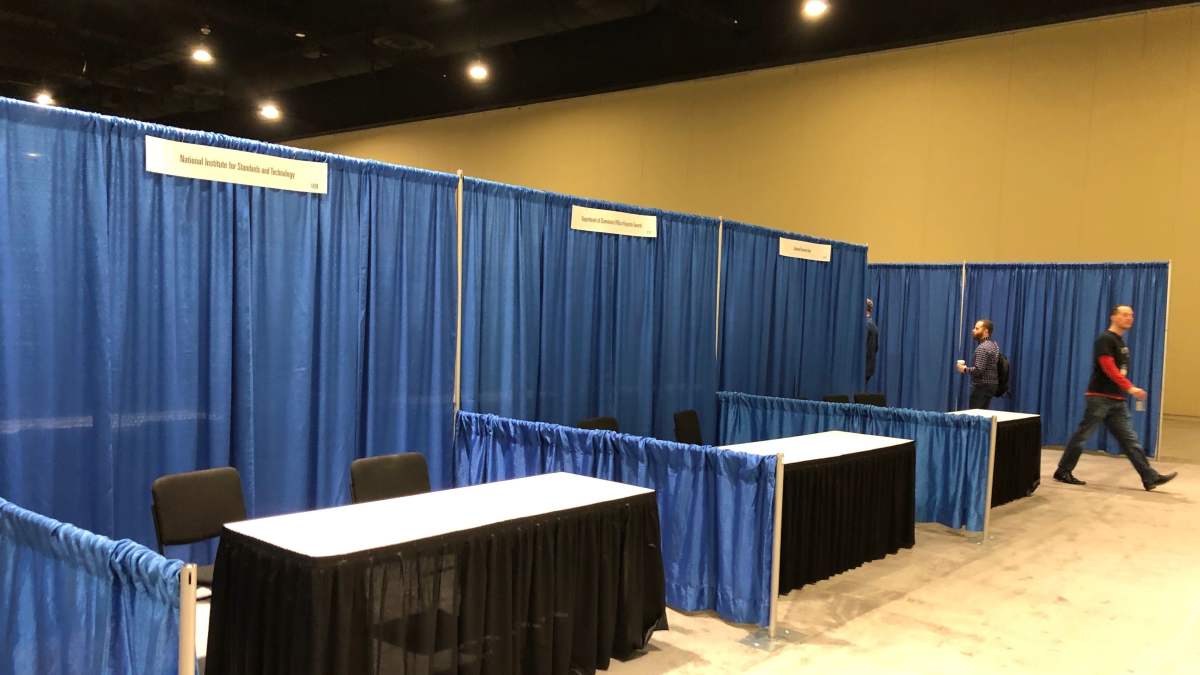 Recruiting people to work in the federal government, especially in cybersecurity, has been a challenge for as long as the term "cybersecurity" has existed.
It's why the government created vehicles like the CyberCorps: Scholarship for Service. If you are a college student who would like to devote your skills to the government, the United States will cut you a check — probably in the five-figure range — to study up on whatever tech-based track you'd like. In return, you're obligated to work for Uncle Sam for the length of the scholarship issued, up to four years.
In an ideal setting, this arrangement seems fair. Yet, clearly, when it comes to the government, these are not ideal times. The government shutdown has exacerbated this already fraught issue, with essential cybersecurity personnel at agencies like the Department of Homeland Security and National Institute of Standards and Technology either legally unable to continue working or forced to put projects on hold.
That stagnation was on display for the latest crop of CyberCorps students, who earlier this week tucked themselves into the Gaylord National Hotel in National Harbor, Maryland for the program's career fair. On Tuesday, the convention floor was littered with empty tables, as representatives from various agencies were unable to attend due to the government shutdown.
There were still plenty of opportunities for students to inquire about work — military agencies, national labs and the intelligence community all held crowds at their tables during my trip around the floor. (Many of those agencies are fully funded for fiscal 2019 and have dodged the shutdown.) But booths representing agencies where cybersecurity has become a focal point — FTC, NIST, State, and DHS's brand new CISA office — were left vacant.
Some of the students I talked to had an optimistic outlook on their job prospects despite the inability to talk to recruiters from some of the big-name agencies. Their time in CyberCorps will outlive the shutdown, and any job that has been unfilled or becomes open in the meantime will be filled by some young go-getter.
"This shutdown is not going to affect our long-term career goals," Rachel Corbally, an upperclassmen at Georgetown University, told me outside the fair. "[The government is] going to work hard to coordinate with agencies that are affected by the shutdown to make sure that we can still have access to their opportunities and resources."
And what if it can't, say, because it's been shut down. Again. Wouldn't that give young people second thoughts?
"Definitely not," Ashton Garriott, a Georgetown graduate student, told me. "I think it does shed some reality on joining government, that this is something that is becoming more common, as something we have to deal with and find workarounds for."
One "workaround" some government employees have found in shutdowns of the past is finding a steady, larger paycheck in the private sector. Infosec professionals have been recruiting on Twitter as this shutdown continues.
I asked if that was an option for anyone once their scholarship requirements are fulfilled. The government would prefer to keep this talent around (that's the whole point), but participants are free to move on after three years.
"It's a toss-up whether I stay or I'll go," Allie Hanson, an upperclassmen from Dakota State University, told me. "I think it depends on how well I like the job that I'm at while I'm there for those three years."
During that time, however, Hanson seems resigned to deal with whatever the government gives — or doesn't give her — by way of pay.
"I think it's concerning," Hanson told me with regards no pay if the government shuts down while she's part of the workforce. "It's less concerning as other fields though, because when [young people] miss a paycheck, its kinda like "meh.'"